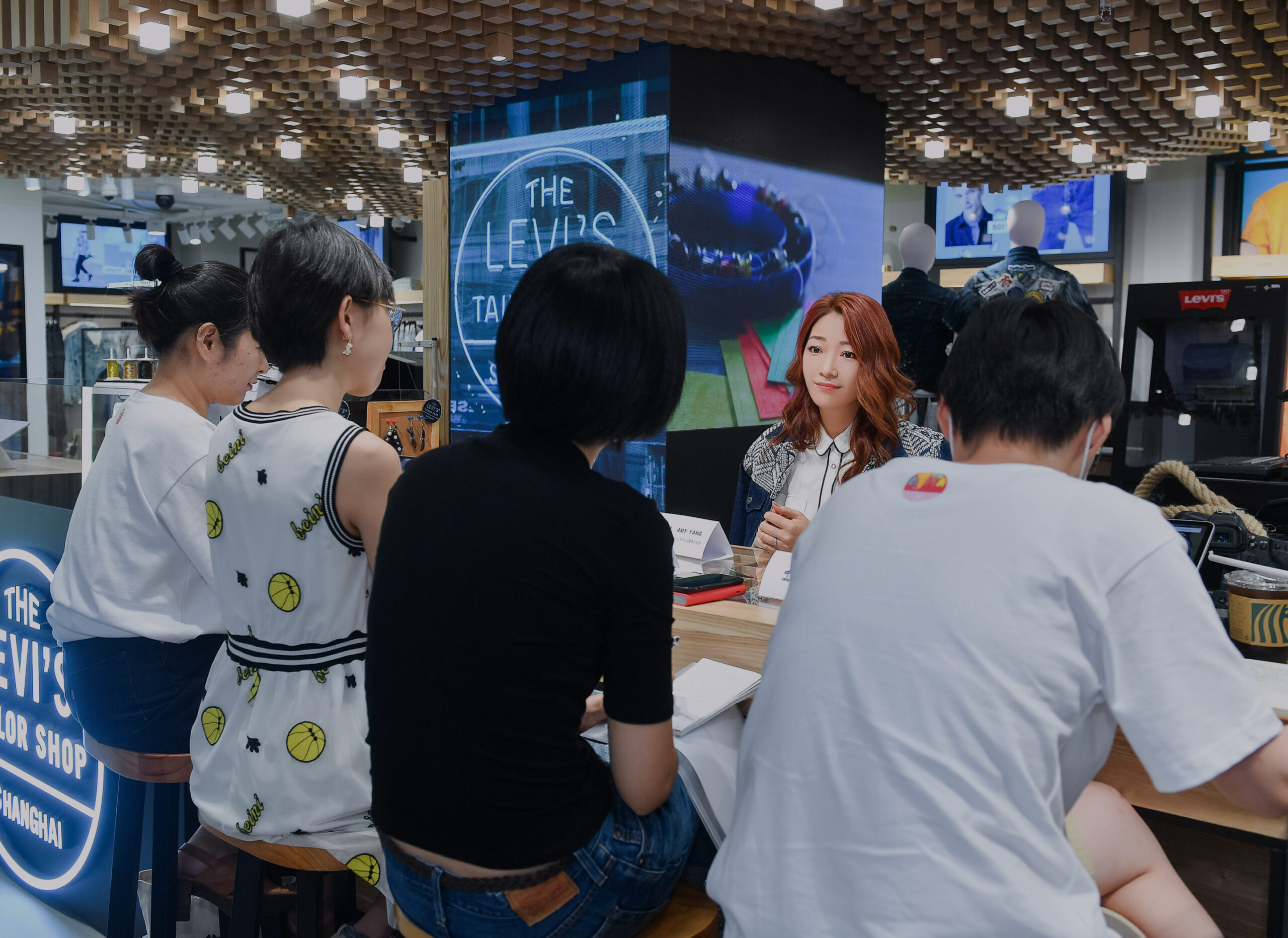 Collaborating for continued improvement
Our sustainability progress requires the participation of many stakeholders both inside and outside the apparel industry. Their insights help us refine priorities and develop meaningful policies, goals and initiatives that address the issues facing our business, our customers, employees, investors, and suppliers, as well as the communities where we operate. These are just some of the ways we engage with our stakeholders:
Consumers
Social media engagement through our LS&Co. accounts
Communication in our stores
Participation in the Levi's® Red Tab™ loyalty program
Outreach through email and newsletters
Information on our e-commerce sites about product sustainability attributes
Unzipped blog
Surveys on environmental concerns and perceptions of apparel brands' sustainability commitments
Marketing campaigns such as Levi's® "Buy Better, Wear Longer" and Dockers® "Easy style, responsibly made"
Wholesale and Licensee Partners
Regular communication with our wholesale partners' sustainability teams
Regular assessment and monitoring
As-needed input and collaboration on policy development
Annual Sustainability Summit for licensees
Employees
Surveys
Team meetings
CEO town hall meetings
Company intranet
Emails from leadership
Internal newsletters
Employee Resource Groups
Ethics and Compliance Reportline
Shareholders and Prospective Shareholders
One-on-one engagement
Conferences
Financial press
Earnings conference calls
Formal communications, including our press releases and Forms 8-K, 10-Q and 10-K
Suppliers and Supply Chain Workers
Worker Well-being initiative
Collaboration with the Sustainability and Health Initiative (SHINE) at Harvard University's T.H. Chan School of Public Health
Supply chain worker studies and surveys
Supplier assessments
Interviews with suppliers
Better Buying surveys
Workshops and trainings
NGOs, Brands and Industry-Wide Coalitions
Meetings and working groups
Live events
Industry group roundtables
Partner collaborations
Surveys
Key Memberships and Partnerships
Our memberships and partnerships are key to our success. Below are some of the organizations we engage with, either through direct participation or by adding our voice as a signatory.
| Organization | Focus Area | Nature of Relationship | Year Joined |
| --- | --- | --- | --- |
| Accounting for Sustainability (A4S) | General sustainability | Founding Member and Co-Chair, U.S. Chapter (Chief Financial Officer) | 2019 |
| AIM European Brands Association | Business association | Participant | 2019 |
| AmCham China | Business association | Participant | 2013 |
| American Apparel and Footwear Association (AAFA) | Industry association | Member and Member of Environmental and Product Safety committees | 1953 |
| Apparel and Footwear International RSL Management (AFIRM) Group | Chemicals | Founding member, Steering Committee member | 2004 |
| Better Cotton Initiative | Raw materials | Member | 2010 |
| BSR | General sustainability | Member | 1993 |
| Business Roundtable (BRT) | Business association | Participant | 2020 |
| Canopy Planet | Sustainable forestry | Signatory | 2014 |
| Ceres BICEP | Climate change (policy) | Founding member, Steering Committee member | 2009 |
| Ceres Company Network | General sustainability | Member | 2009 |
| Ellen MacArthur Foundation Jeans Redesign Project | Circularity | Member | 2021 |
| European Branded Clothing Alliance (EBCA) | Public policy (Europe) | Founding member | 2007 |
| Fashion for Good | Sustainability innovation | Member | 2021 |
| Green Chemistry & Commerce Council (GC3) | Chemicals | Sponsor | 2013 |
| Haas Center for Responsible Business | Academic institution/general sustainability | Sponsor, Senior Advisory Board member | 2003 |
| ILO/IFC Better Work | Tripartite initiative | Partner | 2005 |
| International Association of Privacy Professionals (IAPP) | Compliance | Silver Member | 2019 |
| Leather Working Group | Sustainable leather production | Member | 2021 |
| National Retail Federation (NRF) | Industry association | Participant and Member of Sustainability Council | 2003 |
| Open to All | Non-discrimination campaign | Founding Member | 2018 |
| Retail Industry Leaders Association (RILA) | Industry association | Board member (CEO) and Member of Environmental Advocacy, Sustainability, Zero Waste Network, Retail Climate Action committees | 2017 |
| Social & Labor Convergence Program (SLCP) | Supply chain | Signatory | 2015 |
| Sustainable Apparel Coalition (SAC) | General sustainability | Founding member | 2010 |
| Textile Exchange | Raw materials | Member | 2019 |
| The Conference Board Chief Privacy Officer Council | Compliance | Participant | 2019 |
| UN Fashion Industry Charter for Climate Action | Climate change | Signatory and Member of Policy Working Group | 2018 |
| UN Global Compact | General sustainability | Signatory | 2006 |
| UN Global Compact CEO Water Mandate | Water stewardship | Member | 2008 |
| U.S. Cotton Trust Protocol | Sustainable cotton | Board member | 2021 |
| U.S. Fashion Industry Association (USFIA) | Industry association | Board Chair (VP, Public Affairs) | 1992 |
| Water Resilience Coalition | Water | Member | 2020 |
| World Federation of Advertisers | Business | Member | 2020 |
| ZDHC Foundation | Chemicals | Founding brand, board member | 2012 |