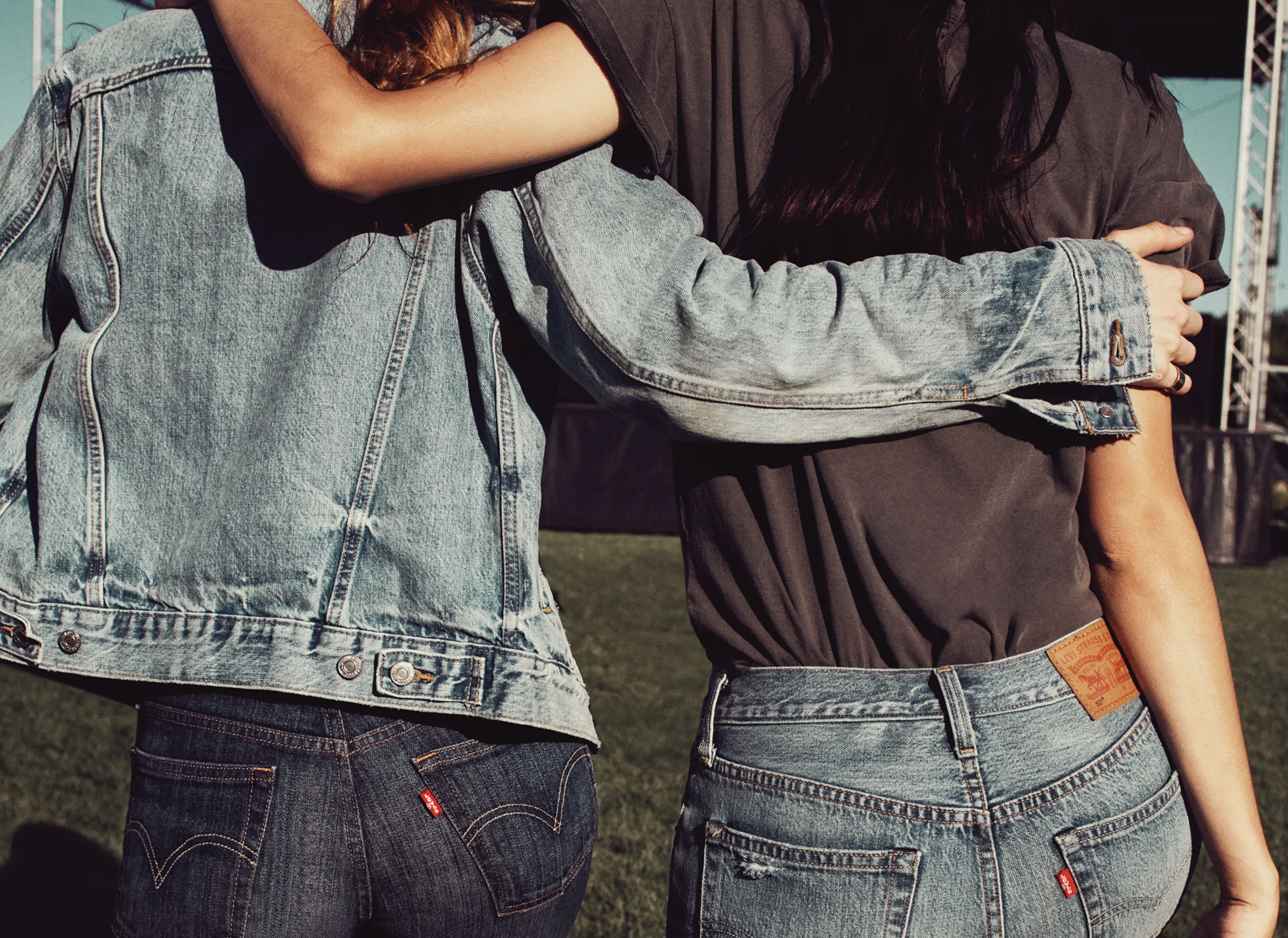 Responsible, Inclusive Marketing
Marketing centered on our values
We are committed to responsible, truthful, inclusive marketing communications and practices centered on our longstanding values. We have processes in place to avoid unsubstantiated product claims and to support marketing and communications that are accurate and balanced.
Our marketing reflects our DE&I principles across product design and labeling, communications and brand experience. This means holding ourselves to high marketing standards, such as respecting human dignity, proactively educating our teams on inclusive language and practices, avoiding cultural appropriation and promoting body positivity. We are committed to providing the finest quality products to a broad base of consumers around the world. We create products based on fit, style, trend and concepts that are inclusive and globally relevant.
Toward Gender-Inclusive Product Offerings
Our garments are produced in size specifications designated as "men's" and "women's" as industry standard for patterns, size scales and production methods. We encourage our consumers to select and wear what they love regardless of product designation. Our products are not specific to age or gender, but by personal preference and style. Levi's® are for everybody.
At times, we design capsule collections based on a universal system agnostic of binary gender-related labels: "Red Tab Sweats," "Pride" and "Levi's® Made & Crafted" capsule collections are recent examples. We consider these gender-neutral or gender-inclusive collections and curate the assortment of garments, merchandised together, to offer a style point of view that can be worn by all and is non-binary in its intent. Gender expression is complex. It is a constantly evolving construct determined by individuals navigating their own gender expression, and not for us to suggest inauthentically.
Using Our Brand Influence to Inspire "Authentic Self" Expression
Levi's® is for Everybody
The Levi's® brand connects our company values with our consumers in ways that celebrate "authentic self" expression and inclusion through products that allow them to express their own personal style and through marketing campaigns that reflect the diversity of Levi's® fans globally.
For example, our annual Pride product collection reflects Levi's® longstanding support for the LGBTQIA+ community and highlights diverse, authentic voices of the community. As part of the effort, Levi's® makes an annual $100,000 donation to OutRight Action International, a global organization working to advance human rights for LGBTQIA+ people all over the world.
Likewise, the Levi's® Music Project — which kicked off in 2016 and relaunched in 2021 with a focus on reaching a global audience through music education on digital platforms — supports emerging artists through an inspiring music education-oriented community. Musicians collaborating with Levi's® to benefit their communities include Khalid, Mabel, Skepta, Rosalía and more. And while our marketing always reflects our values, throughout the year, we recognize specific community heritages or cultures, such as Black History Month, International Women's Day and World AIDS Day.
Lastly, Levi's® "Buy Better, Wear Longer" global campaign recognizes the intersection between environmental justice and social justice. It is a call to action to both our industry peers and consumers to urgently address the climate crisis, from innovating to deliver more sustainable products, to practicing ethical business practices and encouraging conscious consumption. Our storytelling approach features diverse influencers and activists, each of whom has a distinct connection to sustainability and adds a unique dimension to our brand storytelling.
Read more about our Buy Better, Wear Longer campaign.
Dockers®: Values-Centered Outreach
Dockers® champions a California lifestyle that's progressive, optimistic, creative and values-centered. In 2021, the brand introduced the content series "Recognize: Black Culture in Progress." The year-long storytelling program featured Black community members, leaders and influencers. Through Recognize, Dockers® amplified Black stories on the Dockers® e-commerce website and social media and provided donations to community organizations selected by participants.
View the Recognize: Black Culture in Progress video.
Read more about our ongoing efforts toward becoming a more diverse and inclusive organization.