May 3, 2017
This weekend is the 143rd annual Kentucky Derby, dubbed the "greatest two minutes in sports." Of course, as we all know, the race is as much about fashion as it is about horses, where many dress "to see and be seen." Those flashy styles contrast with the simple garb of one horse trainer with an unusual Levi's® connection.
Next to horse racing and family, one constant colored the life of Kentucky horse trainer Dodson Hoover (D. H.) Skaggs — western shirts. From plaid to patterned, D. H. wore western shirts daily at the stables. "Western shirts were the uniform for trainers in the 60's and 70's," said granddaughter Brittaney Skaggs, a Levi Strauss & Co. employee. "[Trainers wore] white T-shirts under western shirts, jeans, cowboy hats and cowboy boots." Although D. H. eventually swapped his cowboy hat for a baseball cap and boots for sneakers, he never stopped wearing western shirts.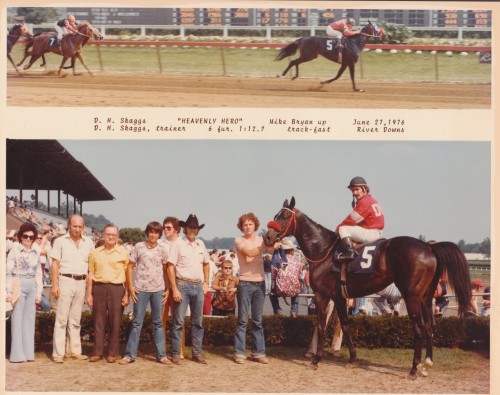 D. H. Skaggs was born in rural Kentucky as the youngest of 10 children in 1934—the same year we introduced the first blue jeans for women, and eight years after we manufactured our first western style shirt. LS&Co. called it the Cowboy Overall Shirt, making it in denim in the same fabric as our 501® jeans. By the time D.H. was 3, in 1937, LS&Co. had its first separate Western Wear line. It was aimed at people traveling west to stay at dude ranches: working cattle ranches which took in paying guests. We perfected and kept western shirts in our line until we closed our Western Wear division in the early 1990s when D. H. was still training horses.
Unlike those wearing Levi's shirts at dude ranches, D. H. had his own farm — a 150 acre property near Louisville — where he and his wife ran horse breeding and racing stables. Granddaughter Brittaney and her sister helped at race tracks over summer. "It was hard work," Brittaney remembers. "We rose at 4 a.m., went to the track, cleaned and fed the horses." Afternoons were free before returning to feed and care for the horses. Live racing ran through the day.
D. H.'s method with horses was similar to other trainers. He took horses at racing age — 3 years old — a time when a horse's knees and legs are fully formed yet young enough to be free of arthritis. "We moved the whole training operation to the race tracks, renting a house nearby during the season," said Brittaney. When school was in session, D. H. picked up Brittaney on Friday after classes, dropping her back home on Sunday afternoon.
Hard work at the stables took a toll on D. H.'s shirts. The sawtooth pockets wore around the eye glasses and checkbooks tucked inside. Wear marks also appeared above the waist — the spot where his belt rubbed against his shirts. D. H.'s favorite? A bright yellow, purple, and teal long-sleeved shirt that completely wore out. D. H. carried a silver dollar, pocket knife, and a buck eye in the left front pocket of his jeans, leaving a unique pattern in the denim.
Several bouts with cancer eventually forced D. H. to sell the farm, but like his race horses, he pushed through to the finish. He took a chance one night in 1995 at Turfway Park and put a claim slip on a large chestnut mare for $5,000. He nursed the mare back to health and over the course of two years won over $250,000 in purses, saving his family from financial ruin.
After a brief retirement in 2000, D. H. returned to training to fill a void left when Brittaney's father died. The result? A string of mid-level race winners for almost a decade and then — a spectacular comeback. A degenerative eye condition forced D. H. to reduce his stable to a single horse, Future Prospects. The owner wanted to give the horse away but D.H. took him, spoiling and doting on the animal like a pet rather than a powerful racehorse. Under D. H.'s training, Future Prospects won the Kentucky Cup in 2011, a prerequisite race to the Kentucky Derby, and the 76-year-old's first graded stakes win in 42 years.
D. H.'s career and determination speak volumes. "He was a very well respected man on the Kentucky racing circuit," Brittaney explained. "We couldn't go anywhere without someone coming up to shake his hand." When D. H. passed away last year, Churchill Downs and Keeneland Racecourses both held memorial services to honor him.
Today Brittaney works at LS&Co.'s Hebron office eight miles from Turfway — the park where D. H. spent hours training horses.  The rest of the Skaggs clan are loyal Levi's® fans wearing everything from 501s® to 569s. Brittaney particularly loves Signature, "I have at least 10 different pairs because they are so comfortable."
Three of D. H.'s Levi's® western shirts and three pairs of his Levi's® jeans are part of the Levi Strauss & Co. Archives, and are currently on display as part of our 'Top" Tops exhibit here at our San Francisco headquarters. D. H.'s shirts document a remarkable career and an important lifestyle fashioned by Levi Strauss & Co.
Want to keep up with the LS&Co. Archives and other cool LS&Co. heritage news? Follow Tracey on Twitter, @TraceyPanek, and stay tuned to Unzipped!