October 1, 2023
Last week, the Levi's® brand and the Queer Britain Museum debuted From The Levi's® Archives: Icons in Denim — A Queer Perspective. A first-of-its-kind showcase, the exhibit features Levi's® products from the Levi Strauss & Co. Archives that pay homage to garments worn by fans from the LGBTQIA+ community.
From artists to rock legends to movie stars, every facet of the queer community has donned Levi's® products in their own unique way. This exhibit captures that authentic self-expression, with hand-selected pieces telling a story of hope, creativity and resilience. Highlights include:
A pair of Levi's® 501® jeans worn by Queen frontman Freddie Mercury, which were purchased by the Archives at the recent Freddie Mercury auction at Sotheby's in London
The Signature by Levi Strauss & Co.TM jeans and T-shirt worn by Jake Gyllenhaal in the film "Brokeback Mountain"
The Levi's® "Empress" jacket, signed by partners Beau Black and Stephen Dunn of the design firm Beauregard
A Levi's® jacket customized for and signed by Sir Elton John
A Levi's® jacket custom painted by artist Serge Gay, Jr. to reflect his concerns as a Black gay man
A pair of Levi's® 501® jeans and T-shirt owned and worn by Harvey Milk, California's first openly gay elected official
The exhibit celebrates a longstanding partnership between the Levi's® brand and the Queer Britain Museum and came together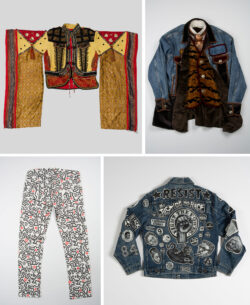 after months of collaboration between the museum and the global LS&Co. teams.
"I'm thrilled to curate a true testament and tribute to the brand's inclusion and influence across film, music, art, design and culture within the LGBTQIA+ community," said LS&Co. Historian Tracey Panek, who helped select the exhibit pieces from the Archives collection. "Levi's® are and have always been a uniform of progress and inclusion. The products and stories this exhibition showcase are pioneering and celebrate conversations around equality and inclusivity."
The exhibit is running now through Thursday, October 12. If you're in London, make sure to check it out before it closes!
To learn more, visit the Queer Britain Museum's website.