September 24, 2023
What historical Levi's® artifact is 12 feet long, is named for a famous film and has copper rivets and a wooden torso?
Meet Shane, a wooden cowboy in the Levi Strauss & Co. Archives that's the longest — and one of the quirkiest — artifacts in the collection.
Eye-Catching Advertising
Named for the cowboy and protagonist in the 1953 Paramount Pictures film "Shane," the cowboy was originally created to act as a larger-than-life advertisement tool inside stores that sold Levi's® products — a tall order, that he easily achieved. Shane has a three-foot-long torso and nine-foot-long legs, clad in cuffed 501® jeans. Designed to be displayed from either side, the back of the cowboy points to the back right pocket of Shane's jeans and states, "Look for the Red Tab," calling attention to the 1936 trademark. A scarf around his neck and tall cowboy hat complete the look.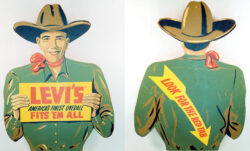 The eye-catching cowboy was a creative way to advertise the Levi's® brand's No. 1 product, the 501® jean, throughout the 20th century. Displayed from the ceiling or walls inside stores where Levi's® products were sold, Shane could also often be found at town fairs, at the entry to retailers, suspended from a truck and even mounted on the exteriors of buildings.
Spot the Shane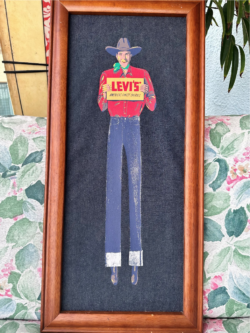 There were many Levi's® Shane cowboys created, and they've been known to show up in unexpected places. Recently, a small, framed version of Shane painted on a piece of denim turned up in a Florida thrift shop. Outfitted in his riveted Levi's® 501® jeans, the long-legged painted Shane holds the sign, "America's Finest Overalls." Unfamiliar with the cowboy, shop owner Tina K. reached out to me asking if it was a possible advertising piece, and I shared what I could. "That is awesome to finally have a name to my cowboy," said Tina. "It had come in[to] the [thrift] shop as a donation with lots of other household items."
Not all Shanes are identical, however. I've found myself studying our collection to identify each Shane's unique features — like a Shane version of the game "Spot the Difference." One has a green shirt. Another, a red one. The Shane on display in The Vault Museum at LS&Co.'s headquarters in San Francisco has a pouch of tobacco hanging out of his shirt pocket. We even have a "paper Shane" in the Archives — a holiday card illustrated with a Shane-like Santa Claus, complete with Santa hat.
While he's no longer featured in stores, he is a frequent favorite here at the Archives. Our Shane was the perfect artifact to show off several years ago when our tallest guest, a seven-foot-tall basketball player, visited the Archives. We had fun stretching out the denim legs — which were longer than our glass table — to see who was taller. Shane won easily.