August 20, 2023
While answering a recent query in the Archives, I came across an intriguing announcement that offered the perfect chance to look back at when, why and how the world became Levi's® country.
"Is there any place that is yet untouched by Levi's®?" began the notice in a 1972 edition of Levi's® Letter*, Levi Strauss & Co.'s employee bulletin. "One of our overseas correspondents writes, 'Levi Strauss Denmark just sold 1,000 units of … Miss Levi's® to Greenland. The last frontiers are crumbling.'"
Life Magazine that year agreed.
On November 24, 1972, a Life Magazine issue featured photos of Levi's®-clad fans from around the world, ranging from the back of a topless woman wearing Levi's® cut-offs at a St. Tropez beach to a worker in denim overalls sorting Levi's® products and other blue jeans at a dock in Brooklyn, New York.
The headline confirmed what Levi's® employees already knew: "The World Is Blue Jeans Country Now."
So, how did we get there?
Going From Regional to Global — By the Decade
It's been 170 years since Levi Strauss first arrived in San Francisco to establish his namesake business. Founded primarily as a regional company, LS&Co. served customers throughout America's western states, with sales flyers in the 1890s and catalogs by the turn of the 20th century helping spread interest and sales of Levi's® products. Historical opportunities for sales — like the Klondike Gold Rush in the late 1890s — also contributed to the brand's success.
Quality clothing backed by a promise, "Every Garment Guaranteed," translated into loyal customers — and the word quickly spread.
By the 1920s and 1930s, sales of "America's Finest Overalls" proliferated despite a temporary interruption during the Depression. Interest grew through newspaper ads, our Two Horse Trademark painted on the sides of buildings and company advertisements projected from slides at movie theaters.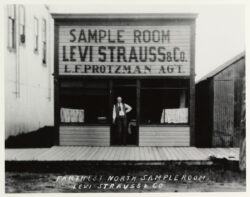 A 1920s photo in the Archives shows L.F. Protzman, LS&Co.'s sales representative in Fairbanks, Alaska, at the building where he worked.
A solid foundation in place at home, our global expansion began in earnest in the 1940s. During World War II, Levi's® sales and customers expanded abroad, as members of the American military exposed new markets to the company's riveted denim clothing and LS&Co. began selling Levi's® products on military bases in Asia and Europe. After the war, the company expanded operations and sales across the U.S., phasing out of its wholesale business to focus on manufacturing and opening new factories to keep up with rising demand.
Overseas interest in Levi's® products continued to grow following the war. In 1947, for example, an all-American fashion show featuring models wearing Lady Levi's® jeans created a stir among Parisian fashion houses and fashion fans. In 1959, Levi's® jeans were featured in an American Fair in Moscow, where staff couldn't keep the display jeans from being stolen overnight. And one of LS&Co.'s first franchises, a location in France, opened after an enthusiastic Levi's® fan visited our New York office with suitcases full of cash prepared to buy dozens of Levi's® jeans and jackets.
By the 1960s, LS&Co. formally established its manufacturing, operations and sales overseas, creating Levi Strauss International in 1965. Our global company locations ranged from Mexico to Hong Kong and the Philippines in the Far East at first, then expanded into South America, with operations launching in Brazil in 1972.
By the 1970s, we had secured our place in the global market. In 1971, a press release was issued announcing LS&Co.'s phenomenal global rise over the prior 25 years. "The year's results were in line with performance that has seen Levi Strauss double its volume every five years since the end of World War II," it stated.
That summer, Gordon Weiner, manager of Levi Strauss United Kingdom, met with Anthony Gould, a skipper of Miss Levi's®. The LS&Co.-sponsored yacht embarked on a sail around the world, symbolizing the journey the company itself had been on since 1853 as a local American company transforming into a global manufacturer.
Half a century later, Levi's® remains a global leader in denim, with fans all around the world.
*Levi's® Letter, February 14, 1972. Issue Number 6. Levi Strauss & Co. Archives.