May 28, 2015
In the land of startups, where trends move at hyper speed and last month is so last year, there are a few companies that have stood the test of time. And we're not talking a couple of decades. Nope, we're proud to be part of an elite handful of San Francisco businesses that date all the way back to the Gold Rush.
A brief refresher: Levi Strauss started his dry goods business in 1853 before partnering with Jacob Davis to create the ultimate garment for working men like miners, the blue jean, in 1873. One hundred and forty-two years later, we remain a leader in jeanswear.
Starting next week, artifacts from LS&Co. — along with fellow City by the Bay mainstays Tadich Grill, Anchor Brewing and Shreve & Company — will be featured at The Society of California Pioneers Museum as part of a new exhibit called Established in San Francisco.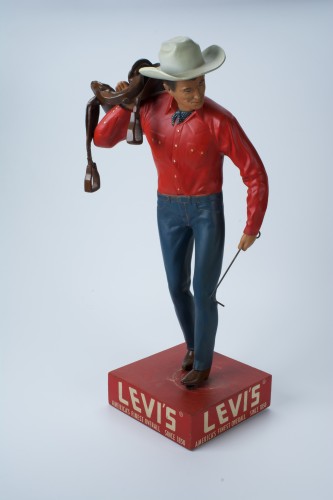 Here's a description:
Although wild speculation fueled the boom-and-bust Gold Rush era, some of San Francisco's earliest entrepreneurs crafted sound, enduring business models. This exhibition draws from privately held company archives, family scrapbooks, stockrooms, as well as The Society's collection of business records and city directories to tell the story of four — Levi Strauss & Co., Tadich Grill, Anchor Brewing and Shreve & Company — each a pioneer in their industry and all still in business, serving miners then and millennials today.
Established in San Francisco also features selected works from The Society's collection of prints, paintings and maps. Some of these images reflect the unbridled optimism of the era, depicting San Francisco as an enchanted land of ample opportunity for all; others immortalize the wealthy and elite merchant class that emerged in San Francisco during this early gilded age in The Golden State.
We're excited to share some of our favorite pre-1900 pieces from our Archives (plus a few surprises from later periods, including Shane, our long-legged Levi's® brand point-of-sale showpiece with nearly 8-foot-long pants) alongside these other iconic S.F. companies. We are proud to be part of the fabric of this city and can't imagine being anywhere else.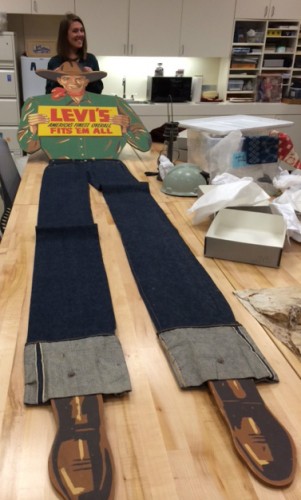 You can check out the exhibit from June 6 to October 31 at The Society of California Pioneers Museum and Research Library in San Francisco's Presidio. The museum is open 10 a.m. to 5 p.m. Wednesday through Saturday, and admission is free.