January 17, 2019
When people ask me what it's like being the historian for Levi Strauss & Co., I often say every day comes with its share of surprises: you never know what the next phone call or email is going to bring.
Last year, I received an email asking if I was interested in a leather-bound ledger from the U.S. Mint in San Francisco that survived the 1906 earthquake. "It contains Levi Strauss & Co. listings," the email read. Because most of our company records were destroyed in the '06 quake, I was enthusiastic and so we worked out a deal. But I wanted to know how he came to have it.
"My father found it in a garbage dump," the man replied. "It was in a sorting pile." His father took the book home, later gifting it to his son.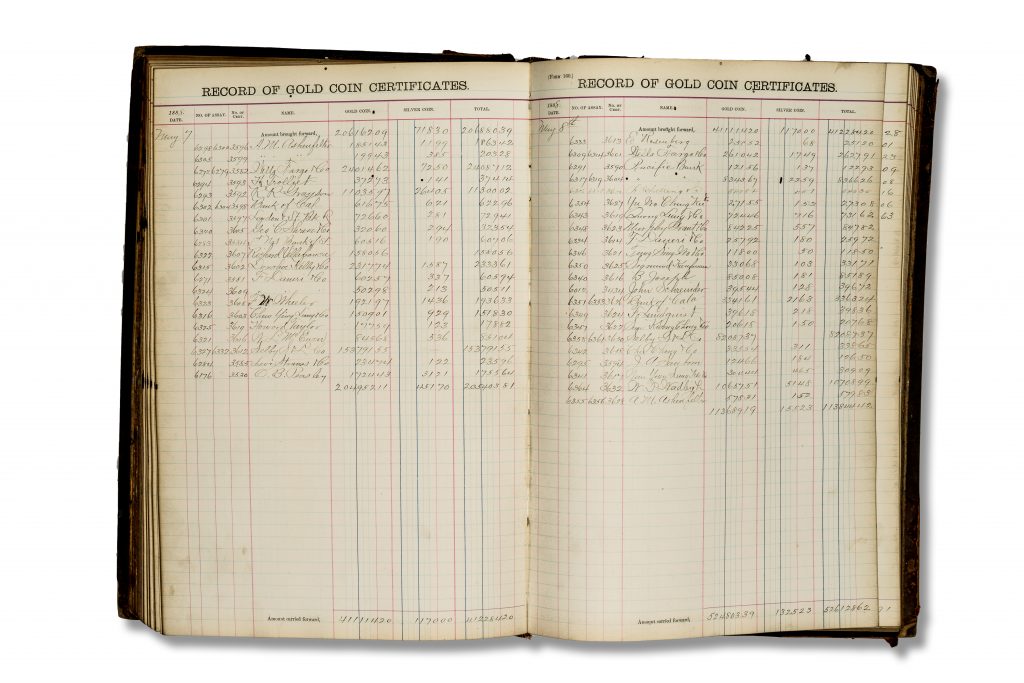 The ledger is a wonderful little handwritten volume. It contains accounts of businesses operating during the Gold Rush who received gold coin certificates. It reveals interesting details about the era and the commercial activities in San Francisco in those early years.  For example:
A Levi Strauss & Co. entry from May 7, 1888: of Assay, 6284; No. of Certificate, 3585; Gold Coin, 23,474; Silver Coin, 122; Total 23,596
Wells Fargo & Co., another San Francisco-born business that was established in 1852 just one year before LS&Co., is listed on the same date: of Assay, 6272 & 6279; No. of Certificate, 3582; Gold Coin, 2,401,462; Silver Coin, 7,250; Total 2,408,712
On the opposite page are entries for Yu Wo Chung Kee Co., Tung Sing Wo. & Co. and Chee Chong & Co. These are just a few examples of the many Chinese-owned businesses that operated successfully in the Gold Rush era.
The ledger is in poor shape. The spine binding has fallen off and there is evidence of bug infestation—worm holes that run through multiple pages.
But despite its condition, the book is treasure-trove—a historical look back in time. The handwriting, a script recorded using an ink pen, shows the personal markings made over a century ago. The book, packed with entries, illustrates the daily economic transactions that turned a once sleepy town into a world-class city, built in part, by the sale of blue jeans at Levi Strauss & Co.
 Keep up with the LS&Co. Archives and other cool LS&Co. heritage news by following Tracey on Twitter, @TraceyPanek, and stay tuned to Unzipped!