November 28, 2018
Welcome to our Holiday 2018 issue of From the Archives, a behind-the-scenes look at the ins and outs of the work we do here, and the unusual, amazing and always-interesting fun facts and tidbits we discover along the way.
In the past few months we revamped our museum, The Vault, added new items to our Archives, inspired designers who dropped by and hosted guests from across the fashion spectrums. Here's a peek at LS&Co.'s latest heritage happenings.
– Tracey Panek, Levi Strauss & Co. Historian
Now Showing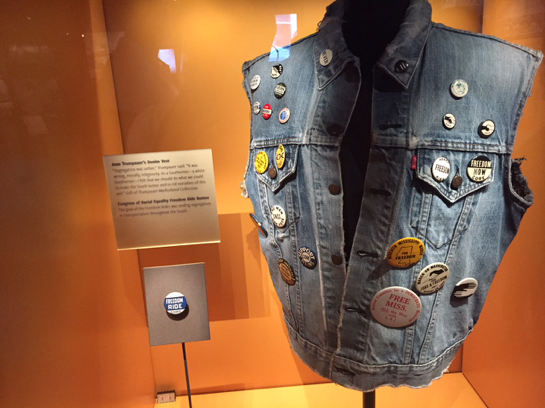 National Museum of African American History & Culture
Washington, D.C.
Levi's® denim has frequently been used as a canvas for political expression. Joan Trumpauer Mulholland, an American civil rights activist and a Freedom Rider from Virginia, covered her Levi's® vest with pins recounting freedom marches and sentiments to end segregation. "I felt we should do what we could to make the South better," she said. The piece is now on display at the NMAAHC.
New Arrivals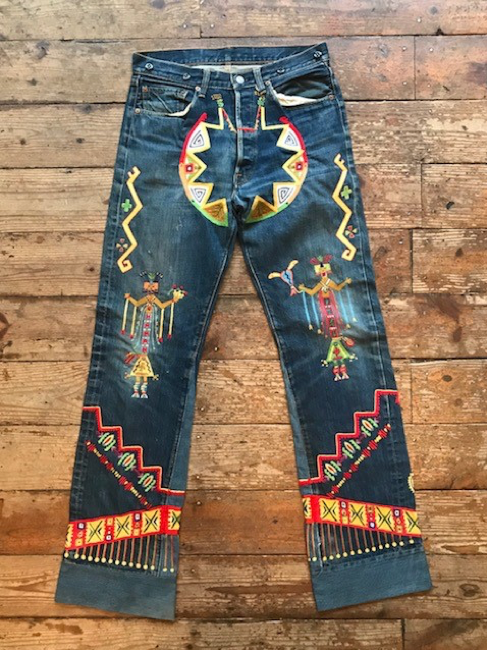 Native Threads. These Pennsylvania-area Levi's® 501® jeans were transformed with intricate Native American-inspired embroidery. The original owner also added buttons to the waistband to accommodate suspenders. They are one of the latest additions to our Archives.
Inspiring Design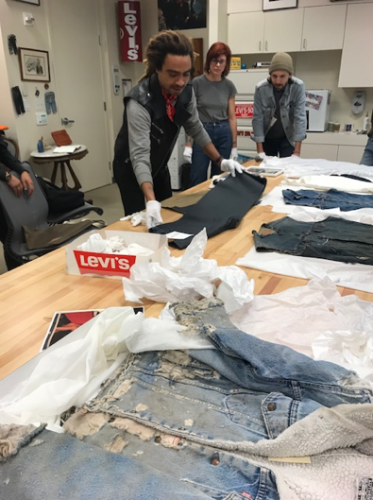 Master Tailors from Levi's® Stores in London, New York, San Francisco and other locations visited the Archives for inspiration onw ways they can personalize new garments for consumers. We pulled out Bull Rider Shawn Edward's sherpa jacket, an orange Tab Chicano Power embroidered piece and a biker vest with "cuts" where the sleeves and collar were sliced off—probably with a knife. During their visit the tailors gave back to the Archives, donating a Lot 1 custom-made pair of 501® jeans.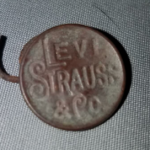 You Asked, We Investigated
Q: Someone I know found this ancient looking Levi's® button in a California mine and is wondering if we might be able to date it? Do you have any idea when it might be from?
A: We spent time poring over the garments with similar buttons in our collection. We finally identified it as coming from a Levi Strauss & Co. men's sack coat from around 1910.
Preservation in Action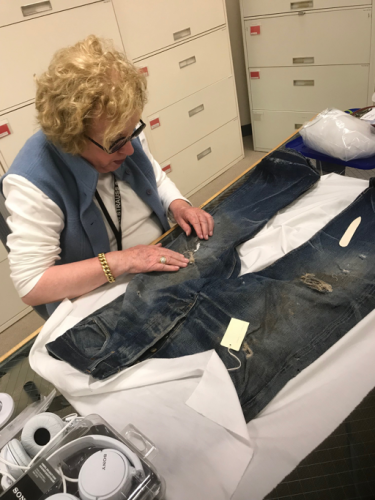 Long-time Conservator Stacia Fink stabilized this pair of 1900s Levi's® jeans worn by a lumberjack. It was one of her final projects before retiring this fall. She spent years preserving the collection, leaving us a lasting legacy.
Archives on the Air
The folks at the podcast 99% Invisible visited the Archives to check out our blue jeans for their new series, Articles of Interest. Listen to the results which aired in October here.
Look Who Stopped By…
LS&Co. Archives hosts a variety of VIPs and guests, from journalists and musicians to sports stars and celebrities. We recently hosted Supermodel Petra Nemcova, who inspired many people with her story of survival during the 2004 Indian Ocean Tsunami. Petra enjoyed savoring the scent of Albert Einstein's Levi Strauss & Co. leather jacket.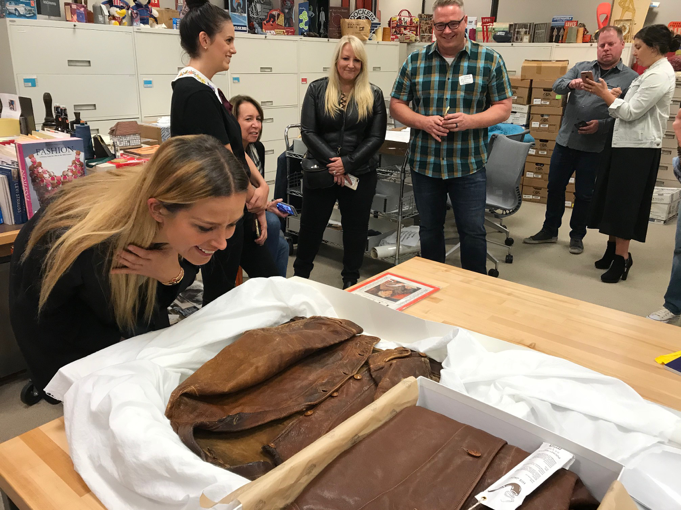 This Year in Levi Strauss & Co. History 
65th Anniversary of the Double-Sided Red Tab. Beginning around 1953, Levi Strauss & Co. began stitching the word "LEVI'S" on both sides of the red Tab on our 501® jeans.
Want to keep up with the LS&Co. Archives and other cool LS&Co. heritage news? Follow Tracey on Twitter, @TraceyPanek, and stay tuned to Unzipped!