May 30, 2018
Welcome to our summer 2018 issue of From the Archives, a behind-the-scenes look at the ins and outs of the work we do here, and the unusual, amazing and always-interesting fun facts and tidbits we discover along the way.
With the sunny weather, we head outdoors for a Levi's® look at a railroad and sleuth scholarly links to LS&Co.  We also hosted guests from nearby and as far away as New Zealand. Here's a peek at LS&Co.'s latest heritage happenings.
-Tracey Panek, Levi Strauss & Co. Historian
Now Showing
Coit Tower
Ground Floor Murals
San Francisco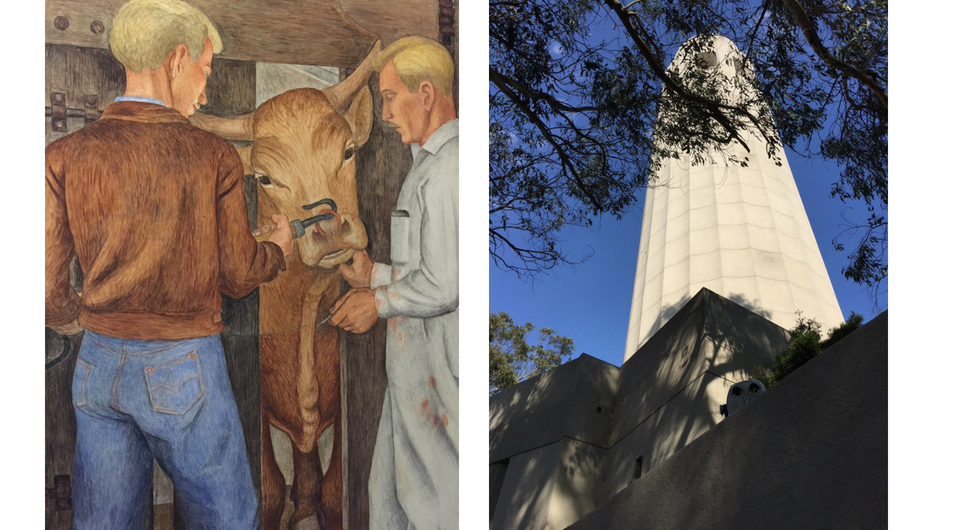 The murals at Coit Tower, a landmark atop Telegraph Hill, are as interesting as the view of the San Francisco Bay AND they feature Levi's® jeans. The murals were a product of the Works Progress Administration (WPA) during the 1930s. To employ artists and other workers during the Depression, the WPA implemented many cultural and artistic projects. Coit Tower's ground floor murals include scenes of workers from engineers to scientists. Look for the farmer dressed in a pair of Levi's® waist overalls standing with his cow. You'll find it by a window near the entrance. The giveaway Levi's® detail? Copper rivets and our famous Arcuate design on the back pockets. But don't look for the red Tab on the right back pocket. We didn't add that to the 501® until 1936—three years after Coit Tower was built.
Heritage Inspiration for New Levi's® Tops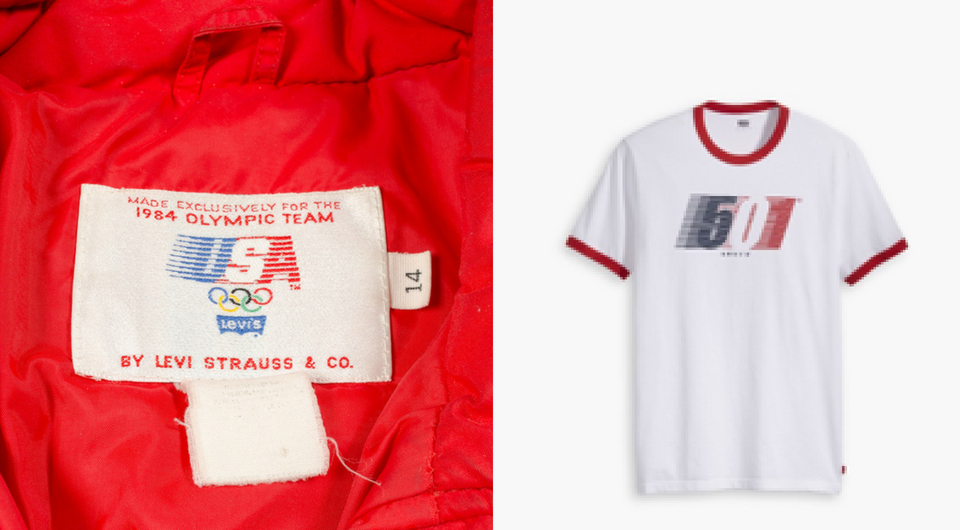 Designs for the latest Levi's® looks are often inspired by pieces in the Archives. The inspiration for the 501® graphic on one of our new tees comes straight from the Olympics. Check out this side-by-side comparison of the 1984 Olympic Team ski jacket in our Archives with its horizontal USA stripes and the similar 501® striped-stylings.
Then & Now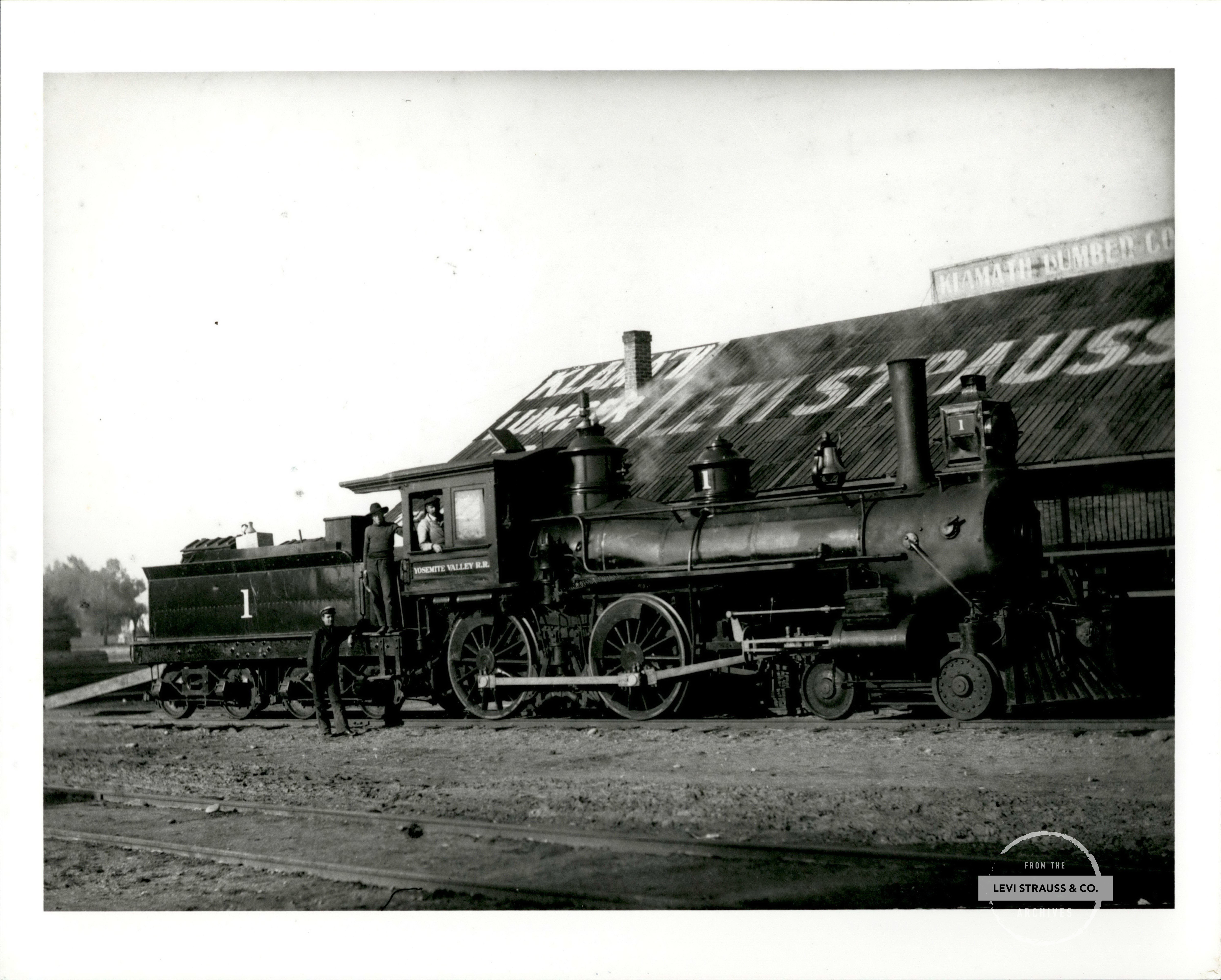 Railroad Ties. Levi's® waist overalls, known today as blue jeans, were created for hard working men, from miners and cowboys to railroad engineers. To attract customers, the company painted advertisements on buildings and in one case, the roof of a railroad station. This Levi Strauss sign covered the roof of this building at the Yosemite Valley Railroad in 1905. The rail line carried lumber at the turn of the 20th century.
You can catch a ride on the Yosemite Mountain Sugar Pine Railroad today and relive the bygone era.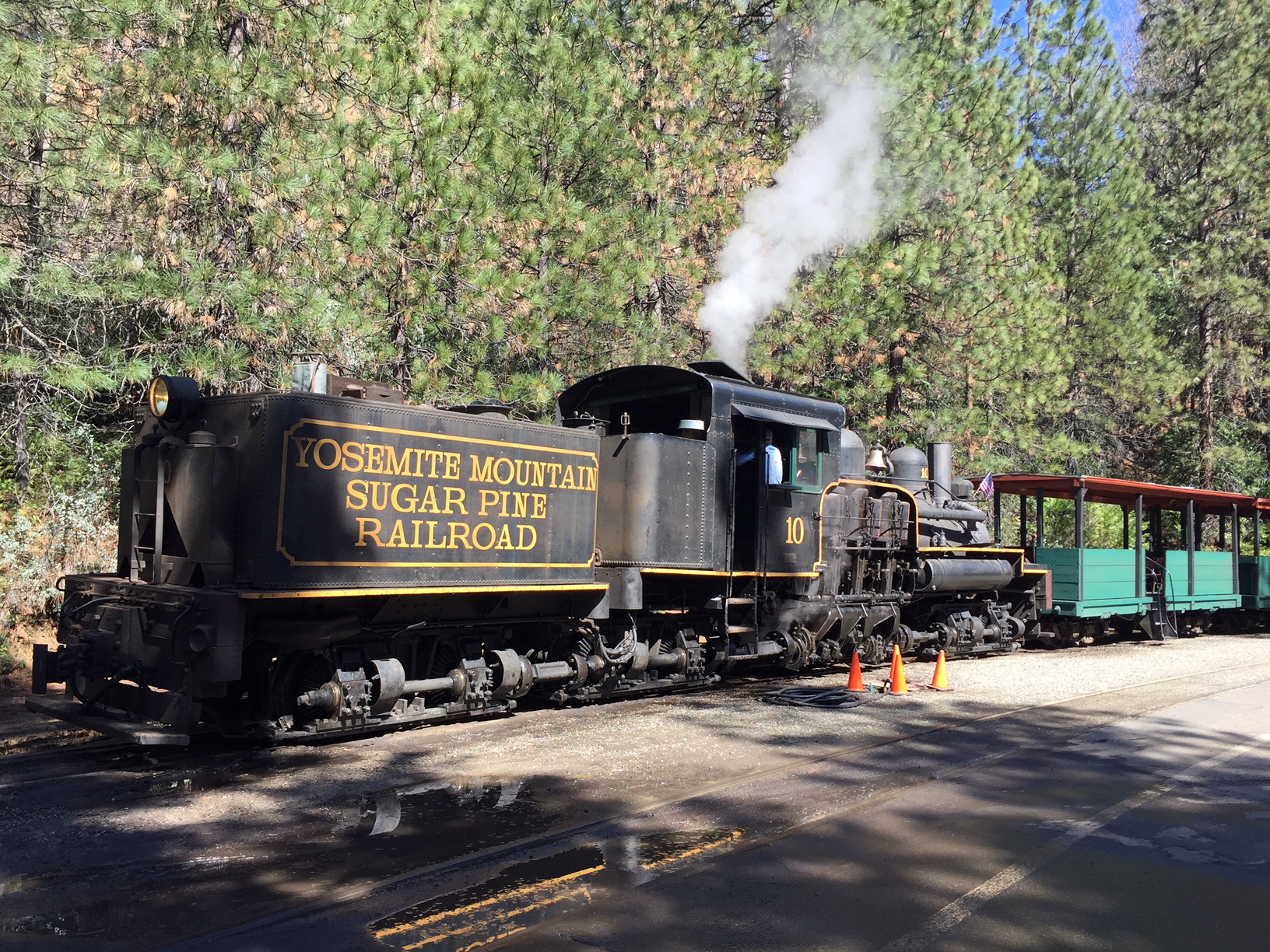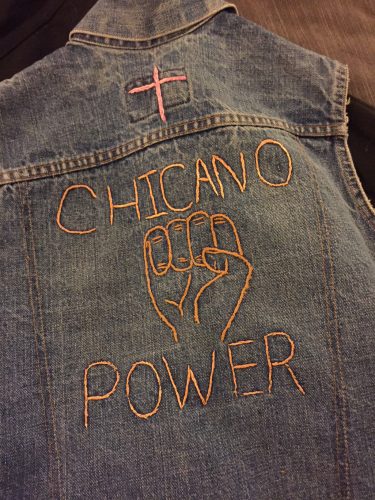 New Arrivals
Chicano Power. Found in Los Angeles, this late 1960s embroidered orange Tab vest is a product of civil rights activism during the era.  The smaller size and pink-stitched cross suggest it may have been a jacket repurposed by a woman. The Chicano Movement of the 1960s was a civil rights movement focused on Mexican American empowerment. This Levi's® vest served as a canvas for political self-expression.
 You Asked, We Investigated…
Levi's Top Hat?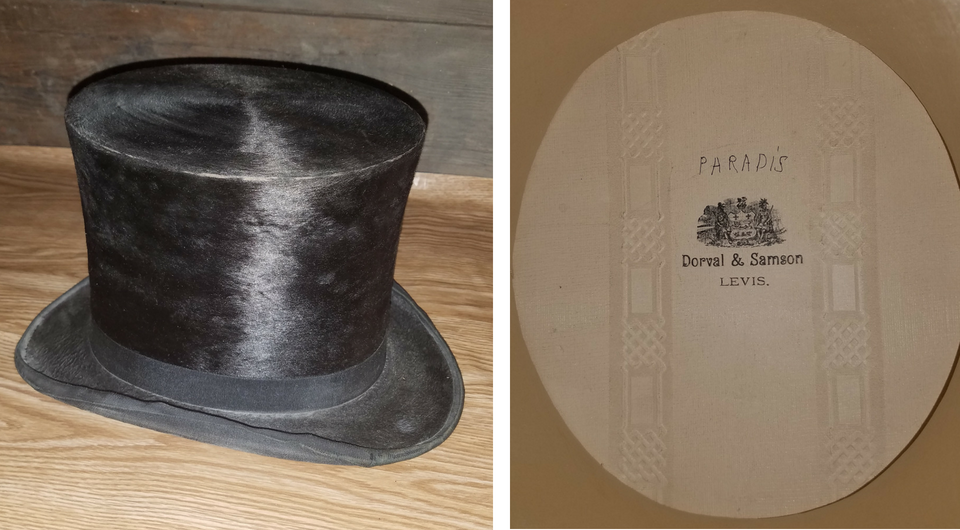 Q: This Victorian era top hat from the mid-1800s came from a storage unit some years ago. Can you confirm if it was manufactured by Levi Strauss & Co.?
A: Although Levi Strauss was known to wear a top hat—a common accessory for men in the 19th century—this hat is probably not connected to LS&Co. The company did not begin manufacturing until 1873 when it introduced blue jeans, and did not use the term "Levi's" in its advertising until well into the 1900s.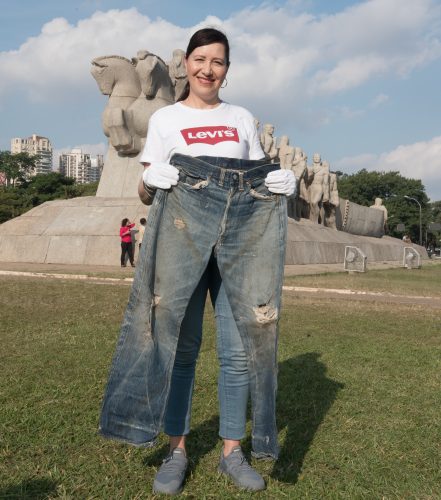 Tracey's Travels
Tracey visited São Paulo's famous Ibirapuera Park during her travels to Brazil to celebrate 501 Day, the birthday of blue jeans. She took along Commodore, a 501® found near the Commodore Mine in southwest Colorado. It dates to World War II and has an unusual shadow formed by a pair of chaps that create a "V" with its point beneath the button fly.
Look Who Stopped By…
LS&Co. Archives hosts a variety of VIPs and guests, from journalists and musicians to sports stars and celebrities. In March, we hosted guests from Down Under when New Zealand's Māori Television visited. We pulled out plenty of Levi's® blue jeans, but the biggest highlight? Getting up close and personal with the Levi Strauss leather jacket worn by Albert Einstein.

This Year in Levi Strauss & Co. History 
60th Anniversary of Spikes. Spikes was a polished cotton slack for men and boys in colors of orange, lemon and lime Jell-O brand gelatin. To advertise the product and its color scheme, LS&Co. sent boxes of Jell-O to retailers. Sadly the brightly colored pants were ahead of their time—too colorful for retailers or consumers, they were a flop.
Want to keep up with the LS&Co. Archives and other cool LS&Co. heritage news? Follow Tracey on Twitter, @TraceyPanek, and stay tuned to Unzipped!