September 28, 2017
When Doug Hansen made the trek to California from Maryland in 1970, he lamented having missed the Summer of Love in San Francisco by a few years. He fought off his regret by setting to work on a pair of Levi's® that would capture the Hippie-spirit, but also giving him an outlet for his budding artwork.
Illustrated over the course of many years, Doug's 501® jeans—purchased for less than a dollar at Cherry Auction Flea Market in Fresno, California—became a canvas for his youth, his love, and his work as a graphic artist.
"Someone was selling the jeans, probably an honest farm laborer," says Doug. "They were worn to within an inch of their life." As soon as he started wearing the Levi's® they started to split at the knees. He began repairing them with iron-on patches, covering the splits, about the time that he enrolled at Fresno State University where he studied through 1974.
"My appearance was important," he explained. In addition to patching his jeans, Doug painted his shoes and wore his jeans with a large belt—tooled leather with a silver Concho buckle with turquoise in the middle.
Love also colored his decorated Levi's®.  Early patches came from then girlfriend—and later wife—Susan. "I had lots of florals for clothes from the day," Doug says. He took a favorite trim he had purchased in high school and had just enough to use on the hem of his 501® jeans.
In his final year at Fresno State, Doug took a fabric construction class—one of his many art-related courses. He used a sewing machine with a zig zag and refurbished the jeans as a student project. "I took them apart because they were just thick and I had a hard time getting into them," he noted.
Taking fabric swatches from his home, his girlfriend Susan, and from his grandmother's 1950s vintage ties, he layered the fabrics on top of the denim and finished it up and down the legs with the zig zag stitch. The pants got another colorful applique—his name in bright green and black. In addition to the new hues and patching, Doug turned his 501® jeans into bell bottoms by splitting the side seam and inserting a denim triangle.
"I was inspired by magazines and the pop culture of jeans," Doug recalled. "I also loved Woodstock looks." He cut out magazine pictures, scoured books and was also enthusiastic about a small Levi's® booklet loaded with color photographs of decorated jeans. The publication? Levi's® Denim Art—a publication featuring winners of LS&Co.'s 1973 contest.
Doug applied the same colorful themes and designs from his jeans to his book illustrations once he embarked on his career. He has written and illustrated a number of books, including three California-centric children's books from Aesop in California to his latest, California and the Magic Island. In his book, Mother Goose in California, Doug illustrated "F is for FIDDLE" with a strikingly familiar image – the musical cat is dressed in colorful patched pants.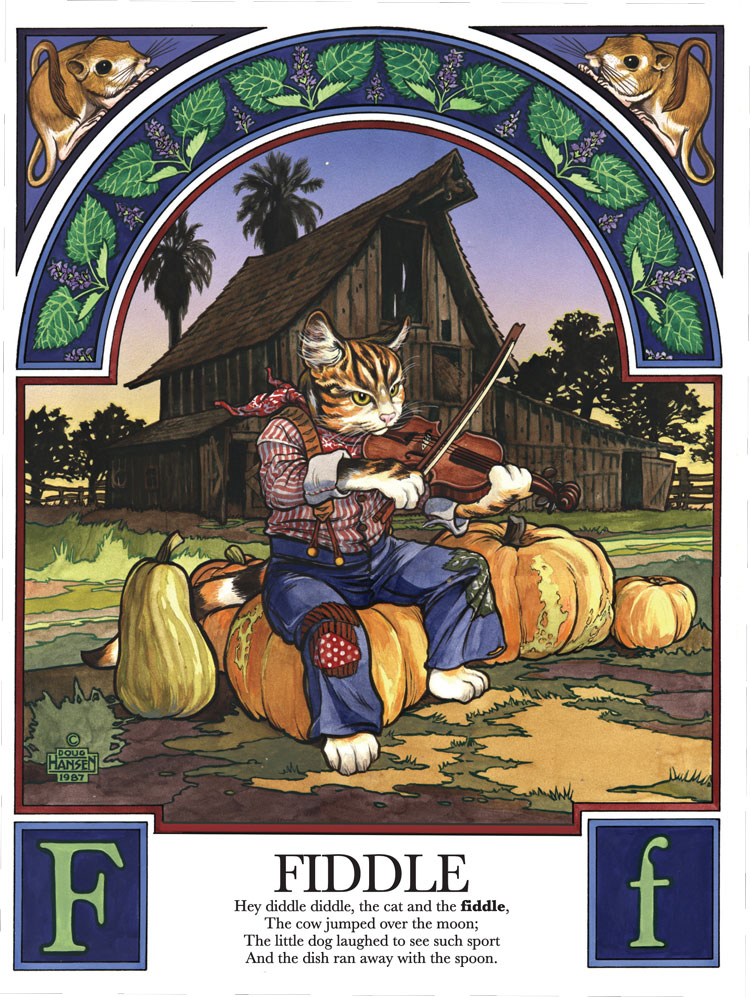 Today, Doug works as an illustration teacher at Fresno State University. He still considers his Levi's® 501® jeans as something special. "They bring back many strong, good feelings that meant a lot to me, and to the development of my image as an artist."
A few years ago, Doug suspended his jeans from the ceiling in a plexi-glass box at his home. This year his jeans were featured in Bolinas Museum's Art to Wear exhibit and will be on display at the Levi Strauss & Co. headquarters' installation, Express Yourself, through November before becoming part of the permanent collection of our Archives.
Be sure to follow @TraceyPanek on Twitter for exclusive vintage photos, historical tidbits and more!