September 18, 2023
Levi's® jeans are known around the world as a canvas for self-expression and unique styling. Crocs are known for their distinctive designs, innovation and comfort, and they allow the wearer to express themselves with their shoes. So, the two global brands teamed up for a collaboration that's the perfect combination of self-expression.
Meet Levi's® x Crocs.
The Levi's® x Crocs capsule collection introduces three new styles of Crocs, each one featuring a uniquely Levi's® aesthetic.
The first is the new All-Terrain Clog, an elevated version of the closet staple with a denim-wrapped panel, complete with Sashiko stitching, a traditional Japanese embroidery technique. To fully represent the Levi's® aesthetic, the team included a Red Tab on the right shoe, as well as Levi's® button shanks on the heel strap and a Two-Horse Pull logo on the footbed. The All-Terrain Clog is available in both Navy and Bone.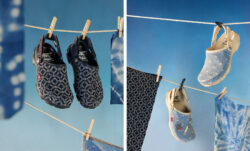 No pair of Crocs are complete without their beloved Jibbitz™ charms, which wearers adorn to their shoes to express their unique points of view and interests. That's why the Levi's® brand created three premium metal Jibbitz™ charms for this pair of clogs, including a koi fish, a turquoise stone and a silver feather.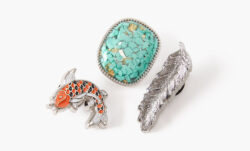 The third offering brings together both the Levi's® brand's and Crocs' histories of self-expression with a tie-dye print Classic Clog. Inspired by the Japanese technique of Shibori dyeing, the shoe includes a Levi's® button shank hinge hardware, red outsoles and a Two-Horse Pull stamp on the footbed. There are eight custom Levi's® Jibbitz™ charms, inspired by the 1960s counterculture and archival Levi's® graphics.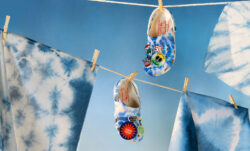 "We were thrilled to work alongside the forward-thinking Crocs team on bringing together our two iconic brands for this innovative capsule collection," said Kenny Mitchell, Levi Strauss & Co.'s chief marketing officer. "Our brands are champions of bold self-expression and personal style. These shoes are for everyone, and we know they'll be treasured by fashion fans around the world."
The Levi's® x Crocs collaboration launches on September 19 and will be available for purchase worldwide on levi.com, the Levi's® app and select Levi's® Stores. The collection will be available for purchase on crocs.com and through select wholesale partners worldwide starting September 21.
Grab yourself a pair (or three) this week!