August 27, 2023
As students head back to school this month, Levi's® and Beyond Yoga® are helping them show up to class in the most stylish threads. We spoke to merchandisers around the globe about the must-have looks and trends for students (and even their parents!) this fall.
Find out what we learned below.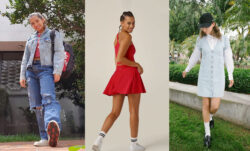 This summer, Levi's® rolled out its Back in Blue marketing campaign as students of all ages geared up to return to class. The campaign spotlights denim-on-denim looks with a broad range of styles and iconic fits, from skirts and overalls to shirts, jeans, dresses and, of course, our 501® fits. Staying true to the spirit of Levi's®, these looks are designed to appeal to everyone, yet still be styled in their own unique ways.
"From GQ declaring the Levi's® Barstow western shirt the 'gold standard denim shirt,' to Vogue announcing that 'head-to-toe denim is back,' we are seeing coordinating denim outfits grow in importance," said Eddie Wilson, senior director, merchandising and licensing for Levi Strauss Americas. "This trend is reinvigorating many categories — whether it's pairing a denim shirt or jacket with jeans or pairing them with your favorite skirt or dress, there are ways for everyone to adopt this key look. For those reluctant to try a denim tuxedo, we have great all-in-one denim pieces, including rompers and dresses."
He added, "We also see a continued shift toward looser jeans with a growing share of straight jeans like the 501® and loose jeans like the Low Loose. The Back in Blue campaign helped illuminate the trend with the right pieces that ensure young consumers will be in style as they head back to school."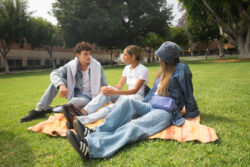 The denim-on-denim aesthetic is also key in Latin America.
"The Levi's® brand has a 150-year history and authority in denim," said Victor Sanchez, merchandising manager. "In Latin America, we are proud of the Levi's® heritage and recommend a denim-on-denim look as a must-have in anyone's wardrobe. It is a great idea to mix a classic 501® jean with our iconic products, like a Trucker jacket, and add in a logo ringer tee for dimension. You can finish the look with some cool sneakers."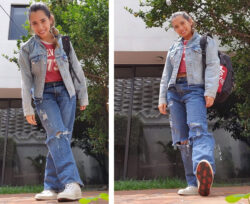 Not ready to embrace the all-denim look? Head to Beyond Yoga® for back-to-school athleisure and workout gear.
"For the upcoming school season, we're excited to introduce a new collegiate-inspired collection featuring a fresh take on argyle print and our signature Spacedye color block," said Emma Hamaguchi, senior director of merchandising for Beyond Yoga®. "With nostalgic references to the '90s, this collection is available in multiple new and signature designs and offers great layering opportunities with our Cozy Fleece collection for that fresh autumn feel."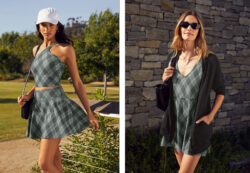 Take a spin through levi.com and beyondyoga.com to shop our back-to-school products.