March 2, 2017
On February 26, 1829, nearly 200 years ago, Levi Strauss was born in Buttenheim, Bavaria. Levi  immigrated to America, became a naturalized citizen, founded his namesake company, and gave blue jeans to the world. In honor of his 188th birthday, here's a look at three rare Levi Strauss documents that survived the 1906 San Francisco earthquake and fire. The papers, and the stories of how they survived, may surprise you.
Levi's Letter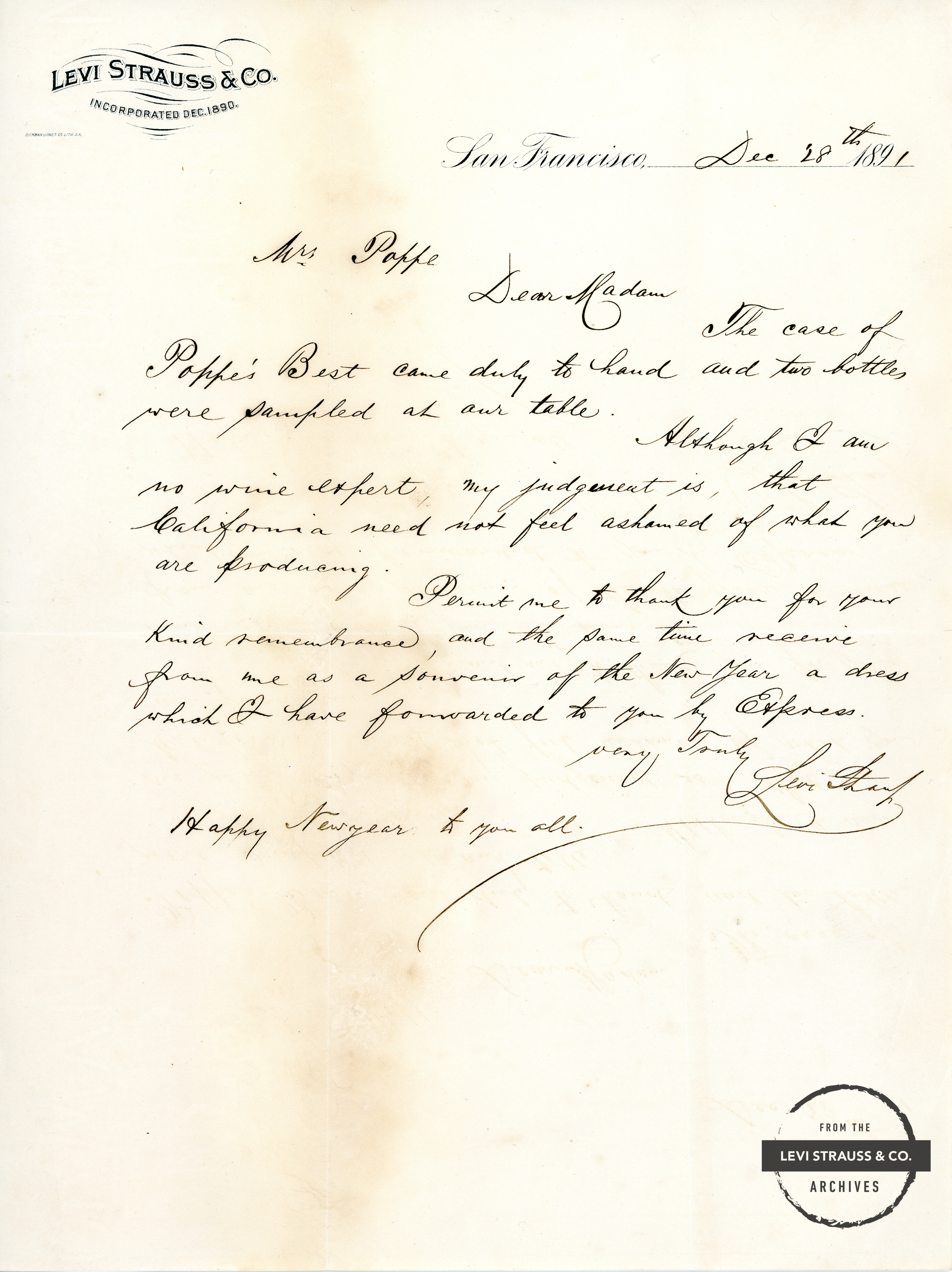 In 1891, Levi penned a thank-you letter to a fellow Bavarian couple who likely carried his products in their store and had sent him a bottle of wine for the holidays. Levi acknowledged the gift in his typically sociable manner—a trait that attracted friends and business partners alike.
The letter demonstrates Levi's fondness for others and his sense of gratitude. It also demonstrates the detail with which he carried out his business affairs—personally acknowledging a kind gesture.
The letter escaped the 1906 quake, eventually making its way to Sonoma, north of San Francisco. A century later, in 2006, former Levi Strauss Historian Lynn Downey got a call from a Sonoma man who found the letter in his family's possessions. But the man had a very specific price – he wanted a 1915 gold coin in return for the letter.
After years of fruitless negotiations, Lynn was telling the story to a group of amateur historians, one of whom happened to be a dealer in gold coins! Lynn bought the coin and traded it for the letter which is now kept in a fireproof safe in the LS&Co. Archives.
Levi's Ledger Note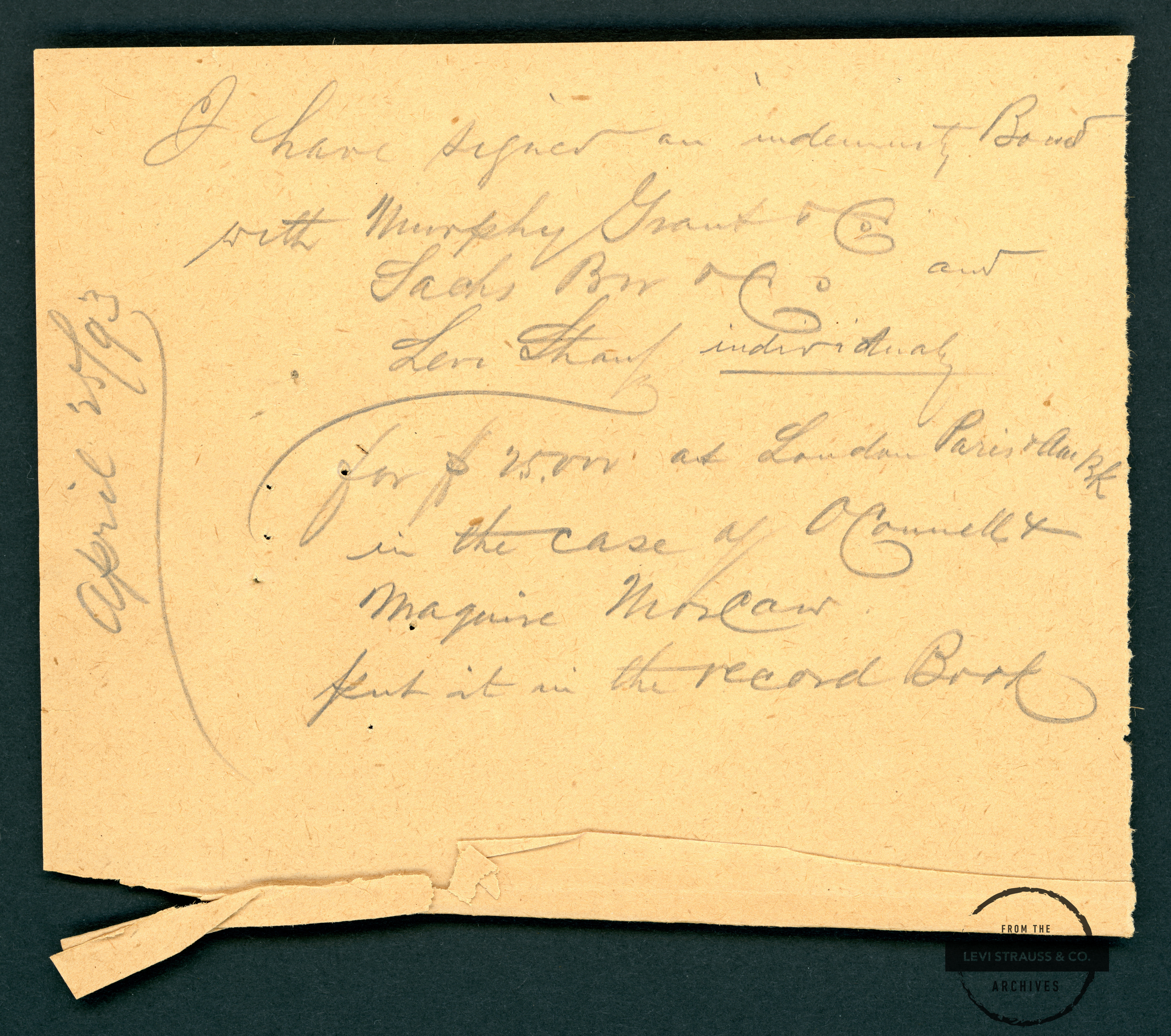 Although most records were destroyed in the San Francisco earthquake and fire, one farsighted LS&Co. employee saved a company ledger from the flames. The ledger listed key employee financial information as well as several credit and invoice notes, including at least one we believe was handwritten by Levi himself.
Here's a peek at Levi's penciled note that demonstrates the manual process of record keeping at the turn of the 20th century. Amazingly, the scribbled note secured credit and is physical evidence of the trust exemplified in such business dealings.
Levi's Trademark Signature
Levi signed a number of legal documents during his lifetime, from the 1873 patent for An Improvement in Pocket Fastenings e.g the birth of the blue jean to this 1881 Grizzly logo trademark with its vivid red stamp. Grizzlies, once wild in California, have been used in name and imagery for state-based companies for decades.
This trademark with Levi's inked signature is preserved in the California State Archives in Sacramento—two hours from San Francisco and safe from the ravages of the '06 earthquake—along with other key government documents.
Want to keep up with the LS&Co. Archives and other cool LS&Co. heritage news? Follow Tracey on Twitter, @TraceyPanek, and stay tuned to Unzipped!