July 9, 2015
In May, I described my visit to Mumbai in preparation for the introduction of the new Levi's women's denim collection. This month I traveled to Italy to share our role as the leader in women's jeans with the media in Milan.
As a fashion capital, Milan was the perfect place to tell the story of how LS&Co. revolutionized women's fashion by inventing the first blue jeans for women in 1934. I carried four pairs of vintage Levi's® jeans from our Archives to illustrate our story in my meetings with reporters.
Here I am at the Duomo di Milano with Harriett, Lady Levi's® Lot 701, the oldest women's blue jeans: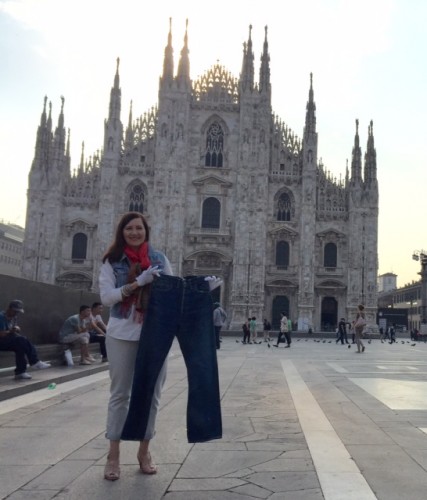 Italy has a long history with denim, harkening back to stories of a 16th century fabric from Genoa called jean. Legends even tell of denim being sewn into the ship sails used by Italian explorer Christopher Columbus. The reality? The name "jean" is the only similarity between the Genoese fabric — a cotton, linen and/or wool blend — and the indigo-dyed cotton denim that Jacob Davis and Levi Strauss fashioned into work pants in 1873.
Levi's® jeans, pronounced "levees" in Italy, have other historic ties to the country — and Italian women — that go back a century. Italian Angel Colombano arrived in San Francisco by boat in 1914 and immediately found work as a seamstress in our Valencia Street factory. Angel walked to work daily from her home in the Mission District, where many Italian and Irish immigrants lived at the time.
I reflected on Angel's work as a seamstress on my own walk to the Santa Maria Della Grazia to see Leonardo DaVinci's famous fresco The Last Supper. Along my route to the church, I passed historic buildings carved with plaques depicting scenes of the work that had once taken place inside. One plaque featured women huddled by a loom reminiscent of the vintage Cone Mills looms where denim for our first Lady Levi's® jean was woven in 1934.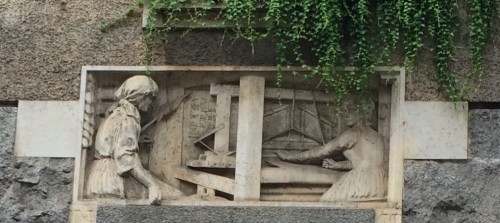 Coincidentally, Santa Maria Della Grazia was the location of a Levi's® story that Fabiana Giacomotti, a reporter for La Sapienza, shared during our interview. As a teenager in the 1980s, Fabiana wanted her Levi's® 501® jeans to look worn in despite her mother's protests. Her method? Sitting and rubbing her jeans against the brick steps outside the famous chapel.
As a fan of Levi's® jeans, Fabiana may have enjoyed our advertisements during the same period. One Italian poster features two teenagers pushing an old Mustang along a street. Such marketing helped popularize LS&Co. products, especially among Italian girls.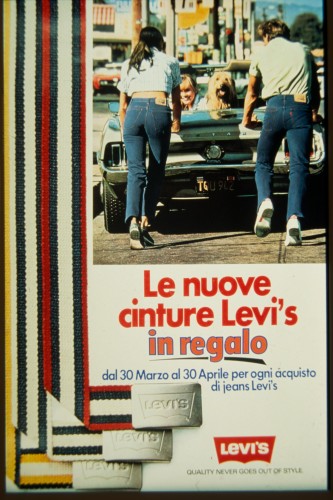 Another Levi's® link to Italian women? During the 1970s, the Miss Levi's® label was introduced in Italy. As the name suggests, the line of pants was geared toward younger fashion-forward women. Miss Levi's® advertisements featured bell bottoms in a variety of fabrics, from denim to wide-striped fabrics. One provocative 1972 promotion shows the backside of a model without any pants at all — just the outline of a pocket.
During my visit, I showed the world's oldest blue jeans ("XX"), a pair of Lady Levi's® jeans from 1934 that we named Harriett, Ranch Pants from the 1960s and a pair of 1970s Miss Levi's® bell bottoms.
The Lady Levi's® jeans, also called Lot 701, were a big hit and provide a historic tie to our new Lot 700 series. Reporters were eager to see the details of these high-waisted jeans with a back buckle.
Paola Ventimiglia of Vanity Fair loved the slim silhouette of our 1960s Ranch Pants, a pant named for the dude ranch days of the 1930s and 1940s when women vacationing at horse and cattle ranches wore Lady Levi's®. Paola also recalled her 1970s bell bottoms and remembered sewing the wide legs into a skirt, something as popular to do in Italy as it was in America.
My visit to Italy was filled with art, architecture, fashion and a Lady Levi's® lesson. From Mumbai to Milan, Levi's® jeans have revolutionized women's style around the world.
Like this story?
Sign up for the Unzipped newsletter to get the best of the Unzipped blog — company news and views, employee profiles, innovation and sustainability stories, behind-the-scenes and Archives highlights — sent straight to your inbox weekly.