March 11, 2015
While digging out a spring on a ranch recently, Salinas Resident Orval Burke uncovered a new source of water and something else unexpected — hundreds of copper rivets, some attached to denim. Burke took the rivets home, washed them and discovered a tiny stamp, LS&Co. S. F.
"I had no idea what I was looking at," says Burke. "I went online and found that the initials were an abbreviation for Levi Strauss & Co. in San Francisco." Burke discovered the rivets along with several coins, a crate of china, and an unusual metal box etched with Chinese symbols. The find was the perfect opportunity for sleuthing.
Burke and his family drove me around a 6,000 acre ranch near their home in Salinas, California, south of San Francisco, on a beautiful day in February. We stopped first at the spring (tapped as California's drought worsens) where the artifacts were found. Set amid dry rolling hills, the new pond highlights the need for LS&Co.'s water conservation efforts like our Water<Less garments.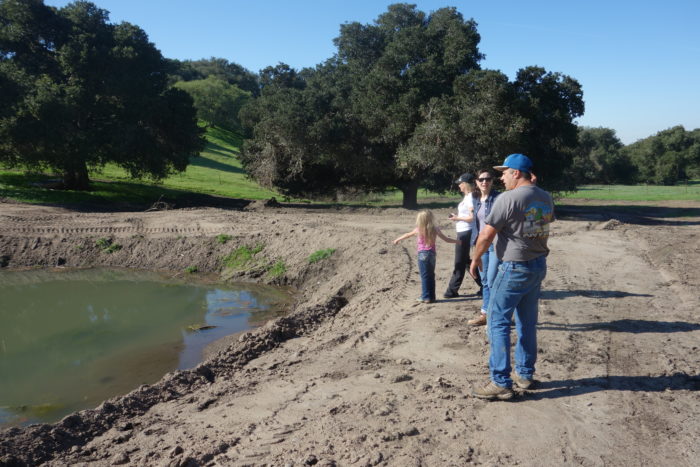 Burke described his surprise at uncovering the buried rivets and china—every piece broken into shards by a bulldozer during the find. I examined two shards of china, painted blue and green, depicting a Chinese edifice with a circular window and tiled roof.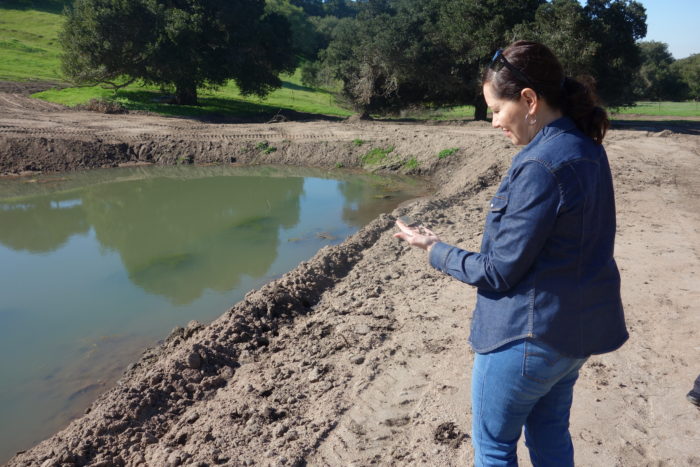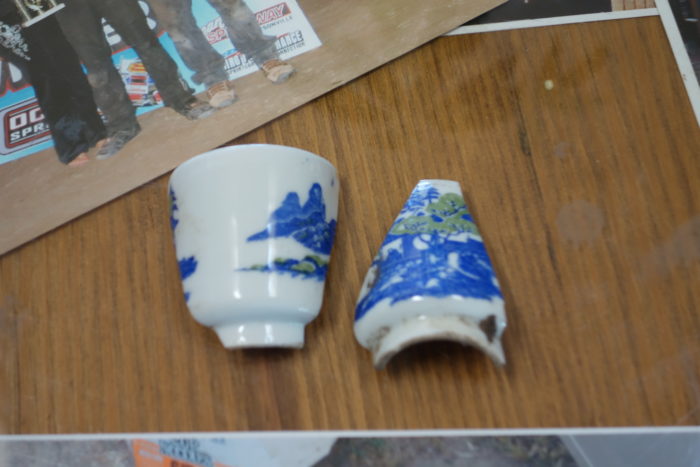 A small metal box with Chinese symbols found with the LS&Co. rivets was especially intriguing. Measuring 1.25 inches by 2 inches, it opens from the left. The primary etching—a soldier from the waist up in a hat and jacket with epaulettes.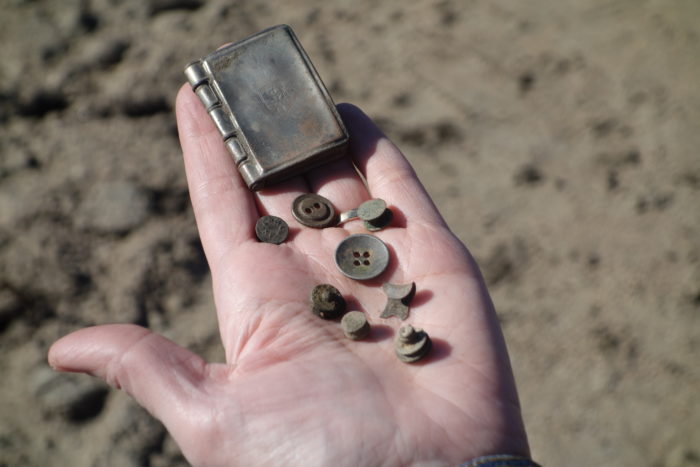 We explored two old homesteads on the ranch and then four-wheeled up a scrub oak and manzanita-lined dirt road to an historic limestone quarry. Laborers worked the quarry decades ago hewing white blocks of limestone, each carved rock weighing hundreds of pounds. "I can't image doing this work by hand," said Burke, near a spot where he uncovered chisels and files. I agreed, making a mental note that such harsh working conditions required rugged work wear.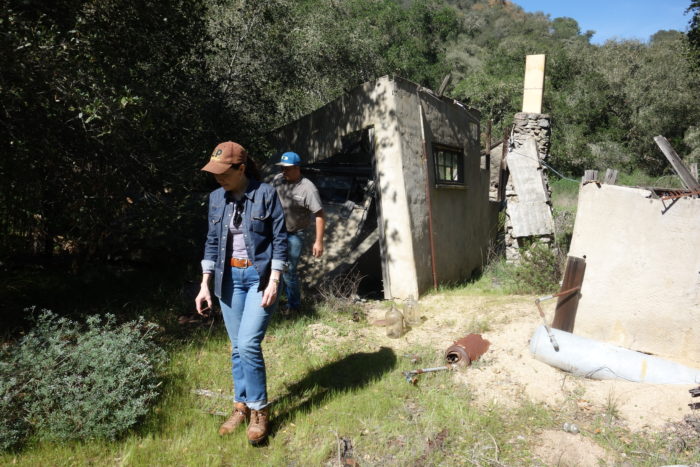 Riveted denim waist overalls — today's blue jeans — were first manufactured by Levi Strauss & Co. in 1873 and would have been an obvious garment choice for men at the quarry. Hard-wearing Levi's® pants matched, in strength, the tough and often back breaking efforts of the workers. The waist overalls were marketed to working men, from carpenters and cowboys to miners. LS&Co. distributed its products throughout the 11 Western states and into the Pacific Rim, even publishing flyers in Portuguese, Spanish and Chinese in the 1920s.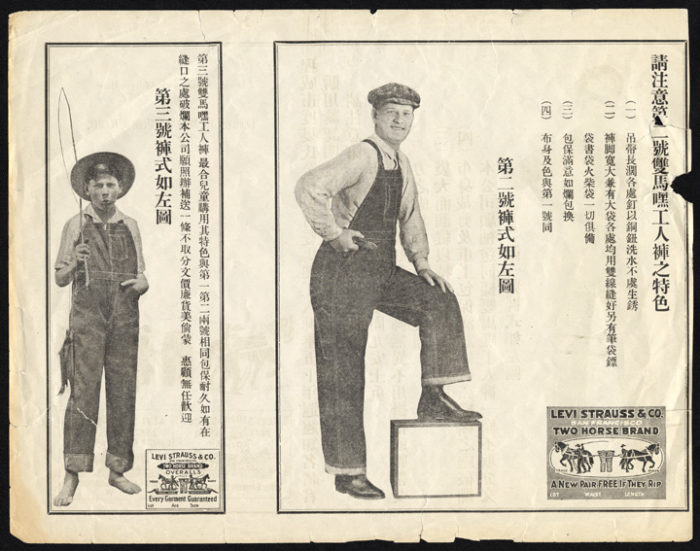 Pam Wong, Program Coordinator at the Chinese Historical Society in San Francisco, provided some perspective on the find once I returned to the office. She helped identify the small metal object as a Japanese pill box. A popular cure-all medicine called "jintan," the pills were advertised beginning in 1904 through the end of World War II and were sold throughout Asia.
The pill box and china found with the rivets suggest that Chinese laborers may have numbered among the workers at the quarry. This theory is consistent with patterns among Chinese laborers. An exhibit at the Chinese Historical Society notes that Chinese began immigrating to California during the gold rush, mining gold, borax and coal mines all over the West. By 1870, Chinese accounted for one quarter of California's miners. Wong explained that Chinese were also a key force in railroad building as well as fishing along California's Pacific Coast, including the Salinas and Monterey area.
How did hundreds of rivets and other artifacts end up underneath layers of dirt near a limestone quarry? Wong confirmed one hypothesis — the rivets are the remains of a stash of blue jeans kept with china and other items at a roadside stall where workers could buy goods. "A stall was simpler than a store," said Wong, "and would have been used in rural or isolated sites to supply workers with needed items."
Whatever the real story may be about the cache of rivets, one thing is certain. Levi Strauss & Co.'s denim riveted clothing helped form the foundation of the American West by outfitting the workers who chiseled out history — from the ground up.