February 21, 2023
On May 20, 2023, the 501®, the world's first blue jean, turns 150 years old. Blue jeans began as an innovative idea to fill a practical need. In the early 1870s, Nevada tailor Jacob Davis hit on the idea of "riveting" work pants by adding tiny metal pieces to pockets. Jacob Davis invited Levi Strauss & Co. to partner on a patent for "An Improvement in Fastening Pocket Openings." U.S. Patent No. 139,121 was granted on May 20, 1873, and blue jeans were born. Today, we celebrate the date as 501® Day.
To mark this milestone, we're kicking off a new series — Countdown to 150: 501® Fab Facts — that traces key moments in the evolution of the 501® jean.
It's a feature on the leg seam of early vintage or premium jeans, a stripe of white revealed only when the hem is cuffed. Selvedge — also called selvage or self-edge — is the vertical edge of the denim fabric that prevents the end of the denim from unraveling. On the Levi's® 501®, selvedge has been a design feature and a study in denim loom evolution through the years.
Amoskeag Selvedge (1873-1915+)
The first 501® jeans, or waist overalls, were produced with denim woven at the Amoskeag Mill in Manchester, New Hampshire. The Amoskeag Manufacturing Company was a textile manufacturer dating to 1810 that founded the town of Manchester, naming it after England's notable textile district. By the time Levi Strauss & Co. began sourcing denim for its riveted clothing in 1873, Amoskeag had the one of the largest textile plants in the world.
"Sewed with linen thread, made of 9 oz. Amoskeag Denim," noted an 1899 flyer describing our famous XX men's overalls, "Have no equal."
The Amoskeag denim used for our oldest 501® jeans — from XX (1879) to Calico (1890) and well into the 1910s — was a shrink-to-fit fabric with a plain selvedge. On the earliest 501® jeans, the side seams as well as the waistband of the pants were sewn with plain white selvedge.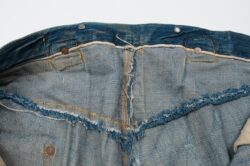 Waistband selvedge detail on the XX (1879) 501® jean
Cone Selvedge (1915-1926)
Around 1915, LS&Co. began to buy denim from Cone Mills in Greensboro, North Carolina — a textile manufacturer dating to 1891, almost 20 years after the first 501® jeans were stitched up.
Company catalogs mark the shift in denim mills. The 1915 catalog listing for men's waist overalls of blue denim are described as, "XX 501 9 oz. Amoskeag denim, 2 hip pocket, riveted; linen sewed." But a year later, LS&Co.'s 1916 catalog lists product prices without a reference to a mill, "XX No. 1 Indigo Dyed, 501 Waist Overalls, 2 hip pockets."
The first Cone 501® selvedge was made of natural ends (a white color) without identifying color yarns. This would eventually change as Cone produced denim for more apparel manufacturers and needed a way to distinguish the denim by customer.
Cone Red Selvedge (1927-1983)
In 1927, Cone Mills developed 10 oz. red selvedge denim exclusively for our 501® jeans. The denim was woven on 29-inch wide looms. A single line of red thread within the white selvedge distinguished the indigo dyed twill as Levi's® denim.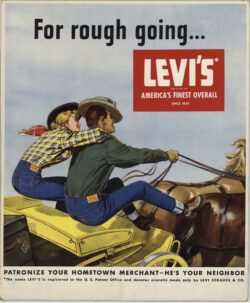 Selvedge become more visible as movies and advertisements featured Levi's® 501® jeans worn cuffed, cowboy style, beginning in the 1930s. Actor John Wayne starred in cuffed 501® jeans for his leading role in Stagecoach (1939). A decade later, a Miller Stockman Catalog highlighted genuine Levi's® with sketches of models wearing high cuffed 501® jeans made "without a match." Western-themed Levi's® advertisements showed off men in cuffed Levi's® jeans worn "for rough going."
Even Levi's® women's styles showed off selvedge. A May 15, 1935, article in Vogue magazine on dude ranch vacationing described true "Western chic" as "blue jeans or Levi's®, turned up at the bottom once" and worn with cowboy boots, "a Stetson hat; and a great free aid of bravado."
In the late 1940s, selvedge on these Lady Levi's® Lot 701 jeans, the women's version of the men's 501® jean, included a more feminine pink selvedge rather than the men's red selvedge.
So Long, Selvedge (1984 on)
When Levi's® 501® jeans went global and surged in popularity, the increase in denim demand eventually led to a change in denim production. Around 1984, Cone Mills adopted a more modern, economical wide loom, doubling the width of its denim that could be cut in the middle and eliminating the need for selvedge.
Selvedge was brought back for select products when we started to offer Levi's® Vintage Clothing reproductions and premium denim jeans.