October 12, 2022
Note. On May 20, 2023, the 501®, the world's first riveted denim blue jean, turns 150 years old. It began as an innovative idea to fill a practical need. In the early 1870s, Nevada Tailor Jacob Davis hit on the idea of "riveting" work pants by adding tiny metal pieces to pockets. Jacob Davis invited Levi Strauss & Co. to partner on a patent for "An Improvement in Fastening Pocket Openings." U.S. Patent No. 139,121 was granted on May 20, 1873, and modern blue jeans were born. Today, we celebrate the date as 501® Day.
To mark this milestone, we've kicked off a series — Countdown to 150, 501® Fab Facts — that traces key moments in the evolution of the 501® jean.
---
Concealed: When Rivets Went Undercover
When Levi Strauss & Co. first manufactured its patent-riveted denim overalls, now known as blue jeans, in 1873, the company added a single pocket to the right back side of the pants. Like the front pockets, rivets placed at the top corners of the back pocket prevented it from tearing.
By 1901, LS&Co. added a second back pocket to the overalls, also securing it with rivets. Back pocket rivets remained a key feature of the pants for almost 40 more years — until someone complained. And then someone else, and yet another. "As a wearer of Levi's overalls since 1891," Tom Mansfield of Nevada penned in a 1930s letter, "those rivets … were sure tough on a saddle and tougher now on the upholstery of a gas chariot."
The back-pocket rivets were scratching furniture, cars and saddles and were becoming a nuisance. The mounting customer complaints led to a riveting change.
But changing a key feature of the 501® jean was a challenge — especially since customers appreciated the strength of the pocket rivets. Would altering the construction of the 501® jean reduce sales? How would customers react?
LS&Co. hit on the perfect solution: Keep the rivets on the back pockets for strength but cover them so they didn't scratch anything.
In 1937, LS&Co. made the switch, taking the rivets under cover and patenting the new process as U.S. Patent No. 1999927.
Communicating the Change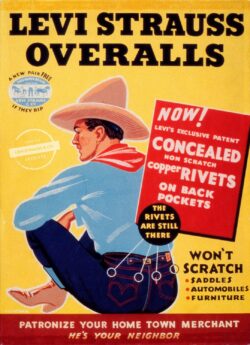 LS&Co. recognized that carefully communicating the pocket construction change on the 501® jean was essential. What would be the best approach? Where and how could the change be shared?
The company decided to let the pants speak for themselves. They crafted a special notice and attached it to the pants at the very spot where the change was visible — the back pocket — on brightly colored orange paper.
The first pocket flasher, made in a salmon color, featured arrows pointing to the corners of the pockets with the words, "The Rivet's Still There."
In-store advertising and retailer mailings emphasized this change as an innovation. Messaging highlighted the concealment as a bold new design feature, communicating the unusual "undercover" construction. As this advertisement declared, "Won't Scratch Saddles, Automobiles, Furniture."