April 5, 2022
Women's fashion in the 1920s was groundbreaking in many ways. It was the era of flappers, when Western women sported short skirts and bobbed hair, and adventurers like Amelia Earhart donned an aviator suit and became the first female to cross the Atlantic in an aircraft.
These women challenged the norms of what was then considered acceptable behavior. And thanks to Levi Strauss & Co., women could take their daring fashion into the outdoors with a new line of women's outdoor separates — dubbed "hiking togs" — styled for sporting in the great wide open.
"We are now offering a complete line of 'Hi Klass' Ladies' and Misses' Hiking and Outing Clothes," announced a February 6, 1922, brochure. Inside, a woman wearing a hat, jodhpurs and boots modelled the khaki clothes, holding a camera to capture the new vistas she could now enjoy.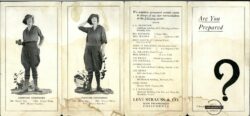 Just four years earlier, Freedom-Alls, a one-piece suit of balloon pants with attached tunic, was LS&Co.'s only women's fashion option. Heavy-duty separates offered practicality and versatility. They were perfect for open-air jaunts.
Levi's® enthusiast Susan Munson shared a photo of her mother in 1925, pictured second from the left, dressed in her LS&Co. hiking gear. The group seems prepared for a trek, or a boat ride, from the looks of the canoe in the foreground.
Today, 100 years later, we continue to offer a range of outdoor tops and bottoms for women still forging their own paths.
Then and now, Levi's® women's separates are a clothing staple.