February 18, 2022
In 1968, Levi's® debuted a series of advertisements that captured the look and feel of the era. Young people dressed in Levi's® head outdoors for fun—surfing at the beach, camping in the mountains, singing with a guitar beneath a tree, or boating at a lake. They look cool and carefree, enjoying the excitement of life and the freedom of youth.
A recent email I received shed light on the heartwarming story behind one of those posters, and how it ultimately brought a family together. "I have a Levi's story," Norm Trondsen of Sacramento wrote. "It is a bit different from the others you have collected."
A forgotten photo shoot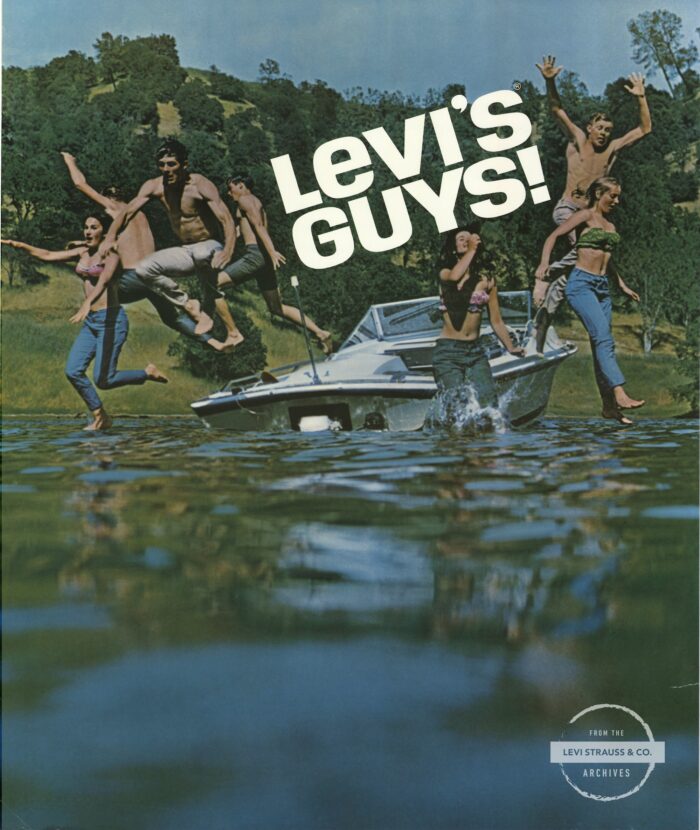 Norm and his brother, Dan, grew up in San Rafael, just north of San Francisco, and attended Terra Linda High School.
About the time Dan turned 17, he was invited to join a Levi's® photo shoot with his classmates. "The shoot took place at nearby Lake Berryessa," Norm recalled.  Since Levi's® were typical school attire at the time, wearing Levi's® for a day at the lake would be like any other day out. Dan and his friends were snapped by the photographer playing around in the water, "jumping off a dock or out of a boat," Norm said.
By the time the brothers had graduated, Norm had forgotten about the photo shoot until one day when he was driving down south of Market Street in San Francisco and a "Levi's® Guys!" advertisement caught his eye. "I saw Dan, with his friends at the lake, in a very large poster," he recollected. "My vague memory tells me it was quite a large Levi's poster . . . easily visible to pedestrians and folks in cars and buses."
A cherished family memento
It would be more than 50 years before Norm would think about that ad again. This time, it was about sharing something special with Dan's two sons, who lost their father in 1997 when they were just 6 and 2 years old. "The boys have memories of their dad," Norm said, "but those memories are few and fuzzy."
A few days before what would have been Dan's 70th birthday last December, Norm remembered the Levi's® ad. Tracking down the 1968 poster became a mission of love. He wanted Dan's boys to have an image of their dad as a young man, like they now were, experiencing the joys of life.
"I'd like to provide the boys and their mom, Lisa, with more," Norm wrote, inquiring about the advert. "Receiving copies of the poster and hearing the story behind it would mean a great deal to Dan's family."
Fortunately, it didn't take long to find the advertisement in our Archives. The poster with the lake scene was only too familiar. It turns out that it is featured in The Vault Museum at Levi Strauss & Co.'s headquarters in San Francisco.
We were able to give Norm a digital copy of the poster to reproduce and share with his family. "Lisa is very much looking forward to seeing the poster," Norm wrote, "and her sons will be thrilled as well."
For the Trondsen family, the ad is the ultimate snapshot of love, in Levi's®.
Caption: Dan Trondsen is pictured top right in the Levi's® advertisement.