March 25, 2021
This year marks the 35th anniversary of the Dockers® brand. To mark the occasion, we sat down with Global Head of Dockers® Santiago Cucci to hear his perspective on the last three-and-a-half decades and learn how he and his team are setting the brand up for the next 35 years. 
How different does the Dockers® brand look today versus in 1986?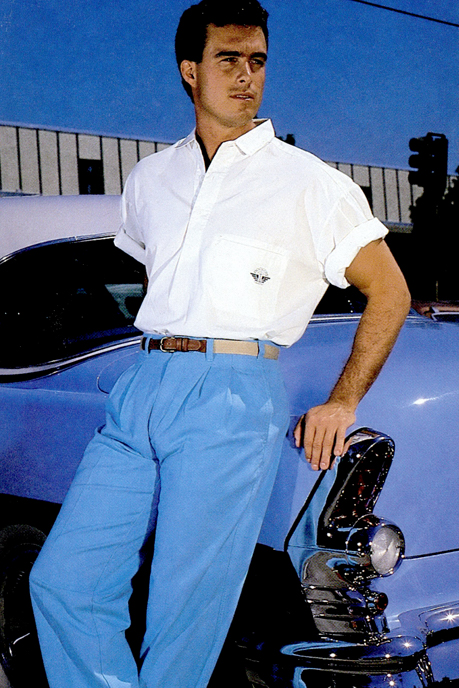 The Dockers® brand has certainly evolved, but I think the original intention of the brand is still the same — we're a casualwear brand from California and we've been consistent in offering confidence and optimism through our apparel since the start.
That said, the innovation and casualization we were initially known for in workwear and the business casual sector has expanded significantly. Today, Dockers® is a head-to-toe lifestyle brand, which means that we can offer a distinct aesthetic that feels true to today's point of view. We look much more casual than we did in 1986, and that's intentional. We still offer the classics, like the Signature Khaki, because we care about our brand loyalists. But with millennials continuing to be a target consumer for Dockers®, you now see fresher, relaxed style options that feel more progressive.
The Dockers® brand has changed a lot in the last 35 years. What would you say the biggest shifts have been? 
One of the things I love most about Dockers® is our history, and I think it's important to make note of that because we are constantly inspired by our own heritage. From implementing our Guide to Business Casualwear in the 90s to launching the most-loved Alpha Khaki in 2011, the brand has accomplished some pretty awesome things since 1986. We've maintained our "best khaki" rating across the globe, which I think speaks not only to the everlasting appeal of khakis, but also to how Dockers® has grown and evolved as a brand.
In recent years, we've made the clear-cut decision to be a values-led brand, and we are hyper-focused on delivering great style through sustainable initiatives. I believe that's where our most substantial shifts show up.
Dockers® recently opened up a new store at the Citadel down in Southern California. Walk us through this direct-to-consumer strategy and why you're rolling it out now. 
You're right — one of my big focuses for 2021 is expanding and elevating our retail footprint, both here in the U.S. and throughout our other regions as well.
Our U.S. retail presence had been on pause since store closures in 2018, so Dockers® at Citadel presented a special opportunity to reintroduce retail here — but we knew we had to ensure that the storefront would be a premium experience. I think the team was able to accomplish that. Citadel brings to life our new, California-cool aesthetic, with a well-balanced assortment of bottoms, tops, outerwear and accessories. It's a touchpoint that truly represents where Dockers® is headed.
What do you think Dockers® will look 35 years from now?
In another 35 years, I firmly believe we'll be a go-to casualwear brand that's known for sustainable business practices and strong company values. We're doing the hard work to set that foundation now. We are designing and creating with our fresh California aesthetic at the forefront while continuing to explore and act on the ways we can operate more consciously for the planet. We're investing in our communities, and we're partnering with brands and talent that fully align with our mission.
Our 35th anniversary content is a great example of that. Selema Masekela and Ryan Harris are a couple of great guys who are both California locals and involved in the surf community. I love what they stand for and how engaged they are with their own communities. Their organization, 1PlanetOnePeople, is a great example of their work in sustainability and community. Seeking out valuable partnerships like these will be key for us as we continue to tell stories around our new brand point of view.
Ultimately, we're leading with our vision, and I have so much confidence in Dockers® and where we're headed.