February 1, 2021
In March 2020, the world headquarters of Levi Strauss & Co. in San Francisco emptied out virtually overnight as we closed our offices in response to the COVID-19 pandemic and our employees started working from home. This wasn't the first time working from home became a sudden reality at LS&Co., however. More than a century ago, company employees also had to shift to a temporary work from home situation in a story of resilience and adaptability — much like we're experiencing today.
When he sailed into the San Francisco Bay in 1853, our founder Levi Strauss eventually settled on a company location near the city's waterfront. After setting up shop in several locations, in 1866 he opened a large warehouse office at 14 to 16 Battery Street. A few years later Levi's company took out a patent with tailor Jacob Davis for riveting pockets on trousers, and over the next few decades the business had expanded and was thriving throughout the West.
Then came April 18, 1906, when shortly after 5 a.m. a 7.9 magnitude earthquake shook San Francisco. By the day's end, the quake and subsequent fire had ravaged the city and LS&Co.'s headquarters was in ruins.
LS&Co. acted swiftly to return to normal, resuming work at the company factory across the San Francisco Bay on Clay Street in Oakland, where we made our line of Sunset label shirts. By April 27, the Stern brothers, Levi's nephews who had taken over the business, put an advertisement in that day's edition of the San Francisco Chronicle letting LS&Co. employees and customers know that the company was "positively" returning to business. "Fall orders placed with us will be delivered," it emphatically noted and reported, "The firm also wishes to announce that they will continue all salaries of employees until further notice," asking those who wished to resume their jobs to register at the Oakland factory.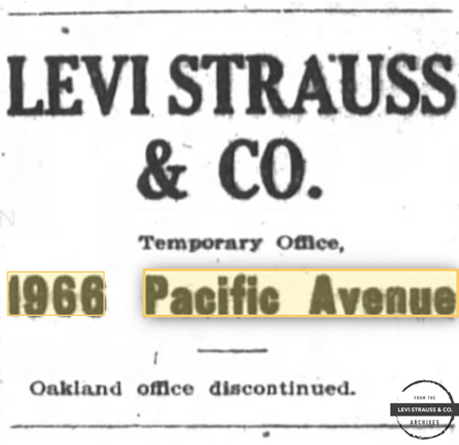 Within a month, the company designated a new temporary "home" office back in San Francisco. The Chronicle announced the relocated headquarters on May 21, 1906, noting that the Oakland office was discontinued. The new location? The home owned by Levi's nephew, Abraham Stern, and his wife, Elise, located at 1966 Pacific Avenue.
LS&Co.'s business went literally in-house at 1966 Pacific Avenue, with sales, distribution and other company activities taking place inside the home. There was even a "Levi Strauss & Co." banner hanging in the large arched window above the front entry. The home served the needs of the business until a new factory was constructed on Valencia Street in November 1906 and a new headquarters was set up on Sixth and South Streets in 1907. The company eventually moved to 98 Battery Street in the spring of 1908, which remained our headquarters until 1973.
1966 Pacific Avenue has since been converted into a 13-unit residential building. Today, it is once again a comfortable setting for residents currently working from home amid the global pandemic, in the same spot as LS&Co. employees nearly 115 years ago.