December 11, 2020
Last month, the Dockers® brand opened its new U.S. retail outlet storefront at the Citadel Outlets in Commerce, California. The 1,800 square foot store is the first location Dockers® has opened since closing all physical retail locations in the U.S. in 2018, and is the brand's first step in establishing and building its retail presence in the greater Los Angeles area as well as expanding its global retail locations.  
"Our retail footprint is an important part of our plans heading into 2021 and beyond," said Anne Spletzer, Dockers® VP of Sales. "Despite some unpredictability and setbacks due to the pandemic, our newest storefronts in both Europe and Latin America are already seeing success, so we're excited to use what we've learned is working there for our locations here in the U.S." 
Unlike our previous Dockers® store retail locations, which were perceived as "a wall of khakis," Citadel brings to life our new, California-cool aesthetic, with a well-balanced assortment of bottoms, tops, outerwear and accessories. In addition to an overall more casual aesthetic, Dockers® is prioritizing great style alongside sustainable, values-based product initiatives and focusing on what makes Dockers® an inherently California heritage brand.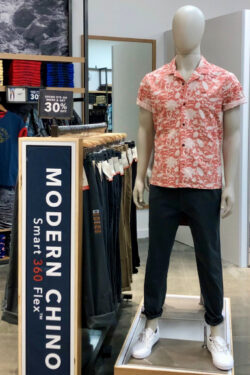 "As a lifestyle brand, we have so much to offer, and we'll be using retail locations to help tell that story. That's why our Citadel location will look much different from the last Dockers® store you stepped foot in," explained Anne. "Moving forward, our brick-and-mortar efforts will align with our evolving brand strategy. Overall, our approach has become more relaxed, and you'll see that represented at Citadel — our signage, styling and product assortment provide the consumer with a refreshed perspective of Dockers®."  
Originally, the idea was to open a temporary brick-and-mortar store to swiftly drive through excess inventory created by the pandemic; however, that plan quickly morphed from a discount pop-up location into a retail store in a premium outlet center. The team, many of whom had never before worked on the retail side of the business, were able to rapidly pivot to the change in direction. They moved fast, behaved like a start-up and leveraged the support from the LS&Co. retail teams whom they leaned on for their expertise. Thanks to their agility and speed, the team was able to open the store on November 13, within weeks of when the project started and just in time for the Black Friday weekend.  
"Consumers have had a great reaction to the new California-cool aesthetic of the store and are happy we are back at the center," said Nataly Noyola, Dockers Retail Store Manager. "We've seen a great response to our assortment, in particular the tops, which just goes to show that we are not just a khakis brand!" 
She added, "We can't wait to see what is to come this holiday season!" 
Congratulations to the Dockers® team!