May 20, 2020
Today is 501® Day, commemorating the day 147 years ago that Levi Strauss & Co. and Jacob Davis received U.S. Patent 139,121 for an improvement in pocket openings on trousers. It was the birth of riveted denim pants — blue jeans. Levi's® copper-riveted waist overalls, later assigned Lot 501, revolutionized apparel. Today, blue jeans are recognized as the ubiquitous global garment, worn by people everywhere all over the world.
They've outworn and outlasted most apparel trends in part because of their ability to be mended and repurposed. That's why I'm delighted to celebrate the birthday of blue jeans by announcing the newest 501® addition to the Levi Strauss & Co. Archives. Meet Clem — a faded and patched vintage Levi's® 501® that was owned by a true reuse, repurpose and recycle do-it-yourselfer.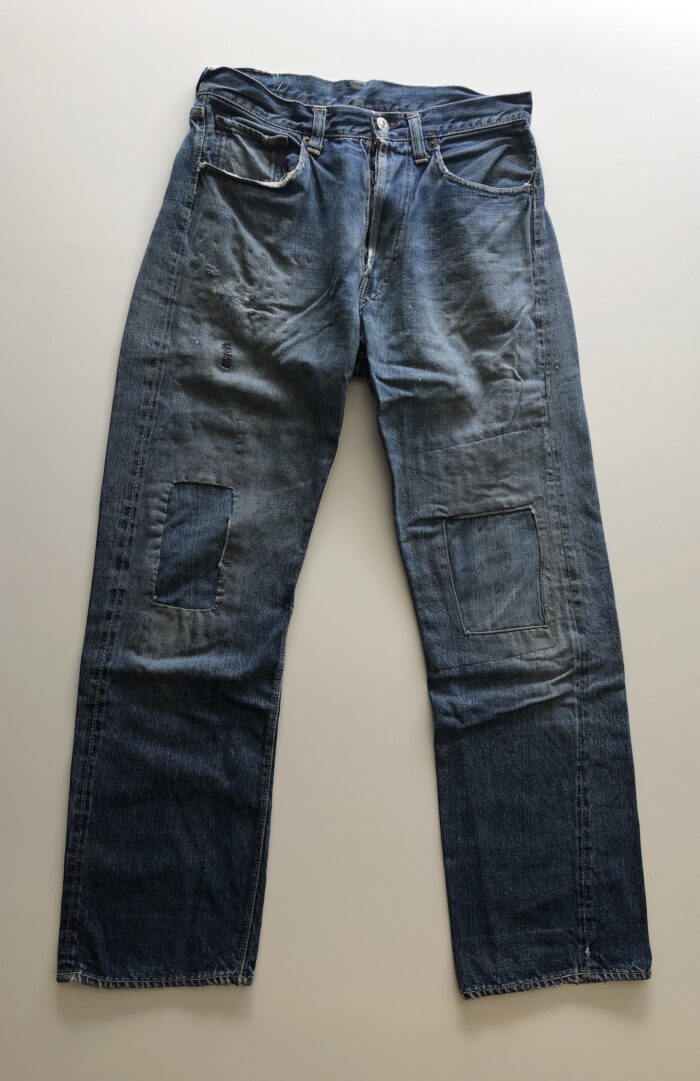 Clement "Clem" Johnston was born in 1930 in a small Oklahoma town, a time and place where resources were slim and there was not always enough to go around. He learned to make the best of what he had and never threw anything away — including his Levi's® jeans.
Clem moved to California during the Dust Bowl, later served in the U.S. Army and eventually settled in the mountains of Riverside County running an automotive repair business. Wherever he worked, he never let things go to waste. For example, when automobile maker Nash had a defective run of driveshafts for their cars, Clem asked if he could have them. Hundreds of driveshafts made their way to his ranch, which he repurposed as fence posts surrounding his 20-acre property.
He even built his garage from surplus materials on his property. Metal box parts became the roof, and railroad ties became corner posts for walls. The garage, while quite the patchwork, has been standing for decades, supporting countless engine hoists from the rafters while remaining watertight.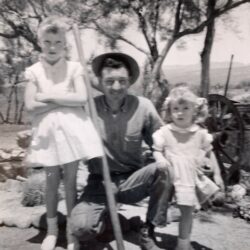 His resourcefulness wasn't limited to metal. Clem used scraps of denim around his workshop for everything from rags to making small gaskets or soft washers to prevent hardware from rattling. He repaired a beloved straw hat with scraps of denim, neatly stitching it into a peak to keep the top of the hat together. Even when his family bought him a new hat, Clem still preferred wearing his denim-laced straw one.
A black-and-white photo of Clem kneeling beside two of his three daughters, Pam and Ginger, wearing Levi's® patched at the knee best captures the man whose practice of recycling and reusing materials created a lasting tribute to his abilities.
When Clem passed in 2019 at 90 years old, his family discovered a cardboard box in the rafters of his garage. Inside, under a local newspaper from 1967, was a well-worn pair of Levi's® 501® jeans patched at both knees that Clem knew at some point would come in handy.
"I'm sure [Dad] would be tickled to hear that the pants he stashed away so many years ago are now highly prized," said Pam. "There is a lot to learn from a guy like Clem in our current world where things are disposed of without a thought. A little effort for a patch here and a stitch there in all aspects of our lives would go a long way in making the world a better place."
Here's a breakdown of the "Clem" jeans:
– Levi's® 501® Jean
– Date: Early 1960s
– Double-sided red Tab
– Copper rivets intact on back pockets
– Patches on both knees
– Machine and hand-stitched repairs cover the jeans