February 20, 2020
Joe Louis Levingston, a founding member of the all-male African American East Bay Dragons Motorcycle Club, never hits the road without his signature piece. "I do not ride my motorcycle unless I wear my Levi's vest," he says.
His vest serves as a sort of scrapbook of his rides, the people he's encountered and the politics he's experienced during the six decades he and the Dragons have gunned through the streets of Oakland, California. "If it could talk, I probably would kill it," Joe says of his vest. I recently sat down with "Papa Joe," as he's known, at his club house on International Boulevard to get a glimpse into an underground American and African-American history you're not likely to read in any textbook.
Loaded with pins, patches, key chains and other souvenirs, Joe's vest is covered with everything from an American flag to "Biker Til I Die" and California Department of Corrections patches. And while the man has a hands-off policy when it comes to women and his Levi's® vest thanks to one wild trip to Mexico where "the ladies there took all my stuff off me for souvenirs," he proudly points out the ways his piece honors women through add-ons like the name of his first wife spelled out in rhinestones on the collar and a yellow "Legalize Abortion" pin he's worn since the Roe v. Wade debate of 1973.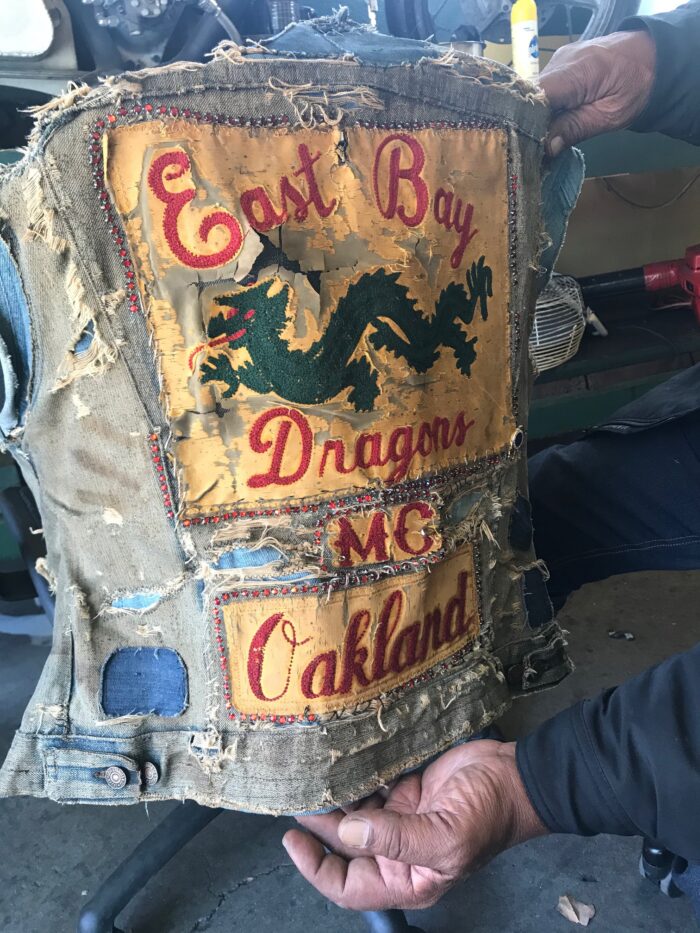 The back of Joe's vest is emblazoned in the original East Bay Dragons MC patch and surrounded by red rhinestones. It sits on a bright yellow square with a green dragon and red lettering of the club's name, underscored by the word "Oakland." It's been worn so much that it's threadbare and worn away in places, but Joe is not ready to let it go any time soon.  "I had to sew another vest underneath it," he said, adding that it's something he considers priceless. "I was offered $5,000 for the vest by a man from England – I told him it's not for sale."
Joe's Levi's® vest also serves as a travel log. "This jacket has been everywhere," he says, sharing stories of trips to Fresno, Reno, Los Angeles and Las Vegas. While club rides have taken the Dragons hundreds of miles away, they all begin at the club house a few miles from the Oakland Coliseum.
From cars to motorcycles
As the oldest African American motorcycle club still in existence, the Dragons have a legendary past dating back to its inception in 1959. Joe and his brother, Dragons' founder Tobie Gene Levingston, started the club with cars. "We was a car club in '57," says Joe. "We changed it over to a bike club." While Dr. Martin Luther King Jr. marched for equal rights and Rosa Parks took her historic bus ride, the East Bay Dragons risked life and limb at a time when a black man riding a Harley chopper was a revolutionary act.
A glimpse into a 'members-only' world
Thanks to rock icon Carlos Santana, the easiest way to get a glimpse inside the Dragons Club is by watching his video, Put Your Lights On – the guitarist rented out the club house for the shoot, offering the curious a look inside the place without an invitation (don't miss the giveaway wall mural with the Dragons riding their Harleys under an orange moon).
For those looking to check out Papa Joe's prized possession, he loaned his East Bay Dragons vest to the Levi Strauss & Co. Archives for display during Black History Month. It's a piece of living history that you can see for yourself in The Vault Museum at Levi's® Plaza, 1155 Battery Street, San Francisco, through the end of February.