January 9, 2020
The past decade was a defining one for the Levi Strauss & Co. Archives. We added some iconic clothing to our world-famous vintage Levi's® collection, from a pair of 140-year-old riveted denim overalls that look like new today to an iconic scientist's leather jacket. Here's a look back at five phenomenal finds from the 2010s.
New Nevada Jeans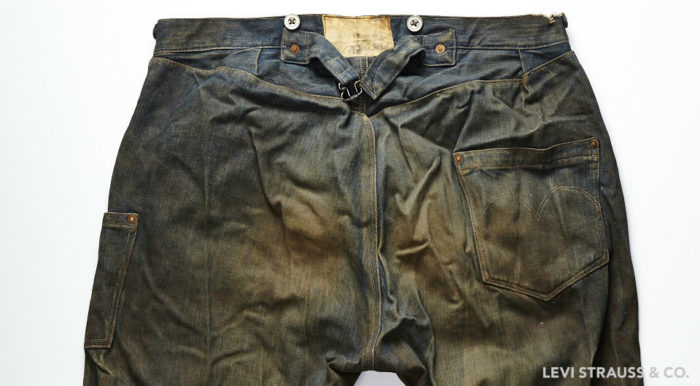 We introduced the New Nevada Jeans in 2015 to mark the birthday of blue jeans — 501® Day on May 20. Except for wear marks and a few holes and tears, the New Nevada jeans are in near-perfect condition despite being one of the oldest pairs of jeans around, dating to the 1880s. Two unusual features of the overalls are a side tool pocket and a center back patch with penciled in sizing that is still visible. The deep blue natural indigo coloring is another outstanding feature.
Prison Pants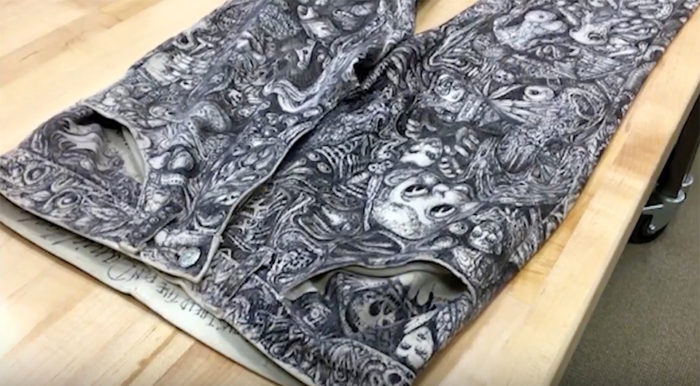 The Prison Pants are a visually stunning pair of STA-PREST White Levi's® jeans. Owned by a former inmate who used ballpoint pens and markers to draw all over the pants, they are a look at life behind bars and an intimate glimpse into one man's psyche. "Every time he talked about [them], he would share a story from the prison," said Edward, whom I acquired the jeans from, as he described the Levi's® awash in inked illustrations.
Viola Women's Blue Jeans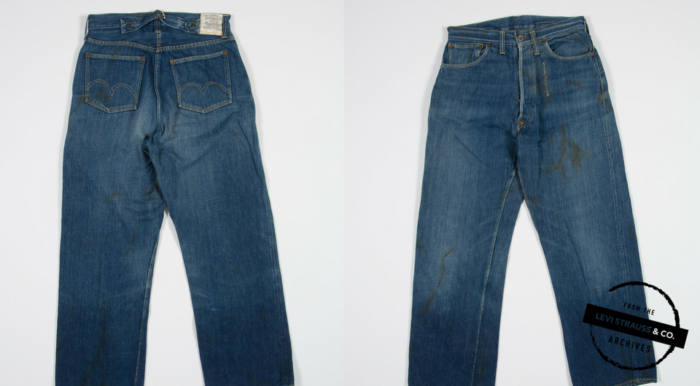 In 2017, we acquired a pair of pants we called Viola, the oldest pair of women's blue jeans in the world. The jeans are named for their owner, Viola Longacre Bedford, a fashion-defying woman who purchased and wore Levi's® in the early 1930s — years before pants were acceptable women's clothing. Viola wore her Lot 401 jeans during the Depression as a college student studying to be an English teacher.
Steve Jobs' 501 Jeans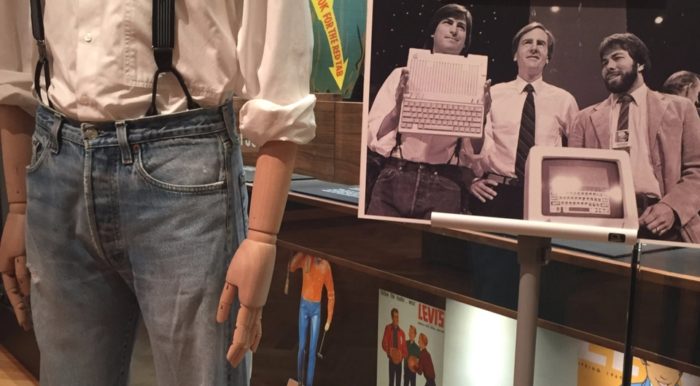 Silicon Valley legend Steve Jobs revolutionized modern technology while wearing his favorite pants — the Levi's® 501® jean. Purchased from Julien's in Los Angeles, the jeans were auctioned off at the same time as a lock of Marilyn Monroe's hair and Keanu Reeves' annotated script from The Matrix Reloaded. Worn by Steve in the mid-to-late 1980s, the jeans feature added buttons to accommodate suspenders.
Albert Einstein's Jacket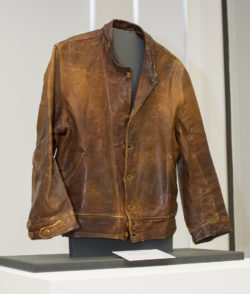 Topping my list of best Archives additions last decade is a Levi's® leather jacket worn by Nobel-prize winning physicist, Albert Einstein. Einstein's jacket was purchased when he was becoming a U.S. citizen in the mid-1930s — so buying the garment from an iconic American brand like Levi's® was fitting in more ways than one. As fellow scientist Leopold Infeld wrote in his memoirs, "Einstein wore [the jacket] all the time." He explained that Einstein tried to keep material restrictions to a minimum; long hair reduced the need for a barber, and "one leather jacket solved the coat problem for years." In short, Einstein adopted genius style. Placing the winning bid on Einstein's jacket at Christie's in London will always be a career highlight for me.
With 2020 here, I look forward to another decade of great additions and the latest Levi's® treasures.