November 22, 2019
Peggy Caserta was only 24 years old when she opened Mnasidika, a clothing boutique on Haight Street in San Francisco in 1965. The timing and location were fortuitous.
Mnasidika became a center in the psychedelic revolution that was unfolding in the city. It was where Wes Wilson's posters hung, Bill Graham sold concert tickets, LSD was enjoyed and Herb Caen coined the term "hipsters." It also served as the hangout spot for legendary musicians like the Grateful Dead and Janis Joplin and it was the place where Peggy created a Levi's® style sensation: bell bottoms.
"I found my way out to San Francisco right at the moment, honey," Peggy told me over the phone in her lilting Southern drawl.
Creating a psychedelic hub and making fast friends
Working for Delta Airlines, Peggy moved from her home near New Orleans to the Bay Area and found an instant connection with San Francisco. She decided to try her hand at a clothing store, borrowed money from her parents, found a space off the corner of Haight and Ashbury for $87.50 a month and opened Mnasidika. "I was just looking for cheap rent," Peggy recalled.
Her mom made the first clothes for her shop: blazers, blouses and shirts for women. "She would ship it out on Delta for free," said Peggy.
Peggy's shop quickly grew into a hub for the psychedelic movement as more young entrepreneurs, musicians and artists moved into the Haight. "Fashion was changing," she said, "The Haight, something happened here. The energy … you could feel it in the air … [and] I had a front row, center seat."
She soon had to quit her job at Delta to keep up with demand. She even expanded into the barber shop next door, buying out the barber — "People weren't getting their hair cut," Peggy said — and created a space for her friend Bobby Boles to make sandals and boots.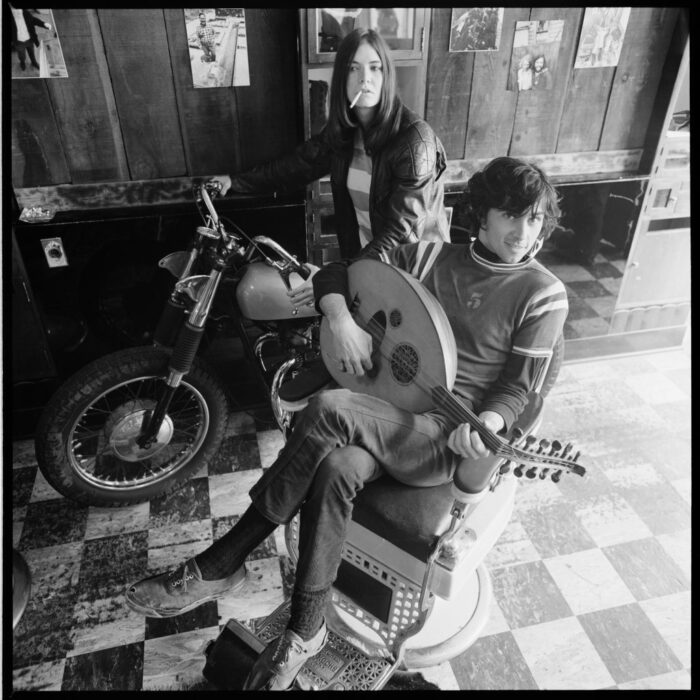 As business grew, so did demand for clothing items, like jeans. "I started feeling that I needed more jeans," she recalled. "So, I started stocking [them]" from Levi Strauss & Co. and others.
These jeans didn't just meet customer demand — they also formed friendships, including one between Peggy and Janis Joplin. Even though Janis's career was rising, she was still relatively unknown when she walked into Mnasidika, so much so that she couldn't even afford to buy a new pair of jeans. "We joked that we met over a pair of Levi's," said Peggy.
The two became fast friends — by the time Janis was singing at Woodstock in 1969, Peggy was with her backstage.
The birth of bell bottoms
One day, Peggy noticed someone sporting an unusual pair of custom Levi's®. "One of the early hippie-ish type girls had split the side seam on her boyfriend's jeans, Levi's, and inserted a paisley triangle," she said. Peggy paid the girl, Judy, to make a dozen of her custom Levi's® for the store.
The result? "They sold so quickly, it was mind blowing," Peggy said.
With her test pilot a success, Peggy asked Judy to do it again, but this time with the inserted triangle in denim. Judy, who was sewing the jeans by hand, turned her down, saying she wouldn't be able to keep up with demand.
Peggy considered her options and decided she had only one choice — ask Levi Strauss & Co. for help.
She put on the same dress she would later wear with Janis at Woodstock and drove to the LS&Co. factory on Valencia Street. Despite an initial refusal, an older man came to her rescue just as she was about to leave. "He boasted that he was the only employee still alive who had worked with Levi Strauss himself," Peggy remembered. He offered to help, ordering an initial run of "flared" jeans on credit since Peggy could not afford them.
Peggy and the employee started with 30 dozen jeans. When the Levi's® pants sold like hot cakes, Peggy returned to the factory with a check in hand to pay off the advance. The partners then doubled the run and increased the flare, repeating the production again and widening the flare even more. In the end, Peggy worked out an exclusive, six-month deal through 1968 to sell the popular Levi's® bell bottom jeans only at Mnasidika.
In 1969, the year after Peggy's exclusive Levi's® run ended at Mnasikida, LS&Co. introduced the 646 Bell Bottom jean. Today, the hippie jeans that became a Haight Street sensation is still a Levi's® style staple.
Peggy gets emotional even now as she reflects on the serendipity of her story. "I'm getting chills telling you this," she confided. "I knew instinctively [then] that something was happening."
Hear more from Peggy herself! 
Now, 50 years after it all began, Peggy will share her story with LS&Co. for the first time.
Join me at Haas Auditorium in San Francisco or remote via webcast for a conversation with Peggy as she reveals details about Janis Joplin, the Grateful Dead, hippie style and the psychedelic revolution on Monday, November 25 at 12 p.m. Pacific Time.
It's free, open to the public and guests will have a chance to win Peggy's book, I Ran Into Some Trouble.
*Photos courtesy of Herb Greene.