October 16, 2019
In John Ford's 1939 Western "Stagecoach," John Wayne lights up the screen as the Ringo Kid with full swagger – and 501® jeans. It's the movie that made John a star — and cemented Levi's® as a key costume for Hollywood Westerns.

Born and sold in the American West and adopted by cowboys, miners and other workers, Levi's® copper riveted denim waist overalls, later known as blue jeans, were a natural choice for movie houses. Levi Strauss & Co. had adopted the cowboy as its symbol and promoted Levi's® on the rodeo circuit, helping to establish the tough pants as recognized Western attire. Additionally, buying Levi's® jeans, shirts and jackets would have been easy for studios shooting films in California – or nearby Utah, Nevada or Arizona – where local stores stocked Levi's® products. Costume houses could also order out of Western Wear catalogs directly from LS&Co. in San Francisco.
Western movies and their Levi's®-clad stars were popular throughout the 20th century. In "Three Young Texans" (1954), Johnny Colt (Jeffrey Hunter) wears Levi's® jeans and a jacket opposite Rusty Blair (Mitzi Gaynor) who appears in a Levi's® Type 1 denim jacket. Gary Cooper looks distinctive in his cuffed Levi's® in "The Cowboy and the Lady" (1938). In "Saginaw Train" (1953), a Levi's®-clad Gene Autry plays a mounted ranger who helps protect Michigan settlers from nearby Native American tribes.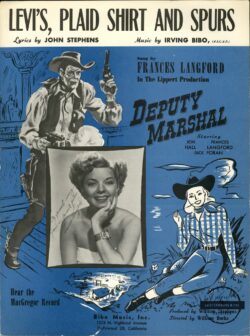 Other Western stars who donned blue jeans included everyone from Tom Mix in "The Untamed" (1920) to Robert Mitchum in "West of the Pecos" (1945) and many others. Charlton Heston, for example, cast an impressive figure when he decked out in Levi's® for "Lucy Gallant" (1941). Roy Rogers also wore Levi's® jeans for "Romance on the Range" (1942) alongside a character who wore a Levi's® Type 1 denim jacket. And in "Deputy Marshal" (1949), Levi's® were such a prominent part of the movie that they were included in the feature song, "Levi's, Plaid Shirt, and Spurs." Even Bob Hope wore Levi's® jeans for the Western spoof, "Alias Jesse James" (1959). 
Hollywood stars didn't just wear Levi's® on screen, either. Before Tim McCoy starred in nearly 100 Hollywood Westerns from the 1920s through the 1940s – including "Roarin' Guns" (1936) where he donned a pair of Levi's® as a cattleman's association agent – the actor worked in 1909 at the Double Diamond Ranch in Wyoming. There, he remembered the preferred pant was "denim manufactured by Levi Strauss [that] cost a dollar a pair." Leo Carrillo not only wore Levi's® jeans as Pancho in the 1950s Western television series "The Cisco Kid," he also wore our jeans and rodeo shirts while managing his 1,750-acre ranch in Carlsbad, California. He even posted a Levi's® advertisement in his bunkhouse that is recreated and preserved at the Leo Carrillo Ranch Historic Park.
When it comes to modern westerns, I personally enjoy seeing Sheriff Walter "Walt" Longmire pull off his boots, cowboy hat and Levi's® jeans while solving mysteries in the television series "Longmire."
While Westerns may not be as prominent as they once were, Levi's® jeans continue to show up on screens big and small today across all genres, proving that Levi's® is a style for the ages.
*Main photo of Leo Carrillo courtesy of the Leo Carrillo Ranch Historic Park.