May 20, 2019
Happy 501® Day! On this day in 1873, Levi Strauss & Co. officially received a patent for our riveted pants in 1873. Today is a celebration of an icon loved by gold-miners, movie stars, denimheads and, of course, our own employees.
In fact, we asked some employees to share their stories about why they love the 501® jean. Here are a few of our favorites.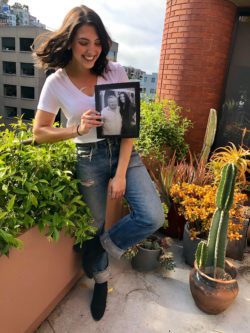 Lauren Arnett, Market Trends: When my grandfather was growing up, his family couldn't afford to buy new Levi's® jeans though there was a corner store that sold both defective and hand-me-down pairs. To do so legally, the store had to cut off the red Tab on the pockets of the jeans. He and his siblings would rummage through the piles of jeans trying to find the pant with the most red Tab still attached. The red Tab was a symbol they aspired to wear. That story made the day I bought my first 501® jean and the day I started at Levi Strauss & Co. particularly special to me and my family.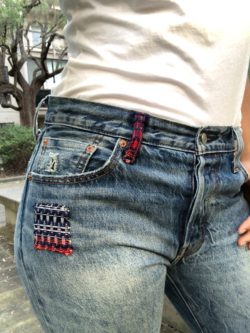 Sarah Mayhue, Men's Global Bottoms: My previous manager gifted me my first pair of 501® jeans. These hold such a special place in my heart because it represents someone who took a chance on an individual with almost zero experience at the time. I owe the start of my career at Levi's® to her.
Later, I bought the most beautiful Made & Crafted® knit skirt that couldn't fit past my left thigh. While I was devastated, I thought the skirt could be reused to customize my favorite 501®'s. I had a great relationship with the Custom Tailor Associate at Levi's® Emeryville, so I explained to him that I wanted the left back pocket to be made from the skirt and gave him full reins on the rest of the customization. When I picked up my jeans, I was overjoyed with the small details he added. His creativity took the jeans to a whole new level.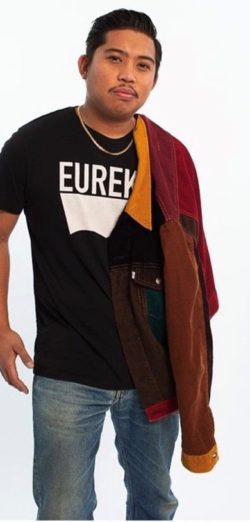 Raymond Crisostomo, Eureka Lab: This is my hand-me-down 501® STFs that I got from my father. The 501® has always been a timeless classic. I think it's hella dope that even though my father has passed, I still continue to wear the same pair of pants he faded in. That just goes to show how tough and well put together these are. I hope to pass them down to the next generation as well. Buy less. Make it last.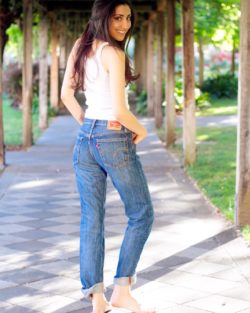 Ariana Frankel, Product Development: 501® jeans were actually my first pair of Levi's® after I was hired as a summer intern in Product Development in 2017! I was offered a full time role as a product development assistant and actually ended up working on the 501®! It has been such an incredible experience to work on such an iconic product and see how both the 501® and Levi's® have evolved and continue to thrive with new innovations in fit and design.