October 31, 2018
This year, Levi Strauss & Co. celebrates the 35th Anniversary of the first Original Levi's® Store—a retail shop that opened in Vitoria, Spain in 1983. To mark this milestone, Tracey is exploring the evolution of LS&Co. retail.
In the 1920s, Levi Strauss & Co. customers bought products from local family-owned shops as they had in prior decades. The guarantee, "A new pair FREE if they rip," meant the company enjoyed plenty of new and repeat customers. Double X copper-riveted denim overalls flew off the shelves at Goldberg Brothers in Phoenix, Arizona and other similar shops, accounting for half of LS&Co.'s profits by 1926.
Of course, after the Stock Market Crash of 1929, activity at these shops plummeted. Faced with slumping sales during the Depression, LS&Co. turned temporarily to growing mail-order houses like J.C. Penney for the first time. The national chain store sold inexpensive denim boy's waist overalls and loose khaki pants during these bleak economic years.
Eager to re-build sales following the Depression, LS&Co. launched a major advertising campaign around 1933 pointing shoppers to their local retailers. "Patronize Your Hometown Merchant," directed company advertisements, flyers and point-of-sale pieces. These establishments included mom-and-pop shops like Les & Buelah Groceries in Robin, Idaho. The couple purchased their store in 1937 where Lester Armstrong served as the postmaster. Locals visited the store to pick up mail and shop for candy, cooking supplies and hardware as well as Levi's® denim overalls and jackets.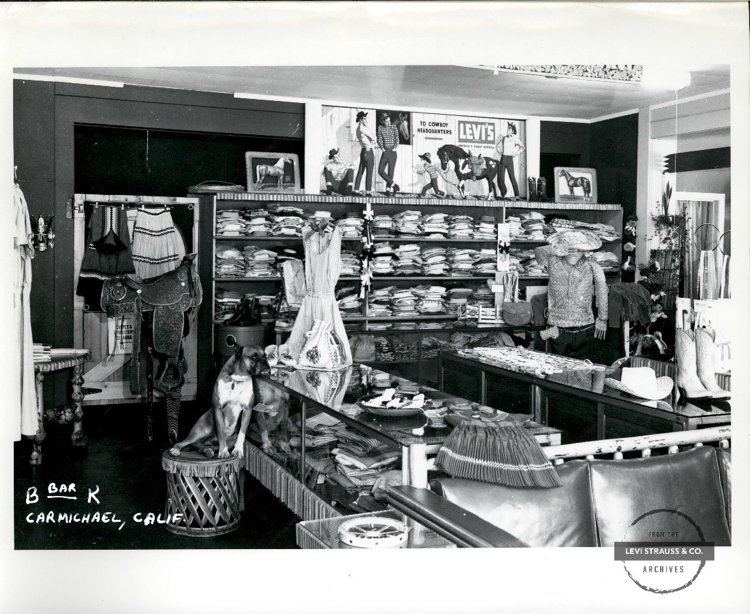 LS&Co. also established relationships with western wear and saddlery stores to stock Levi's® products. Advertisements featuring cowboys and rodeo imagery enticed customers at stores like Bar K in Carmichael, California.
Department stores such as Hart's in San Jose, California or May Co. in Los Angeles eventually numbered among LS&Co.'s retailers. Most of these shops were in the West through the 1930s and into the 1940s, except for select departments stores like Best & Co. on Fifth Avenue in New York which sold our Lady Levi's® blue jeans and other special products.
World War II and the 1940s
During World War II, shortages from rationing forced eager customers to line up at some LS&Co. retailers for their favorite Levi's® clothes. In Berkeley, California, Lee's, one of many menswear shops that stocked Levi's® products during the decade, managed lines that ran down the street. For Sneible & Tavernetti Co. in Gonzales, California, Levi's® customers were encouraged in advertisements to "Buy War Bonds."
Following the war, LS&Co. kept selling through hometown merchants, extending across the country in shops beyond the West to the Midwest and East Coast by the 1950s. Stores ranged from Ryan & Elliott in Elko City, Oklahoma to the Famous Clothing Co. in Nebraska and the Goshen Saddle & Harness Co. in Goshen, New York. In 1955, Enterprise Saddlery in Little Rock, Arkansas hosted an outdoor booth and "Western Roundup of Fashion" featuring Levi's® products and a display of our tallest jeans.
By the 1960s, younger customers became an increasing focus for retail efforts. Point-of-sale advertisements drew in teenage customers with contests and prizes. Displays in windows and in stores included music and records. By 1969, a new teen store opened on Ocean Avenue in San Francisco selling only Levi's® jeans and records. Its name? The Gap.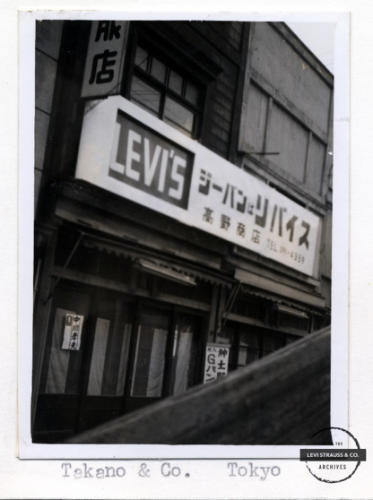 Levi's® retail presence also expanded overseas with the creation of our international division in 1965. During the decade, our products sold in stores all over the globe, including a shop in Tokyo.
Through the 1970s, LS&Co. expanded its network of retail customers around the world. The variety of products offered by the company grew alongside the number of retail outlets. Along with our iconic copper-riveted overalls or 501® jeans, shoppers bought corduroy, bootcut and bell bottom jeans along with denim shirts, coats and casual wear.
Read Part One of Tracey's series now. And keep up with the LS&Co. Archives and other cool LS&Co. heritage news by following Tracey on Twitter, @TraceyPanek, and stay tuned to Unzipped!