October 25, 2018
In 1918, despite global challenges, Levi Strauss & Co. foresaw changes that opened new opportunities—especially for women.
Nearing the end of World War I, females were entering the workforce to drive Red Cross vehicles or join the military. And the women's suffrage movement was gaining strides, leading to the 1920 passage of the 19th amendment and the vote for American women—led by farsighted Western states.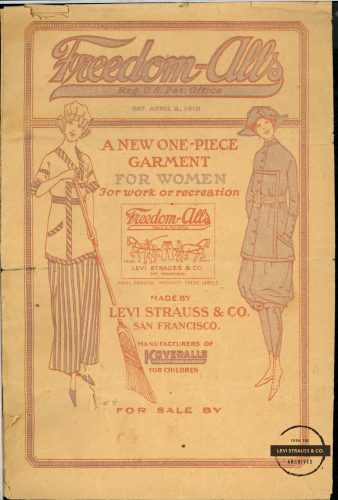 It was amid this landscape that Levi Strauss & Co. introduced its first garment designed specifically for women. It was experimental, a garment on the cutting-edge of women's clothing. Patented on April 9, 1918, the company received a trademark for the garment on October 22, one hundred years ago this week.
Freedom-Alls, a new one-piece suit, offered females fashion freedom. It bridged suitable styles of the day—looser, drop-waisted and corset-free dresses—and womenswear of the future, pants.  The garment was a belted tunic worn over harem pants which buckled near the ankle to be worn with boots. It could also be worn loose. There were two versions: one in "Heavy Khaki" and the other in a lightweight cotton. In the latter, the tunic came in solid blue, pink or green and the trousers had alternating stripes of white and whatever color the tunic was.
The garment was a response to the larger, more active role women were playing in the U.S., especially in the West – it liberated and enabled female customers. One California woman wore Freedom-Alls at her wedding, riding off on horseback to tour her sheep ranch in the San Joaquin valley with her new husband. Another rare Freedom-Alls suit belonged to Edith Kast Hartman of Reno, Nevada, who separated the suit into two pieces, a top and pants better suited to her own lifestyle – presaging design changes like women's pants that would soon follow. It is now owned by the Nevada Historical Society.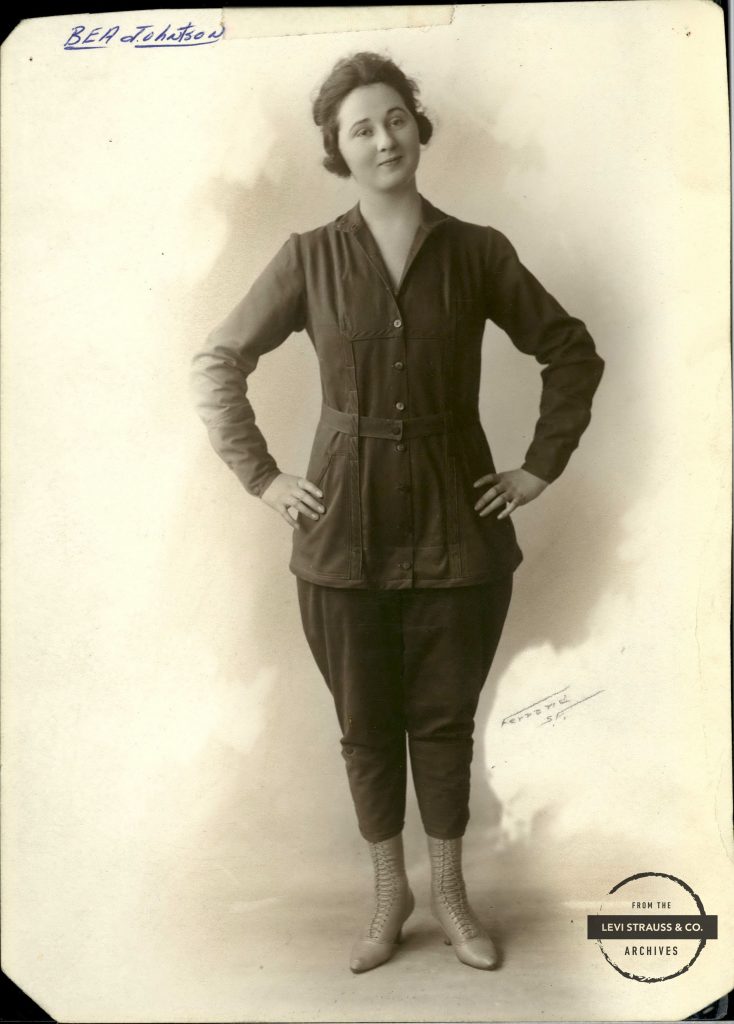 The advertising for Freedom-Alls reflected these changing roles for women. It featured females doing housework (a traditional activity), and some form of physical exercise like hiking (not so traditional). It was meant to appeal to Western women who were taking advantage of the wide-open spaces: driving cars, wandering through the new national parks like California's own Yosemite National Park where many women were hitting the hiking trail or engaging in other outdoor adventures.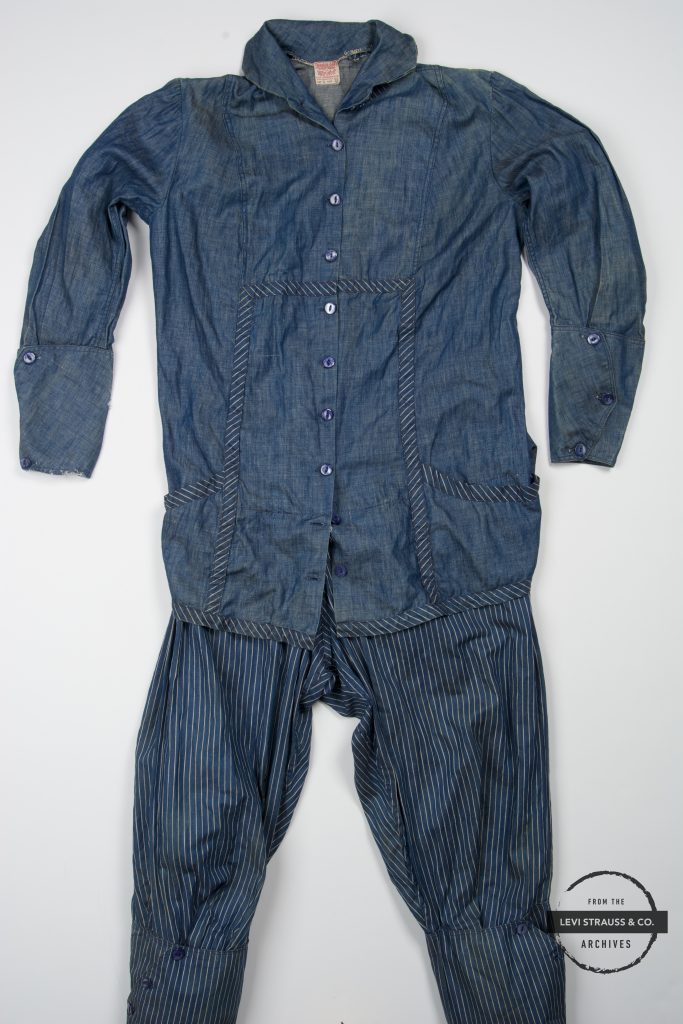 "One-piece suit for women—hiking style," the Levi Strauss & Co. 1918 price list notes. "When ordering give bust measurement only." LS&Co. introduced the roomy garment next to "Kover-Ups," a one-piece suit for men, and "Koveralls," a one-piece denim suit for children. Freedom-Alls were made by women in an LS&Co. factory in Frankfurt, Indiana.
While they were ahead of their time, Freedom-Alls didn't really catch on – but it was a starting point for LS&Co. By the 1920s, we introduced the next evolution in women's garments, separate tops and bottoms like "Ladies' Outing Coats" and hiking breeches. Within 10 years the company would offer women their own blue jeans for the first time in history.
Recognized for its contribution to the evolution of our women's offerings, in 2014, Levi's® Vintage Clothing reproduced the women's suit. The Levi Strauss & Co. Archives has one of the reproduction suits as well as a rare original 1918 lightweight cotton suit in blue. It's considered one of the treasures of our Womenswear Collection.
"Levi's® and the story of jeans is often told as a men's story," said Emma McClendon, Associate Curator of The Museum at the Fashion Institute of Technology. "Side by side, it's a women's story about unconventional garments, freedom and empowerment."