September 18, 2018
The most iconic name in khaki is cementing its focus on innovation with the introduction of its Smart Series™ platform and celebratory campaign, #DockersChallengers.
Infusing 30 years of market-leading design and innovation from the khaki experts, Smart Series™ is an assortment of perfected fits with with comfort technologies and smart details to boot. New for Fall 2018, All Seasons Tech™ and Supreme Flex™ khakis boast enhanced functionality and durability, as well as the comfort, craftsmanship, and confidence consumers expect from Dockers®.
"We spent a long time with consumers to understand what is needed in a pair of khakis and to ensure we are delivering smart, relevant product. It's about building on what's already working for him and providing the newness he needs – not recreating the khaki wheel," said Karen Riley-Grant, VP of Global Marketing at Dockers®.
From temperature control to superior stretch and recovery, new innovative Smart Series™ khakis promote a range of lifestyle solutions to equip consumers: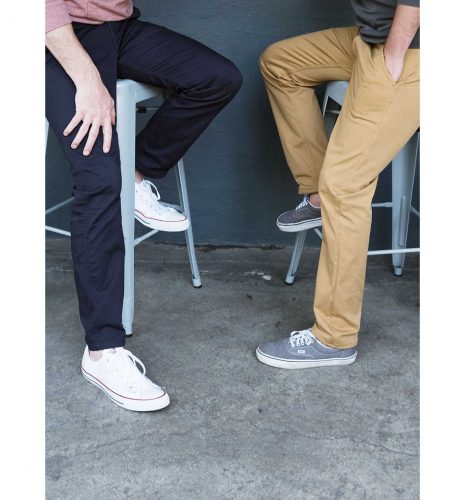 All Seasons Tech™ khakis are made of a lightweight, engineered fabric that regulate temperature control for warm and cold conditions. These khakis adjust with you and the environment to keep you comfortable in changing conditions.
Supreme Flex™ khakis offer the ultimate in flexibility, featuring optimized four-way stretch technology that allows for a wider range of motion and an exceptional recovery rate.
Smart 360 Flex™ khakis continue to give consumers what they want overall: comfort. Since launching in Fall 2017, these innovative khakis have prepared consumers for whatever comes their way. Four-way stretch with excellent recovery and smart design details like a stretch interior waistband and covert security pockets, make these khakis not only innovative, but trustworthy.
To mark the release of this innovative line, Dockers® has launched the global #DockersChallengers campaign to celebrate real people who are making change in their communities and changing the ways we think and live. #DockersChallengers are confident and comfortable in their own skin. They are 'Always On' and ready for anything that may come their way.
For the first initiative of the Challenger program, Dockers® has partnered with Ross Borden, a 36 year-old Bay Area native, the founder and CEO of one of the world's largest independent travel media companies, Matador Network. You can follow Borden this fall on Dockers.com as he takes you to his three favorite cities around the world as a  #DockersChallengers, and explore the new Smart Series line while you're there.
Find the new Smart Series fits online at Dockers.com and in select stores.