May 4, 2018
Archaeologists excavating at a 19th Century fort – one of the earliest sites of the Royal Canadian Mounties – in western Canada last year made an unexpected Levi's® discovery – a small rusted rivet. Fortunately, they could still make out the embossed letters beneath the verdigris finish, "LS&CO SF Patent May 1873."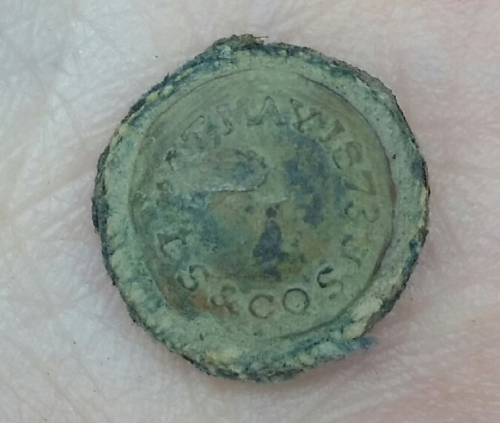 The embossed 1873 date confirms that it is a Levi's® garment from the 19th century. Levi Strauss & Co. dropped the 1873 date from the rivet on their overalls when their patent expired about 1890.
Coincidentally, the Royal Canadian Mounties share the same birth year as the blue jean. "The North West Mounted Police (now the Royal Canadian Mounted Police) was created in 1873 to bring law and order to the Canadian frontier in western Canada," Archaeologist Rob Wondrasek said.
The site was the first fort for the North West Mounted Police established in Canada. Occupied from 1874 to 1884, it became a trading post for travelers in the West. "The Levi's rivet just adds to the growing evidence that this secluded outpost on the Canadian frontier was connected to a wide supply chain that covered most of Canada and the USA," Rob said.
The rivet find demonstrates that LS&Co.'s early blue jeans were traded widely in the West including northern forts.
"While the reason for the establishment of the force was to curtail whiskey traders (both American and Canadian) from trading with First Nations groups on the Canadian Plains," Rob explains, "the success of the Force was largely due to ties to American traders . . . out of Fort Benton, Montana."
Trading goods, like Levi's® denim riveted overalls in the late 1800s, were also connected to the Great Lakes area. Goods sent from the Great Lakes region of Canada went by boat to Winnipeg and south by boat and wagon train to Bismarck, North Dakota. Steamboats carried goods on the Missouri River to Fort Benton, Montana where oxen trains hauled them north to Canada.
"As part of our excavations we have recovered artifacts originating from the U.S., Canada, Great Britain and Germany," says Rob. "I believe that the Levi's rivet is the first evidence of materials originating from the state of California."
We're tickled with this early Levi's® link to Canada's royal riders, though it's not our only one. In the 1940s, we featured mounties in an advertisement for the then-new red Tab on our blue jeans. "The red coat means mountie," the ad extols. "The red tab means Levi's®."
Want to keep up with the LS&Co. Archives and other cool LS&Co. heritage news? Follow Tracey on Twitter, @TraceyPanek, and stay tuned to Unzipped!