May 1, 2018
We're gearing up to celebrate the big 1-4-5 for the 501®.
On May 20th, the 501® jean will celebrate its 145th birthday, a milestone we recognize as "501® Day." The date marks the anniversary of the patent date.
Since the debut of the original button fly jean, millions have reinvented it to express their unique styles. Using 501® jeans as the ultimate canvas for co-creation, our wearers around the globe have added to their Levi's® with personal touches – from chain stitch and airbrush, to pins and patches, to rips and tears. This year, we celebrate the millions of collaborations and those who've taken what's ours and made it their own.
"Wow, 145 years. There are very few products in the history of our human species, certainly in clothing, that have anything like that type or duration," said Jonathan Cheung, Levi's® Head of Design. "Looking at it through an anthropological lens, the 501® jean is something that I'm completely in awe of. I don't think there's been anything as well-used and tested or one that has made such a cultural impact. It's pretty incredible."
Levi's® is commemorating this big birthday with special 501® capsule collections praising the beloved jean's innovative style.
Everyone who has worn Levi's® 501® original jeans contributed to their ever-changing story, and this season brings a first: limited edition Celebration 501® jeans featuring exclusive gold-plated buttons and Levi's® proprietary selvedge.
"We recently discovered a pair of deadstock 1947 501® jeans, meaning that they've never been worn. Any denim aficionado will recognize the 47's as 'grail jeans' and to find a pair in headstock condition is unbelievable," Jonathan said. "What we found was that the buttons on this special pair had oxidized to a gold color – so we replicated the golden hue for this limited edition."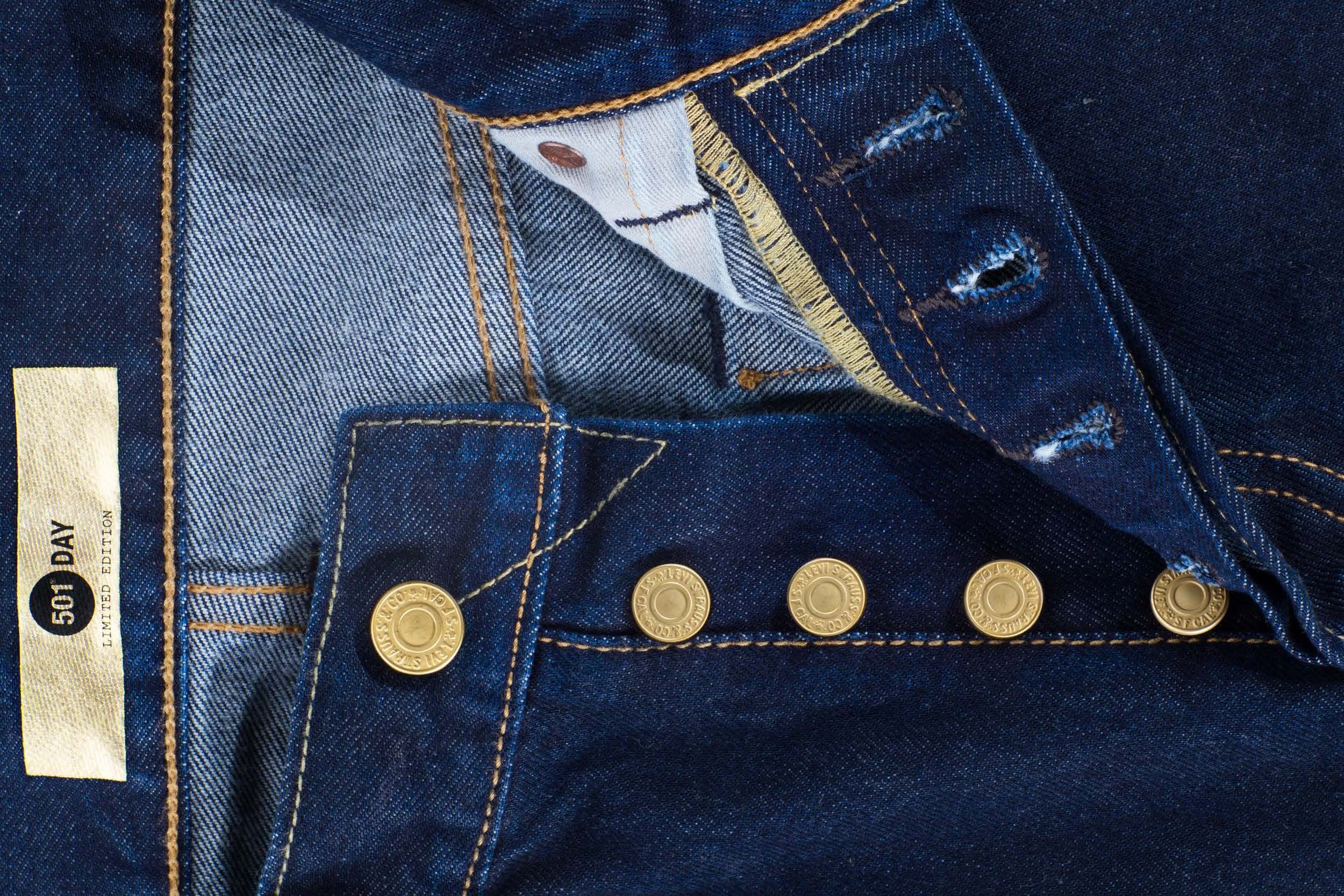 Gold is also a nod to miners during the gold rush in the mid-19th century who wore the 501® jean, which was originally designed as long-lasting workwear pants. Fast forward 145 years and the 501® has transformed into a fashion icon and mainstay of popular culture; the limited edition gold-plated buttoned 501® gets a sartorial twist to their humble beginnings.
The coveted 501® family of fits will also get a summer edition with pastel colored buttons. Taking the celebratory design one step further, select men's 501® jeans will also be available with buttons spelling out 501® in the iconic Levi's® red.
Tops will also get in on the 501® Day collection action via oversized 100% cotton jersey tees showcasing the iconic graphic that was featured in the Levi's® "Button your Fly" campaign back in the early 90's. They will come in faded gray, white and black which is the perfect color palettes to wear with your favorite 501® jeans.
Additionally, a limited-edition T-shirt with the instantly recognizable signature 501® stamp in gold, inspired in similar vein to the gold buttoned 501® jeans, will also be available.
There's no excuse not to celebrate with us in style. Grab the special collection now online and in stores. And celebrate by showing off your 501® look on May 20!