April 24, 2018
Coachella may officially be behind (or is it Bey-hind?) us, but it also marks the kickoff of the summer festival season where shows and style go hand in hand.
Sure, the boho look may be a little more passé compared to this season's streetwear stylings and body suits, but other trends remain tried and true, including those denim cutoffs and customized clothing.
And when it comes to denim and tailored fashions, the Levi's® brand is fire. And it's not so much a trend for us as it is a cornerstone of who we are as a brand, something that comes with decades on the scene. See how we put our style stamp on the summer music stage long before "festival fashion" was fully in vogue.
Love, Melody Halter Set, late 1960s-early 1970s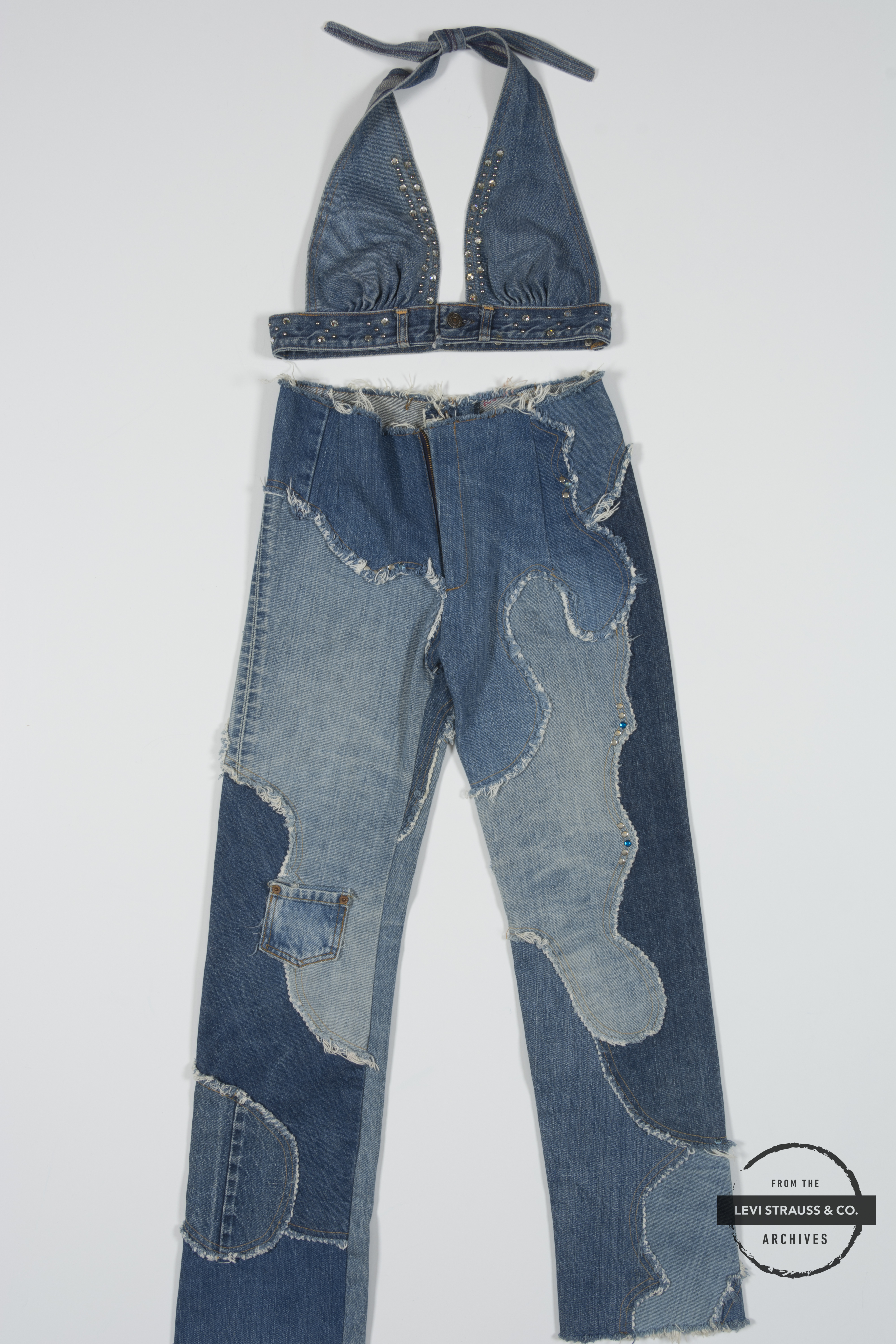 Description: Custom denim patchwork jeans made by Designer Love, Melody from over six pairs of Levi's® vintage jeans. Matching halter with Swarovski crystals fashioned from the waistband of one pair of Levi's® jeans.
Better known as "Love, Melody," Melody Sabatasso rose to fame somewhere between her relocation to San Francisco during the "Summer of Love" that was 1967 and Lauren Bacall's hotel room. When the latter spotted Melody's customized Levi's® dress, she got the phone call from the Hollywood legend, who arranged for a private fitting. That chance meeting led to a couture career. Melody has designed customized Levi's® outfits for celebrities from Cher to Elvis, and has been featured in publications like Rolling Stone Magazine. Last year, her summer-ready designs were all over the "Summer of Love" exhibit at San Francisco's DeYoung Museum.
501® Jeans Skirt Conversion, 1960s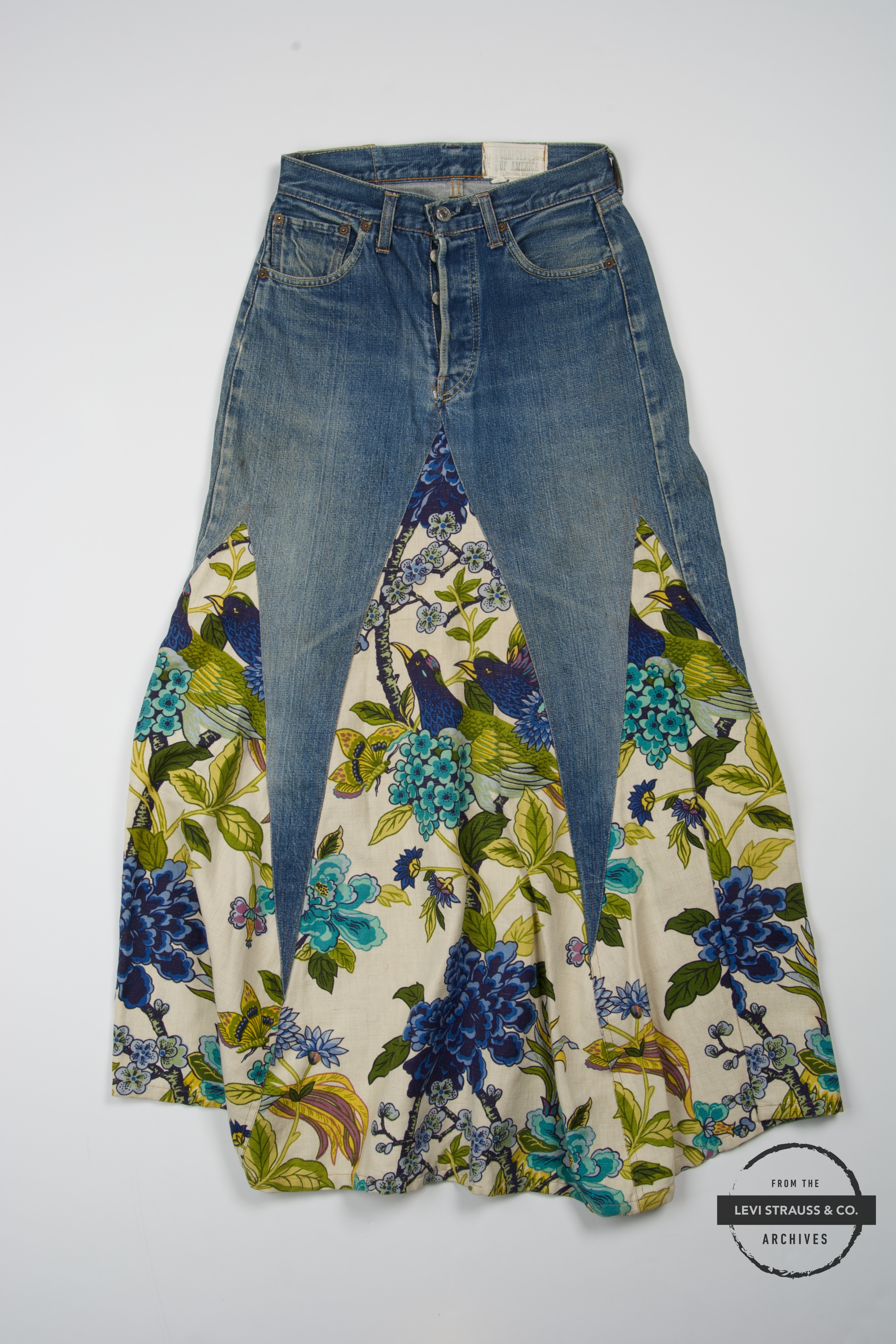 Description: Levi's® 501® jeans converted into a customized skirt with floral fabric.
Transforming jeans into skirts was common in the 1960s and 70s, and Levi's® were the jean of choice for anyone who was hip and happening. This skirt captures the concept of "thrift store chic" popular with youth during the late 1960s. They scoured thrift stores for inexpensive clothes, giving them a second life.
Surfer Jeans, 1970s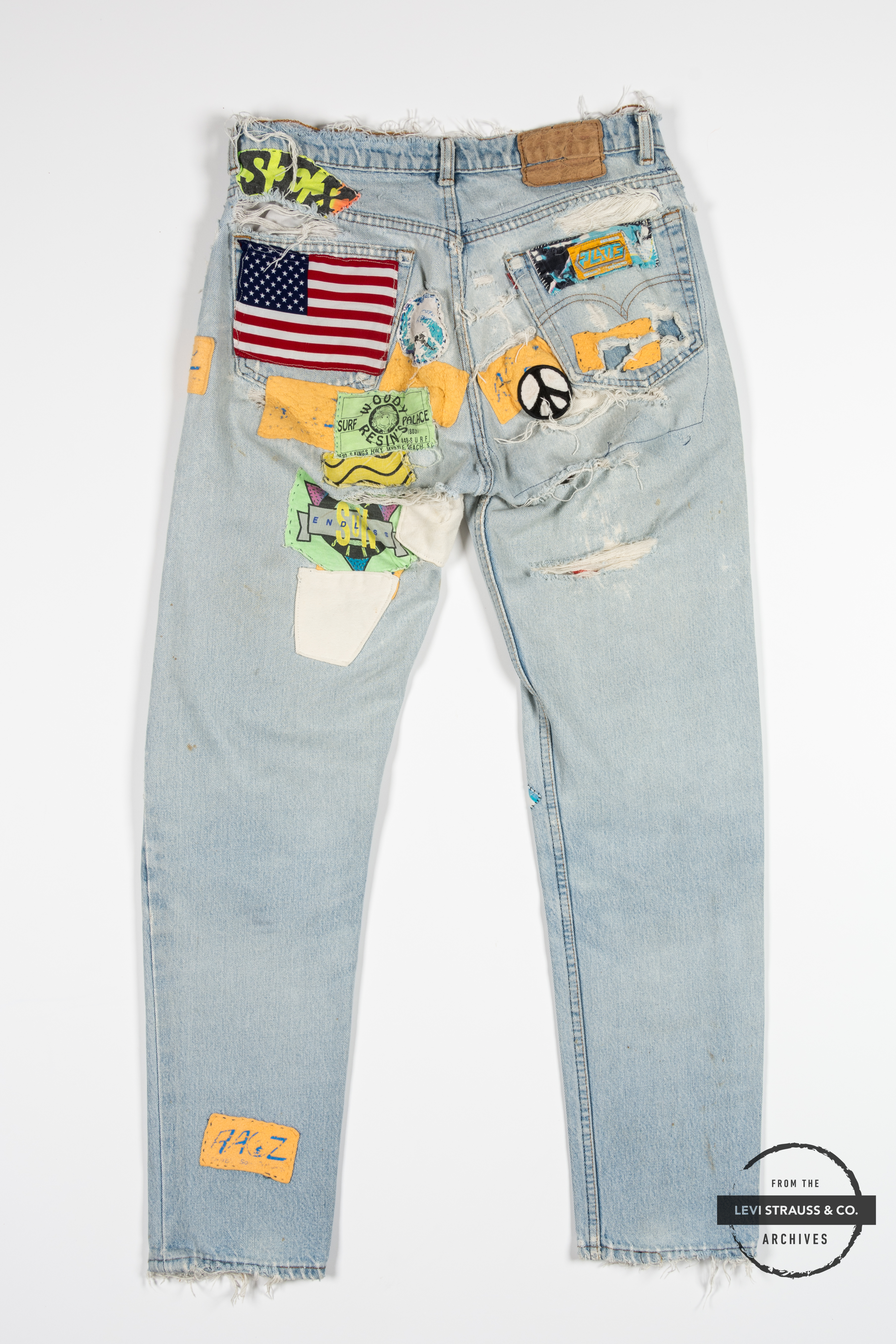 Description: Surfer Jeans 501® jeans from the 1970s, they are sun-bleached and faded from months worn in the sun.
Patched with bandana remnants and the surfer's favorite surfing spots around the world, these jeans denote this surfer's odyssey from Hawaii to Myrtle Beach, South Carolina all the way to Australia. The jeans became a "surfer scrapbook" with bits of cleaning rags sewn on alongside an American flag and Peace symbol patch. It is just one representation of authentic self-expression at its finest.
SilverTab® Tagged Jeans, 1990s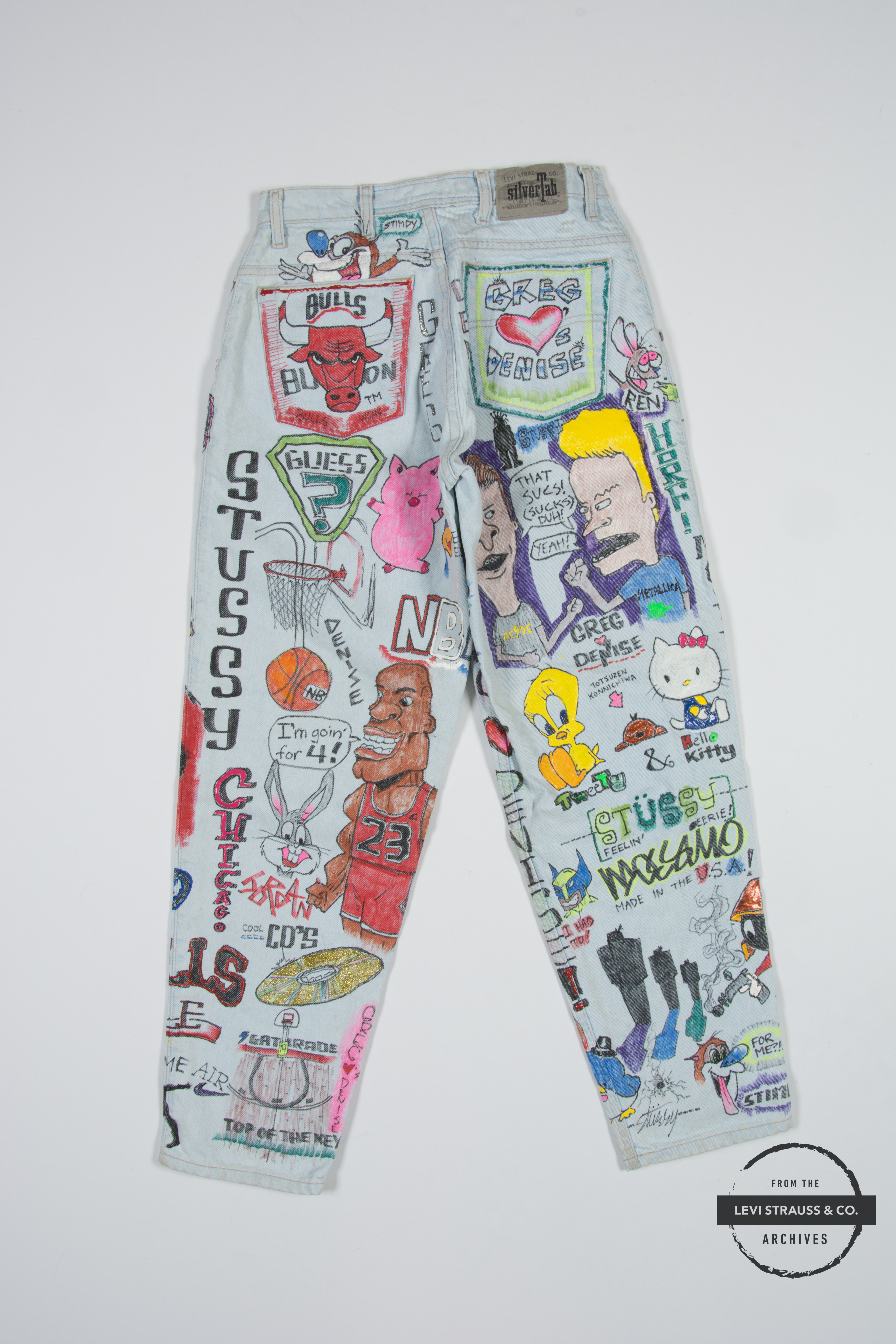 Description: SilverTab® jeans customized with 1990s iconography from CDs to Chicago Bulls and yes, Beavis and Butthead.
In her Miseducation of Lauryn Hill album, Hip Hop Artist Lauryn Hill sings about growing up in the song, Every Ghetto, Every City. She recalls "writing my friends' names on my jeans with a marker."
For hip-hop fans in the late 1990s, it was a common clothing trend was tagging your Levi's® jeans. This pair of loose fit SilverTab® Levi's® jeans, an early LS&Co. streetwear product, is tagged and painted with pop cultural references emblematic of the era. Like Lauren Hill's lyric, it also includes the names of friends sketched in marker.
Jeans from Hair, 2000s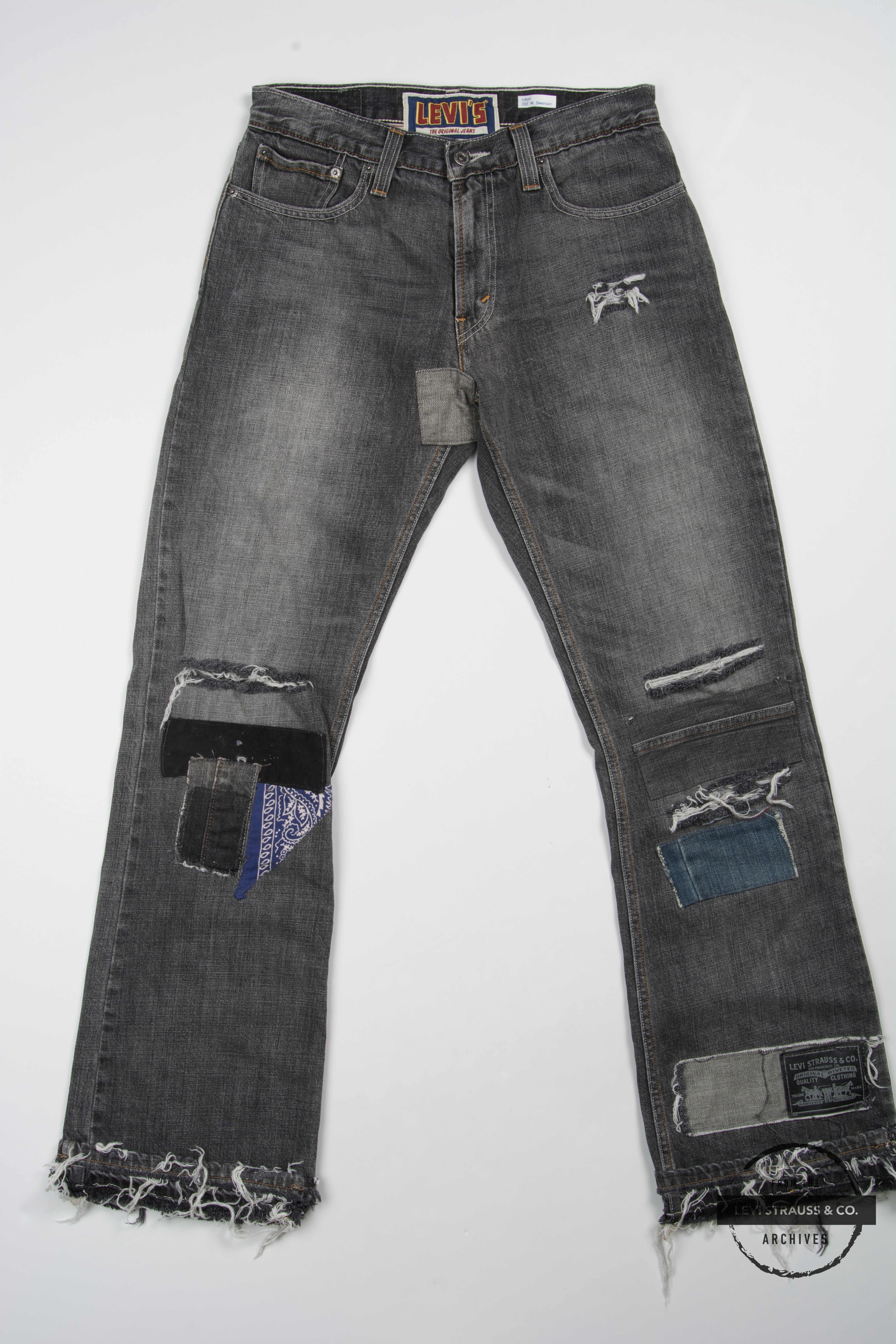 Description: Customized 527 black Levi's® jeans created for a modern staging of the musical Hair.
What's Hair without Levi's®? These jeans were worn by Will Swenson, who played Berger, the charismatic ringleader in the hit musical about the hippie counterculture and sexual revolution in the 1960s. The production is credited with defining the genre of the "rock musical" making it the perfect pairing for the Levi's® brand.
Looking to get festival ready with Levi's®? Look for our Tailor Shops in select stores to customize your favorite Levi's® finds, or shop online to add to your summer style collection.