February 23, 2017
Welcome to our winter 2017 issue of From the Archives, a behind-the-scenes look at the ins and outs of the work we do here, and the unusual, amazing and always-interesting fun facts and tidbits we discover along the way.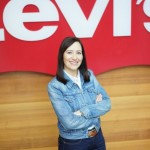 This winter, we installed a new exhibit here at Levi's® Plaza; interviewed retiree Ellen Duenow who designed warmup suits for athletes of the 1980 and 1984 Olympics (remember the Miracle on Ice Hockey Team at Lake Placid?); added unusual pieces to the Archives like a Levi's® laundry bag; hosted skate press and visitors from as far away as New Zealand's MARAE TV One; and still found time to dig into the collection with designers for inspiration. Here's a peek at LS&Co.'s latest heritage happenings.

Now Showing
Out of the Box: The Rise of Sneaker Culture
Oakland Museum of California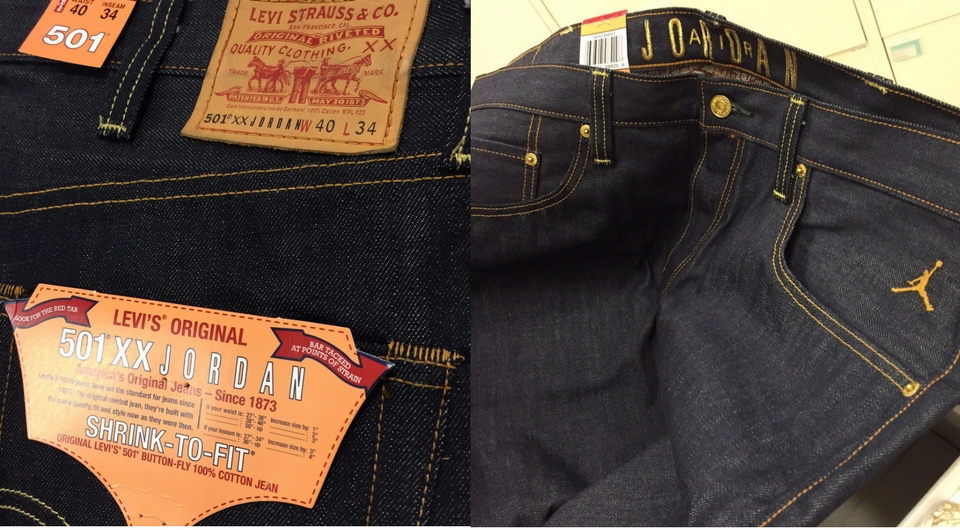 The Archives Team recently visited the Out of the Box exhibit in Oakland, CA, which focuses on sneaker culture. We especially loved the collection of Nike Air Jordans, the signature sneaker from one of basketball's greatest players, Michael Jordan. It reminded us of a unique collaboration between Nike and Levi Strauss & Co. that resulted in an unusual pair of Nike Air Jordans and 501® jeans back in 2008. The pairs (shoes and jeans) are part of the Archives Specialty Collection.
Out of the Box: The Rise of Sneaker Culture is open through April 2, 2017.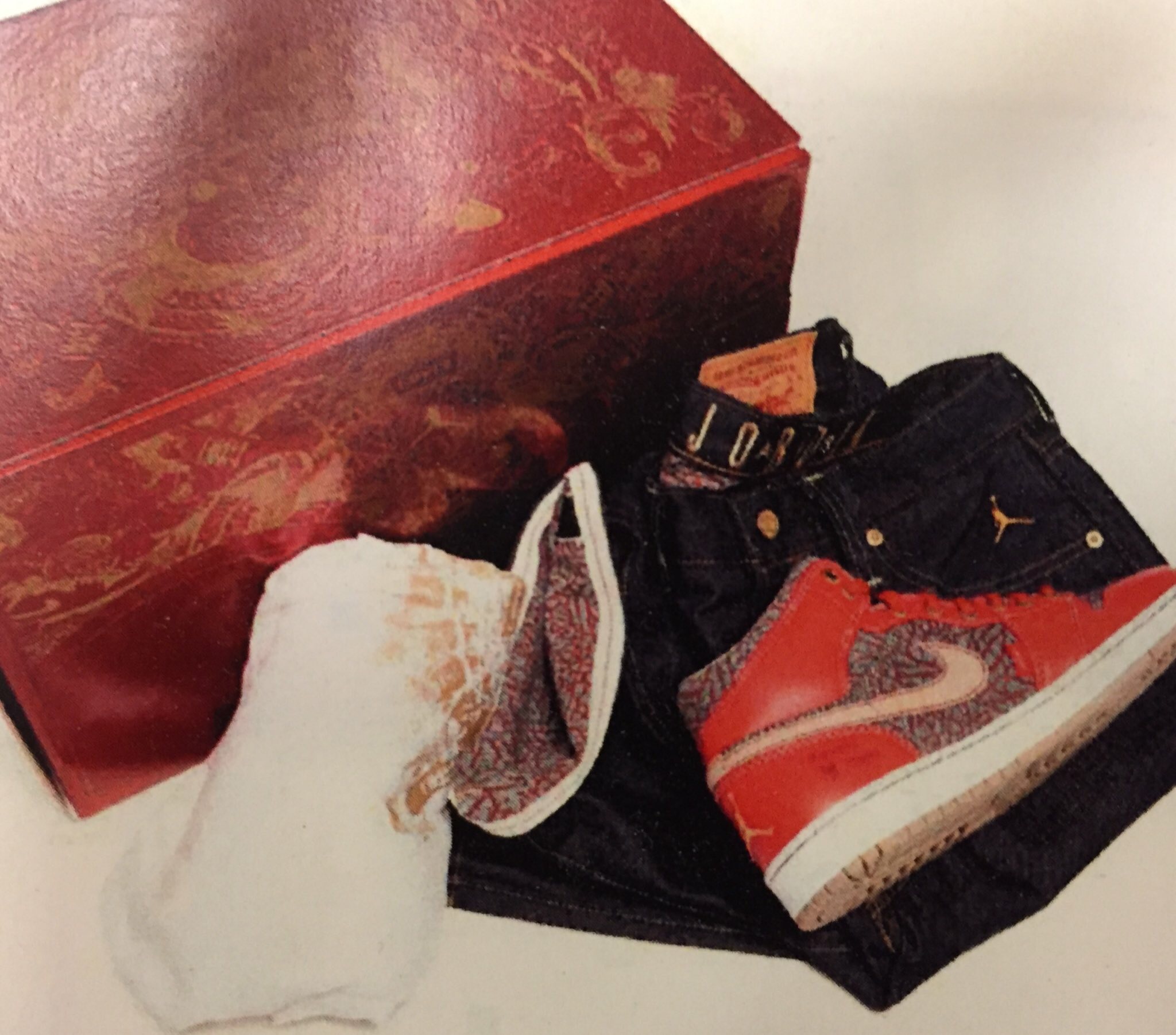 New Arrivals
Levi's® Mechanical Rodeo Memorabilia. Levi's® fan Whitney B. of Monrovia, CA recently visited The Vault—our public museum at our headquarters in San Francisco. She enjoyed the experience so much that when she found a Levi's®-related postcard among her father's things, she decided to donate it.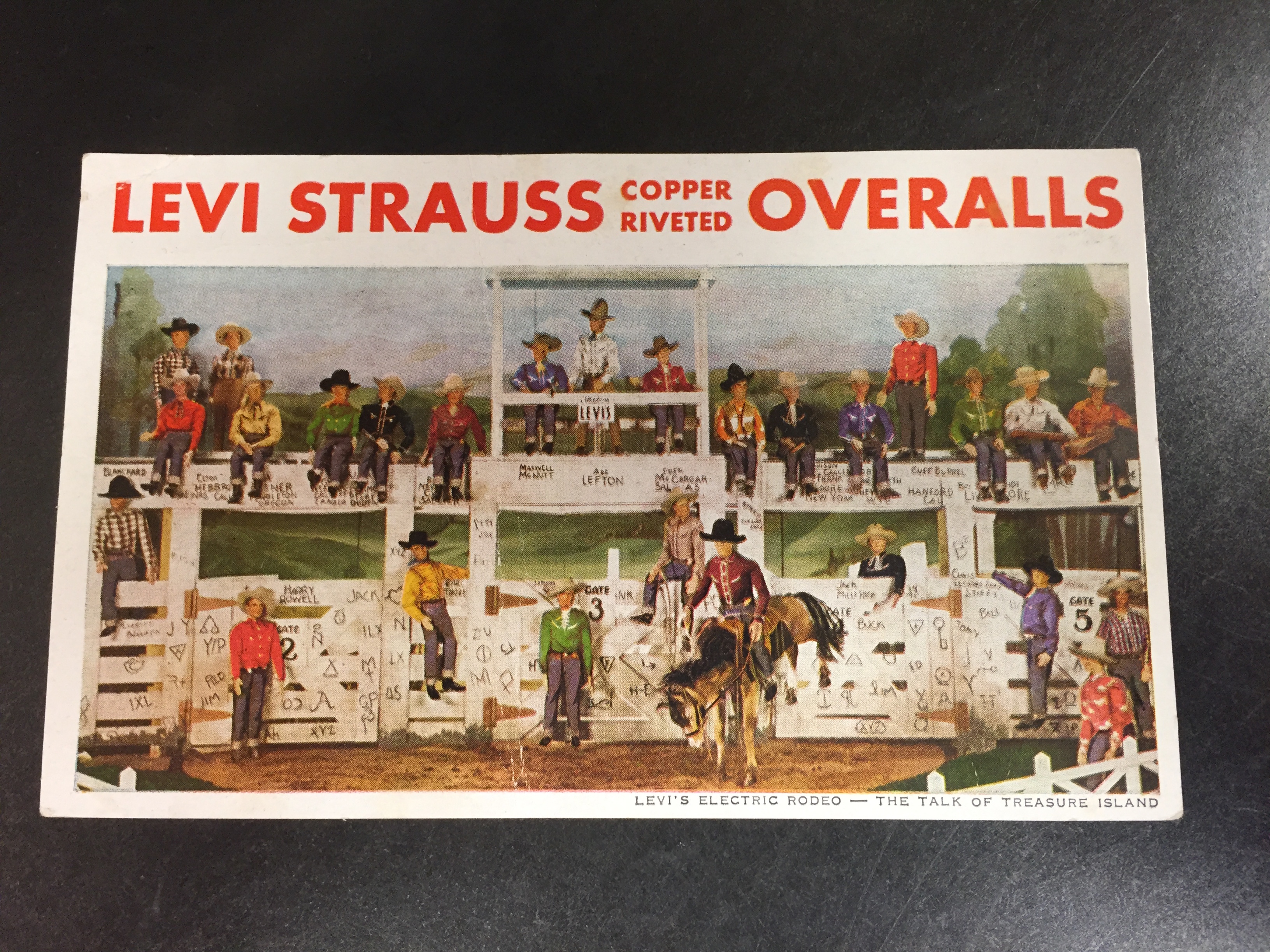 Whitney will be happy to know that her dad's postcard will be a nice addition to the Mechanical Rodeo Collection we have in our Archives that includes the tiniest pairs of blue jeans made for the wooden figures once displayed at the Golden Gate International Exposition in 1939—and later taken on the road in a specially built bus.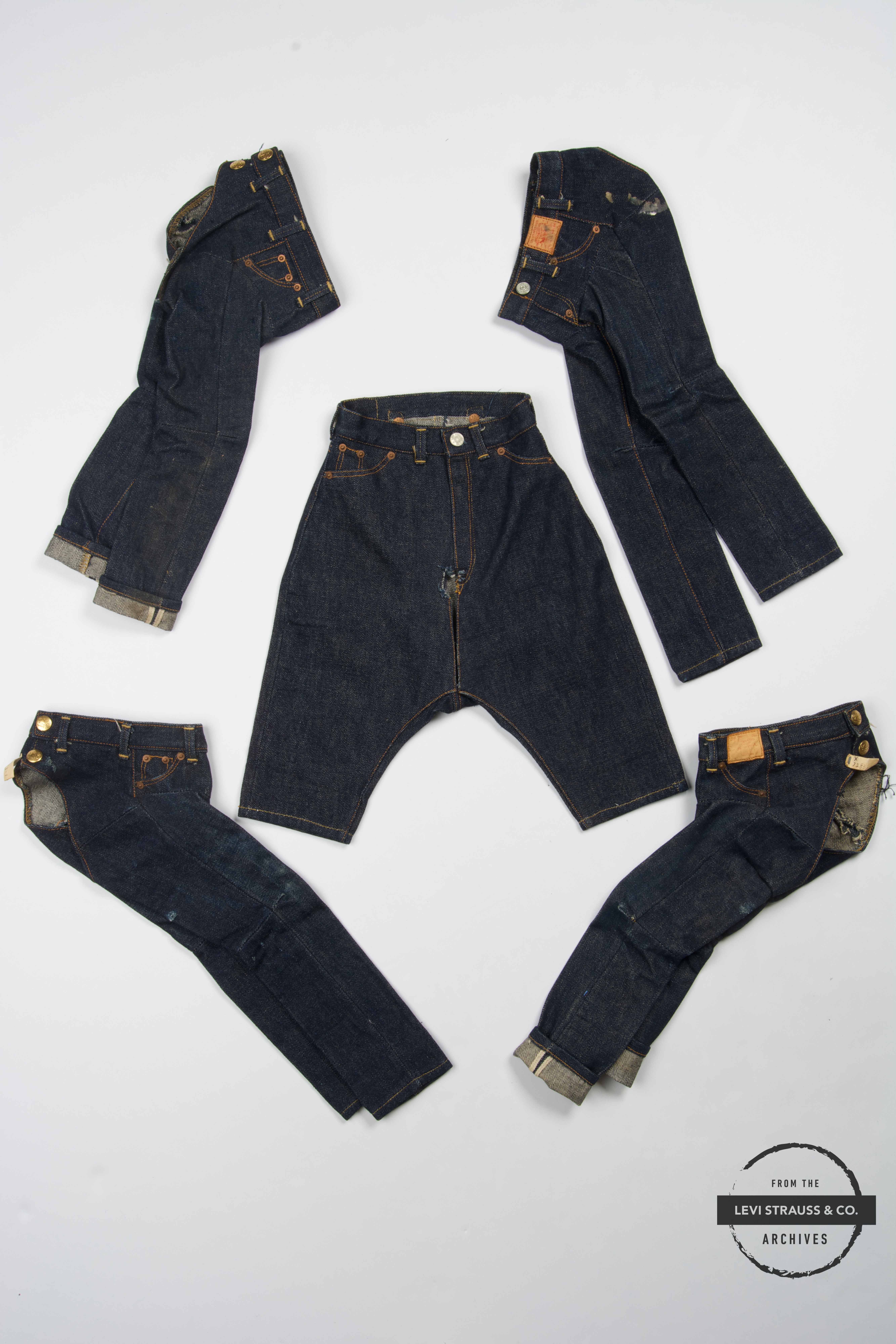 Here's the inscription from the back of the card: A 100% mechanical rodeo. It moves. It talks. Its figures are all hand-carved likenesses of famous rodeo people. And they're all dressed in authentic Western togs . . . miniature replicas of garments made in California since 1853 by Levi Strauss & Company. Don't miss it . . . the hit of the Golden Gate International Exposition . . . located in Vacationland.
Levi's® Denim Laundry Bag.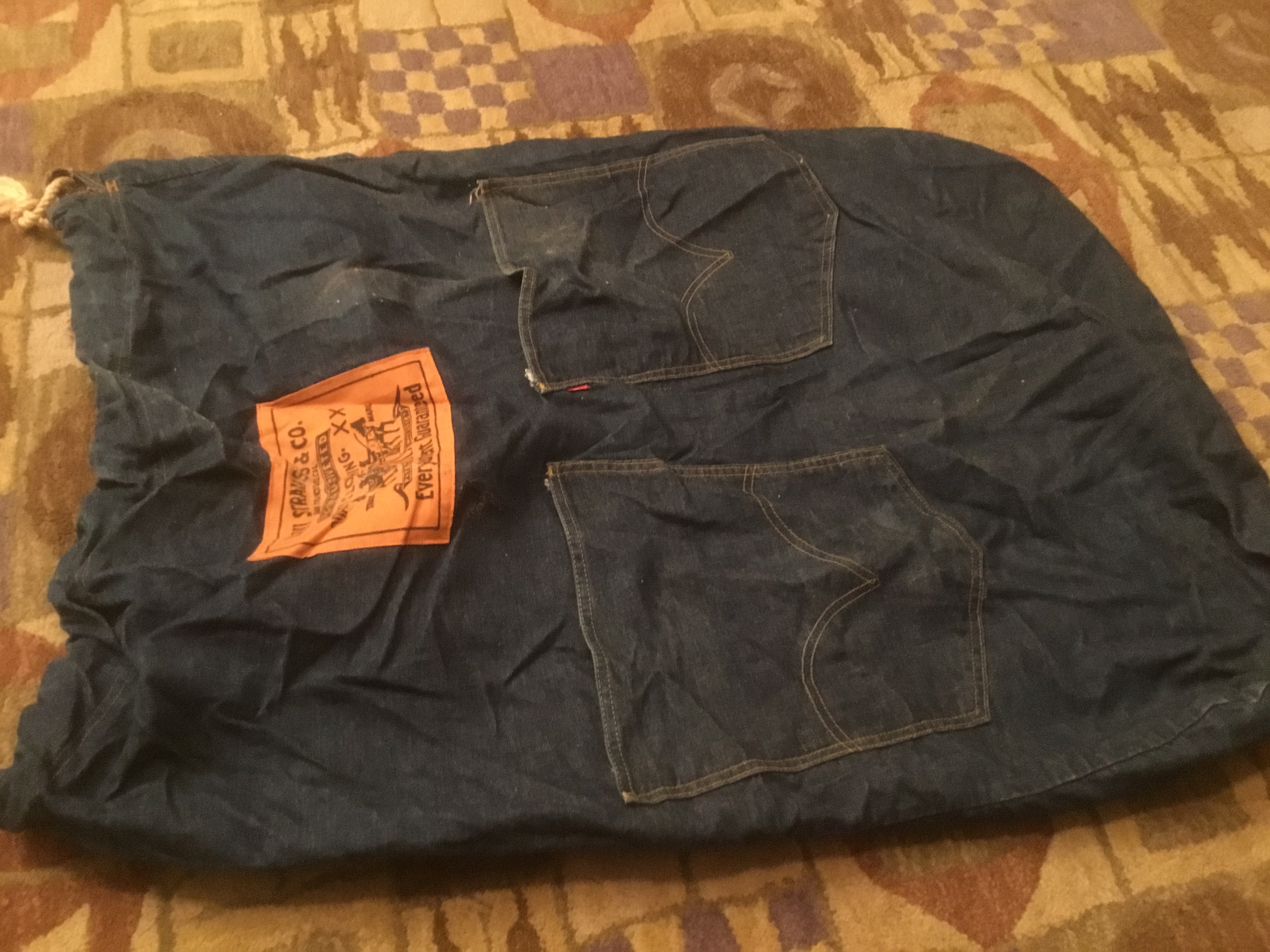 This oversized denim bag—perfect for packing dirty clothes to the laundromat—features a rope drawstring, two large Arcuate-detailed pockets and a cloth Two Horse Trademark patch. A Levi's® fan purchased it in the early 1970s during her road trip to Phoenix, Arizona and donated it to our Archives.
Getting Personal—A Visit From New Zealand's Māori Television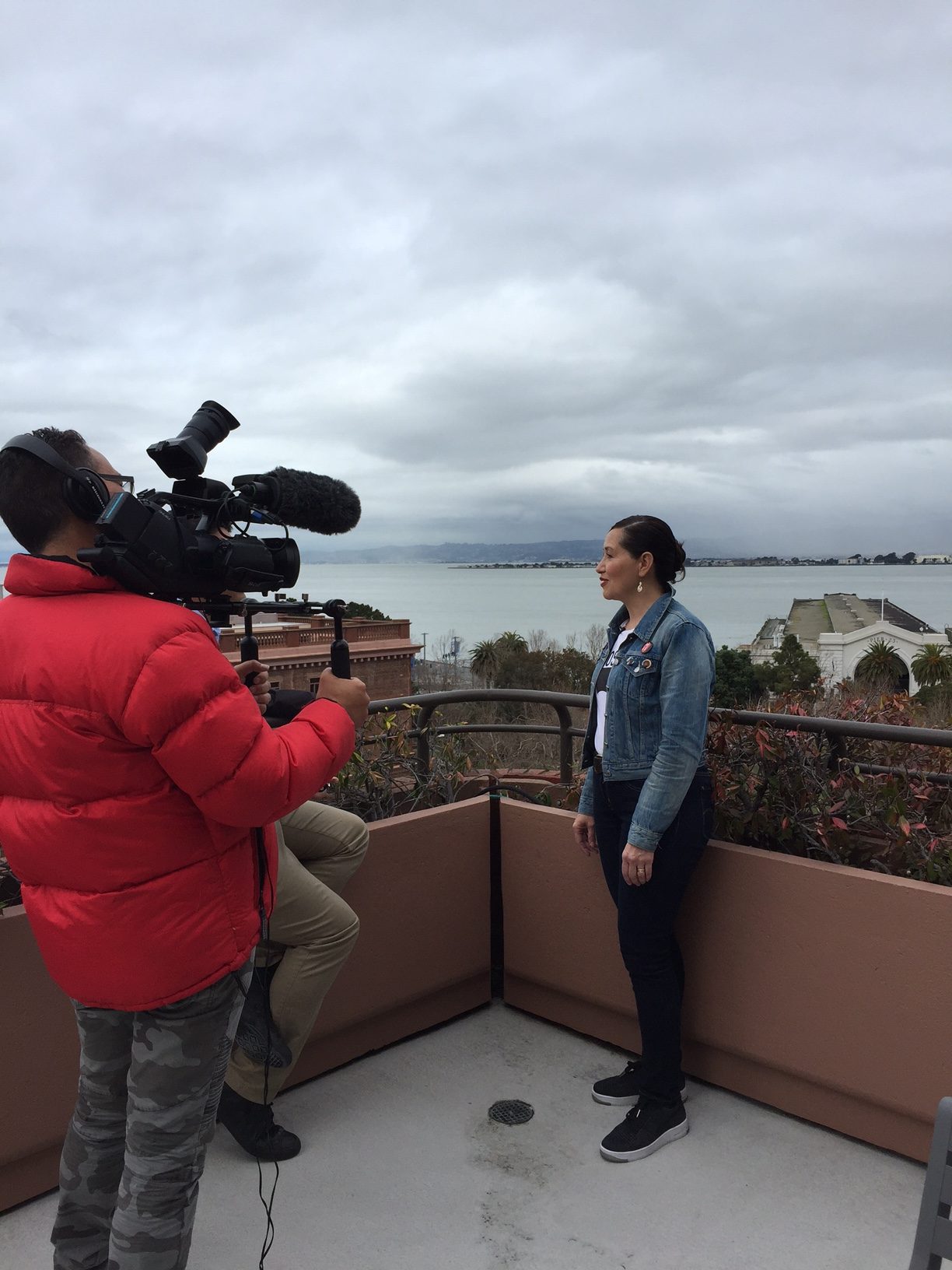 New Zealand's MARAE TV One, a Māori and English language station, visited the Archives. Hikurangi Parker interviewed me about my work, Levi Strauss history and my kiwi connections. I myself immigrated to the USA from New Zealand in the 1970s and maintain my Māori ties by directing a Māori performance group.
You Asked, We Investigated…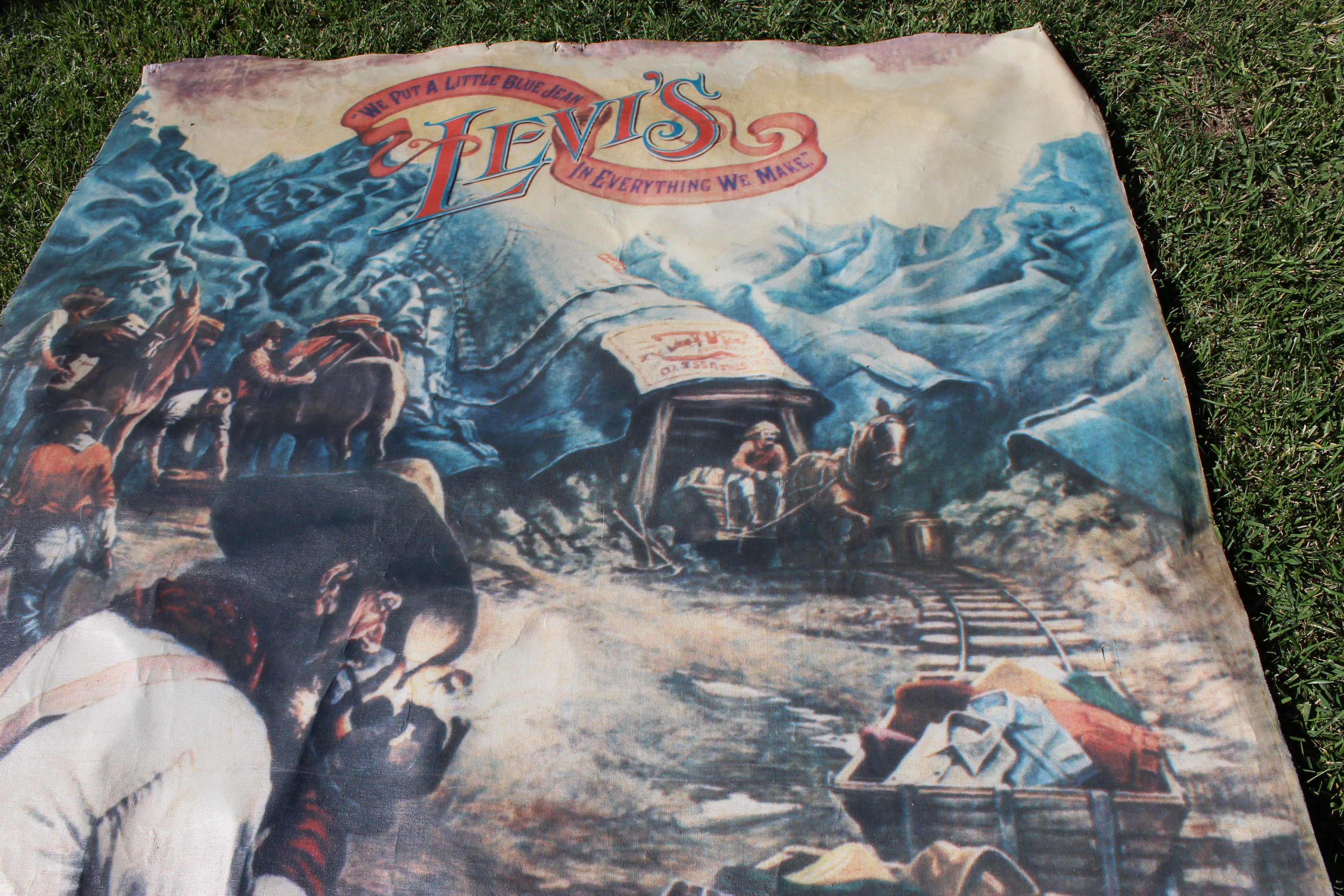 Q: This mural-sized canvas measuring 76-by-62 inches was removed from a General Store in Albuquerque, New Mexico. Is this piece of Levi's® artwork worth keeping?
A: Your canvas mural appears to be a copy of a 1970s Levi's® illustration created by artist Bruce Wolfe. Although we do not provide valuations, you could check an auction house for such information.
The Levi Strauss & Co. Archives has several original Wolfe posters of this Gold Rush-themed graphic featuring the tagline used in our 1970s advertising, We Put A Little Blue Jean in Everything We Make.
Look Who Stopped By…
The LS&Co. Archives often hosts a variety of VIPs and guests. From journalists and musicians to sports stars, students and celebrities, no one is too cool to wear our white gloves.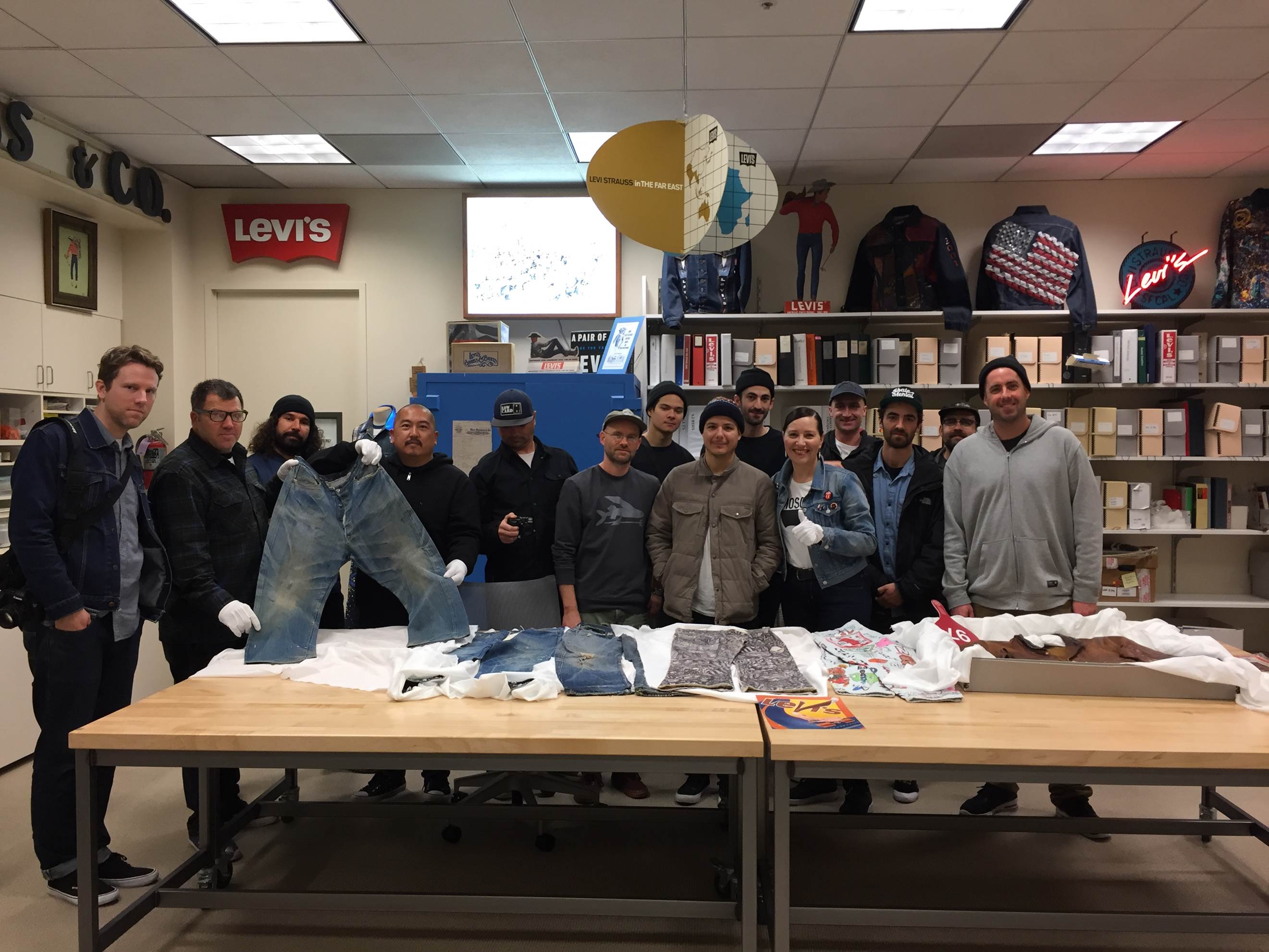 Skate magazine editors and online bloggers visited the Archives recently. The large group enjoyed a close-up look at our Albert Einstein leather jacket, the Prison Pants and a 1990s-era pair of Silver Tab jeans painted with colorful cartoon characters like "Beavis and Butthead" and tags.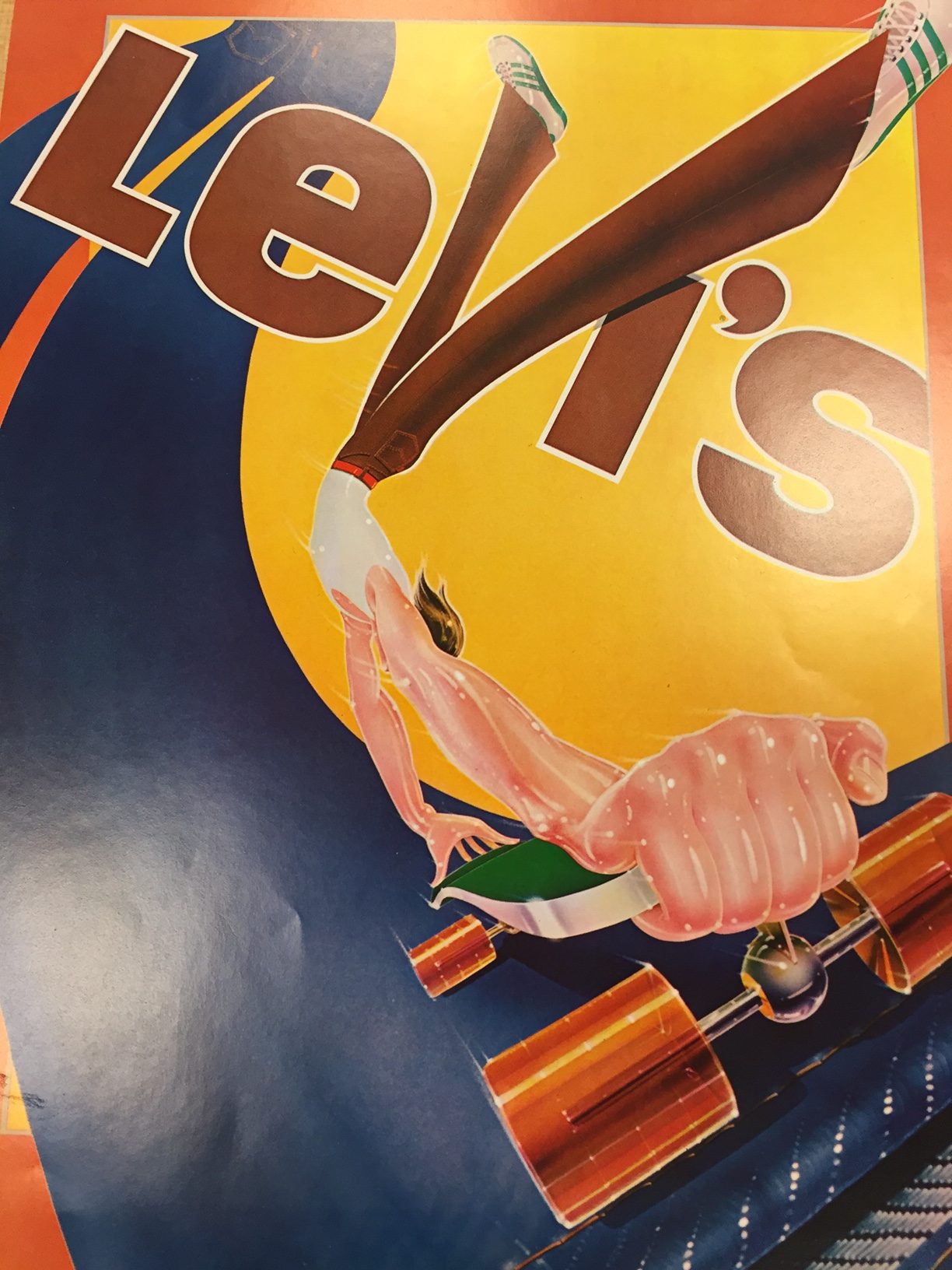 Product Throwback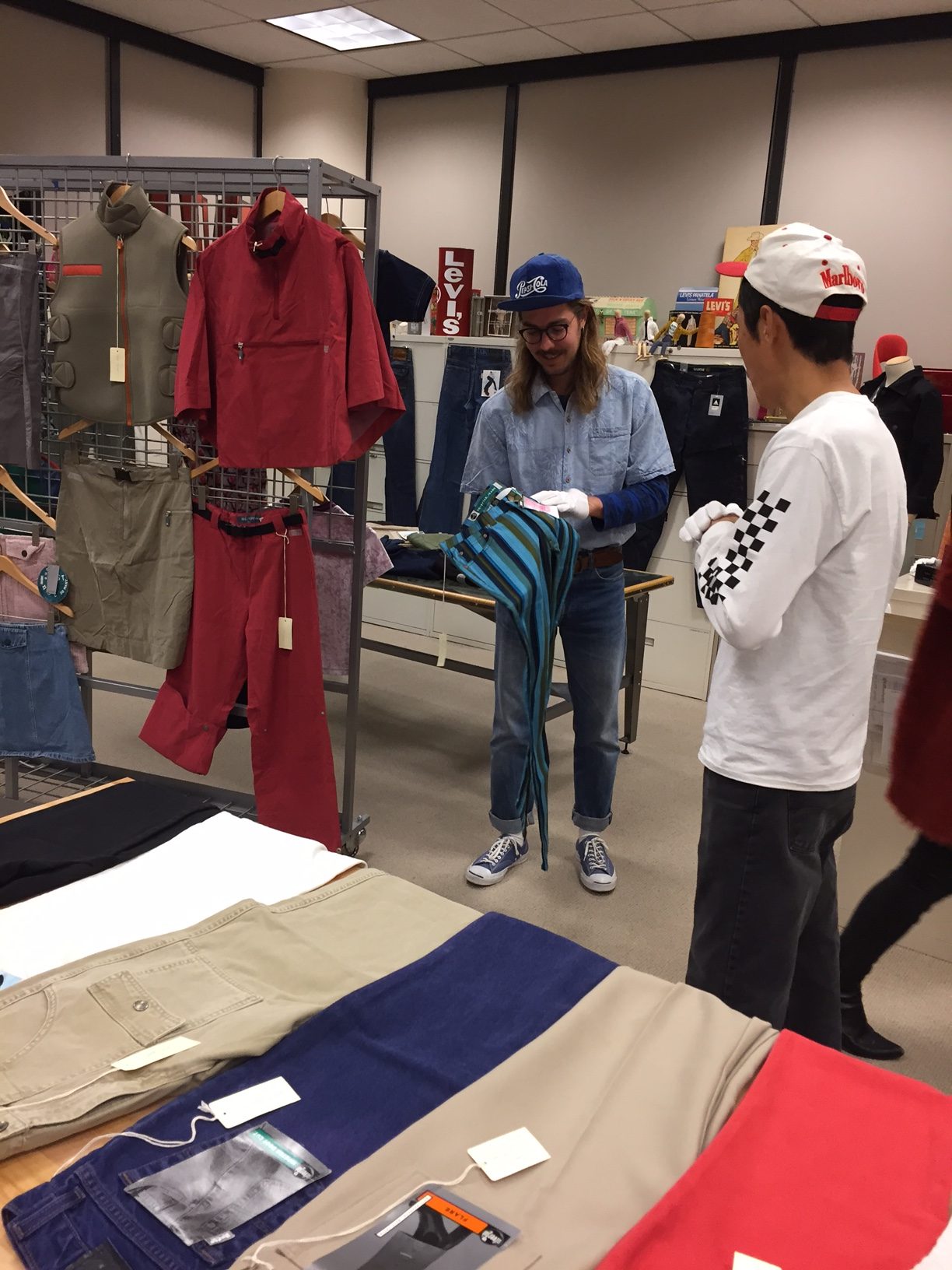 It's true, the 1990s are officially back in fashion. So we tapped into that trend with our Silver Tab Open House we held in January, where employees had a chance to check out the '90s and 2000s-era Archives gear. From baggy and loose fits to cargo and carpenter styles, designers got a deep dive into some of the most popular looks on the streets during the Hip-Hop era.
Employees On Record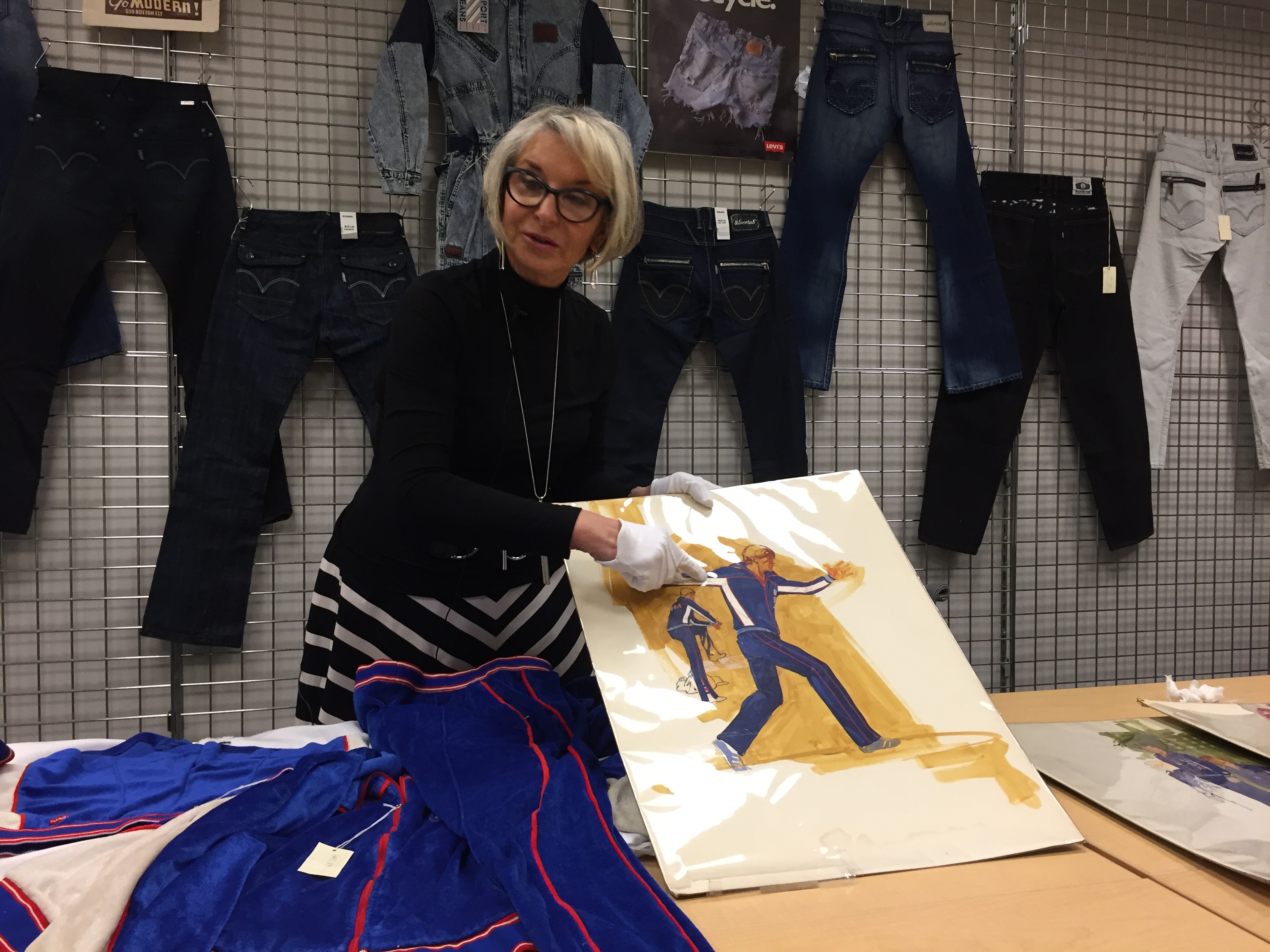 After a successful kickoff last year, we continued our Oral History Project in January, interviewing Designer Ellen Duenow who created the velour warm-up suits worn by athletes at the 1980 and 1984 Olympic Games. Ellen donated several suits and the original sketches she shared with the Olympic Host Committee in Colorado Springs.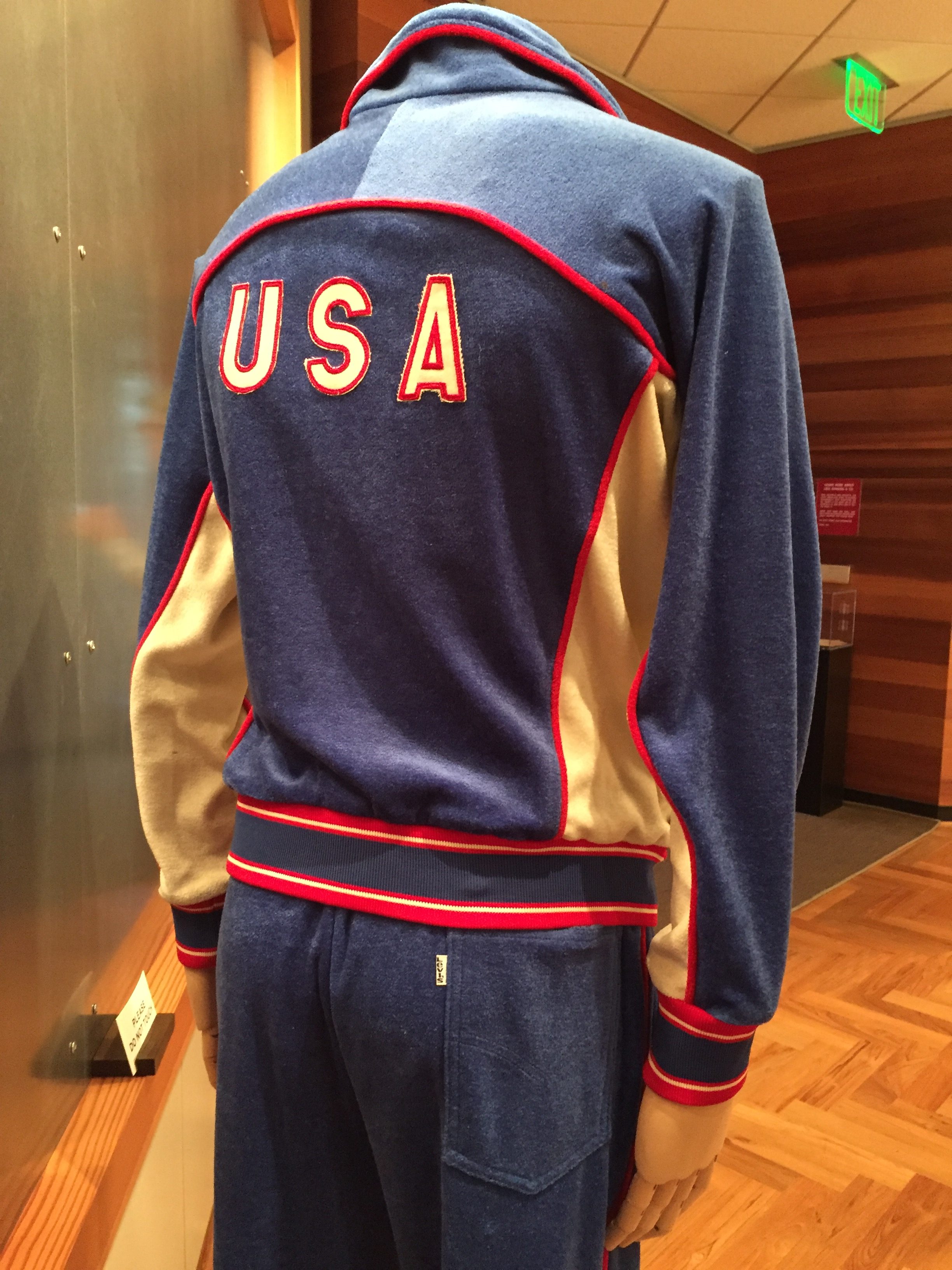 Among other athletes, the gold medal-winning "Miracle on Ice" hockey team at Lake Placid were photographed in the suits. The royal blue color made for some vivid imagery.
This Year in Levi Strauss & Co. History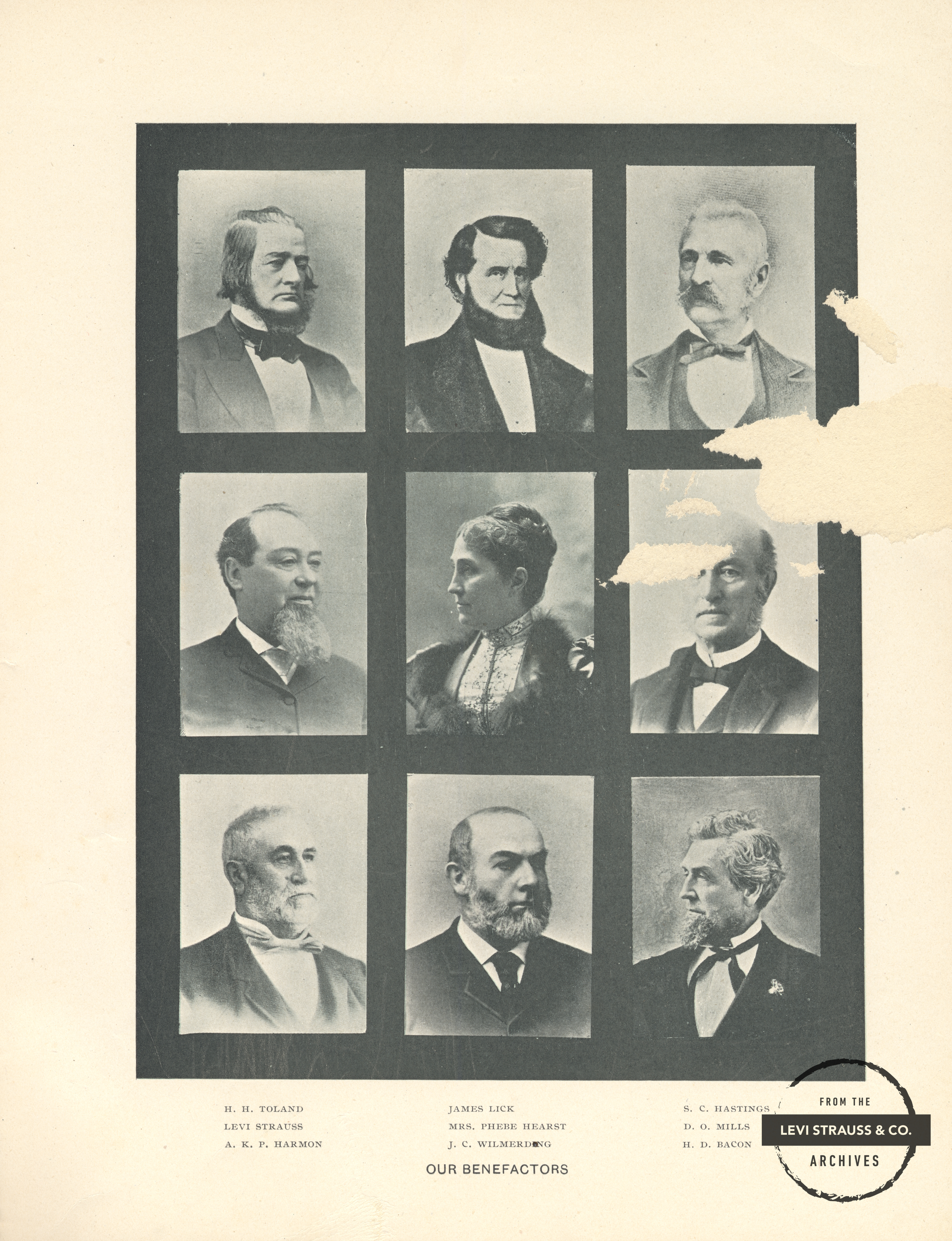 This year marks the 120th Anniversary of the Levi Strauss Scholarship. In 1897, Levi established scholarships for students at the University of California, Berkeley. The University recognized his efforts in their Blue and Gold yearbook in 1900 where he shares a page with another philanthropist, Phoebe Hearst, and other benefactors.
Want to keep up with the LS&Co. Archives and other cool LS&Co. heritage news? Follow Tracey on Twitter, @TraceyPanek, and stay tuned to Unzipped!