May 26, 2016
Welcome to the first issue of From the Archives, a behind-the-scenes look at the little ins and outs of the work we do here, and the unusual, amazing and always-interesting fun facts and tidbits we discover along the way.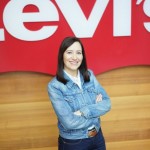 From Levi Strauss' arrival in San Francisco in 1853, to the world's first blue jeans in 1873, to the future of wearable technology (digital denim anyone?), there are thousands of vignettes to share. I'm excited to guide you through it all.
Tracey Panek


Now Showing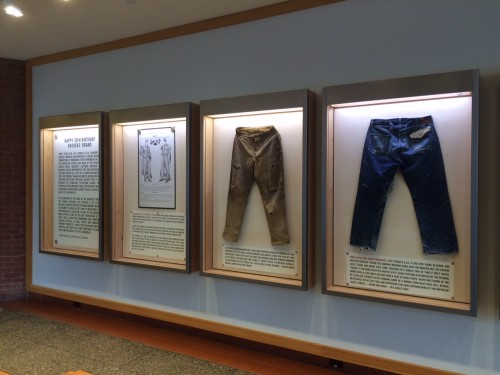 Happy 30th Birthday, Docker's® Brand
Atrium, Levi's® Plaza
1155 Battery Street, San Francisco
We're celebrating the 30th anniversary of Dockers® all year long, and that includes our office HQ getting in the spirit as well. Currently on display at our San Francisco office is a collection of heritage khaki (including a 1920s pair found in a cave) and Dockers® items — don't miss the Mobile Pant® and Bullet slacks. Best of all—it's free. Display runs through August.
New Arrivals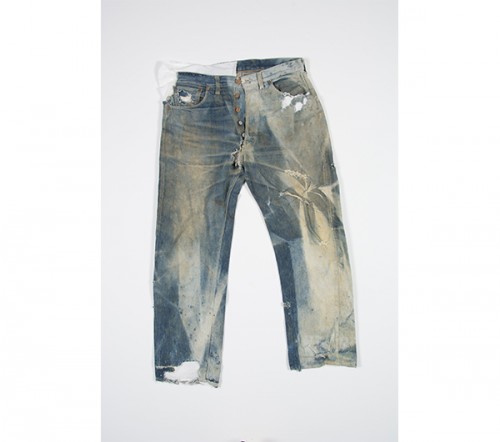 Ladd Levi's®. Recovered 501® (1947–1952) jeans found in a mine in western Nevada.
You Asked, We Investigated…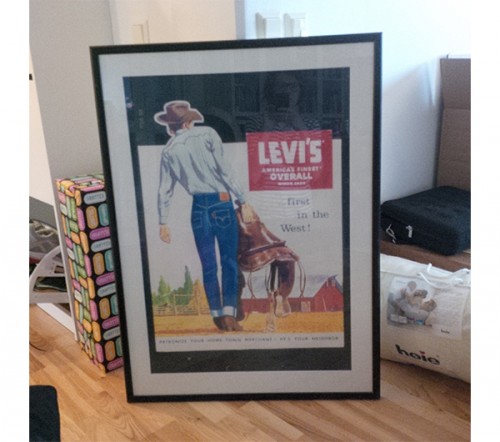 Swedish Flea Market Find. This recent Scandinavian find is a reproduction of the type of advertisements that Levi Strauss & Co. produced from the 1930s through the 1950s. These images were created not as posters but as counter cards — cardboard display stands that could sit on a table or counter at retail shops where Levi's® jeans and other products were sold throughout the American West.
Look Who Stopped By…
The LS&Co. Archives hosts a variety of VIPs and guests. From journalists and musicians to sports stars, students and celebrities, no one is too cool to wear our white gloves.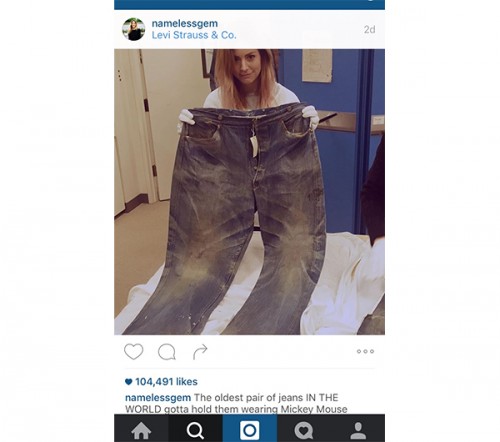 Blogger Gemma Styles, sister of One Direction star Harry Styles, checking out our XX waist overalls (ca. 1879).
On the Road: Tracey's Travels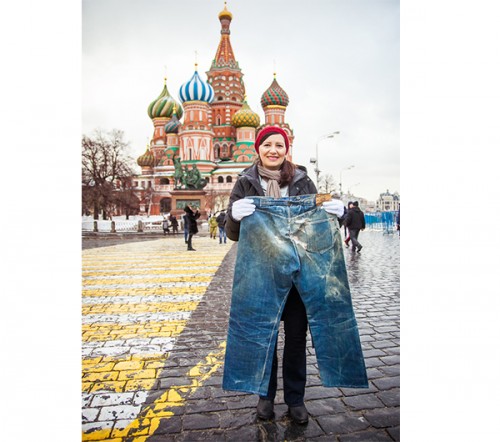 Traveling with the XX waist overalls (about 1879), St. Basil's Cathedral, Moscow.
And Speaking Of…
The LS&Co. Archives invites experts to share their knowledge and insights on LS&Co. heritage-related subjects from fashion to civil rights.


Recent Archives Angle speaker Barbara Shapiro (pictured), an indigo artist and teacher, showed off her handiwork after presenting on The Magic and Mystery of Indigo.
Archival Musings

Celebrity Silver Spoon. Kim Kardashian recently sent out an Instagram thank-you to Ralph Lauren for creating a customized bomber jacket for newest addition, Saint West. In 1928 there was no need to be born with a silver spoon in your mouth to dress baby in high-flying style. LS&Co.'s Junior Aviator Suit came complete with goggles, scarf and socks.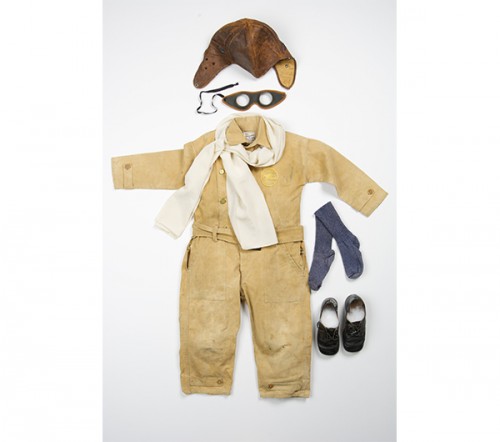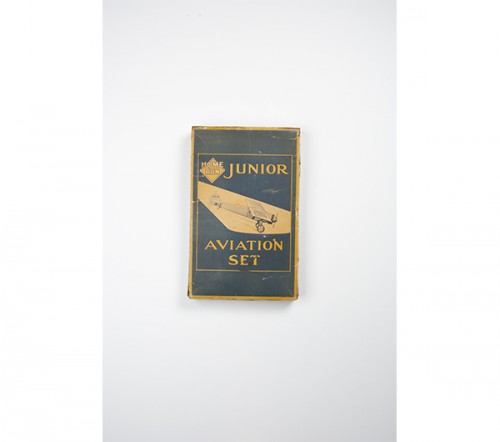 Junior Aviator Suit, Levi Strauss & Co. (1928)
Want to keep up with the 'Archives' and other cool LS&Co. heritage news? Follow Tracey on Twitter, @TraceyPanek, and stay tuned to Unzipped!