November 27, 2015
Levi's® has been obsessed with crafting quality clothing for over 140 years. From fits and washes to fabric and styles, the brand keeps pioneering ways to make great things even better.
The 2015 Holiday season marks the arrival of the Down Trucker Jacket, 501®CT, 700 Series for Women, an expansion of the Commuter™ line and the most coveted Pendleton collaboration yet: all new, yet iconic, gift-giving staples that everyone can enjoy!
Down Trucker Jacket for Him and Her: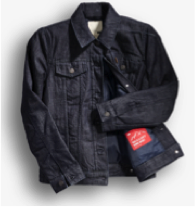 Loved since 1962, the original Levi's® Trucker is the ultimate cozy gift for the 2015 Holiday season.
Authentic Trucker details
Durable and convenient snap closure
100% Goose-Down for maximum warmth
Compress for easy packing
501®CT for Him and Her:
The world's first-ever blue jean, Levi's® 501®, has earned its status as the most coveted and loved jean in the world since 1873. Now, in 2015, it gets modified.
Customized & Tapered
Extensive range of sizes, colors and finishes
Can we born slim, regular or relaxed
Commuter™ for Him and Her: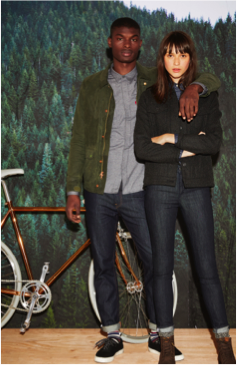 Built to ride, Levi's® Commuter™ combines performance features and iconic style to achieve maximum comfort, durability, climate-control and coverage on and off the bike.
Head-to-toe wardrobe equipped for mobility and comfort
Technologies woven into fabrics such as water and dirt repellency, moisture wicking and reflectivity for safety
Concealed, hidden pockets and U-lock storage
Lot 700 for Women:
Since Levi's created the first-ever blue jean for women back in 1934, we know a thing or two about women. New for Fall 2015, the Levi's New Women's Denim Collection transforms good jeans into perfect jeans. Leading the charge are two popular fits, 710 Super Skinny & 721 High Rise Skinny, which are sure to flatter any woman.
Last-Minute Gift Ideas:
Let's be honest: even the most organized gift-giver gets hit with the unexpected event. Luckily we picked out some go-to gifts that are sure to please in the final hour.
Levi's® & Pendleton® limited-edition blankets- denim on one side and 100% wool on the other; ranging from $298-$398 USD
Leather Wallets – premium leather ranging from $48-$58 USD
Socks- a range of printed and colored socks for the perfect stocking suffer; ranging from $12-$16 USD for a two pack
The 2015 Levi's® Holiday Collection is available in Levi's® stores, online at Levi.com and in select wholesale partners.
Like this story?
Sign up for the Unzipped newsletter to get the best of the Unzipped blog — company news and views, employee profiles, innovation and sustainability stories, behind-the-scenes and Archives highlights — sent straight to your inbox weekly.