September 17, 2015
Earlier this year I traveled to Mumbai and Milan to share our 80-year history of women's jeans with media in India and Italy. In August, I traveled to Japan to share our role as the leader of women's jeans with media in Tokyo. I prepared by learning a few key phrases — hajimemashite (nice to meet you) and arigatou gozaimasu (thank you very much) — and reviewed proper Japanese meeting etiquette, such as bowing and exchanging business cards with both hands.
Tokyo is one of the world's biggest cities and includes modern and ancient elements like Shinto shrines and Buddhist temples set among skyscrapers. Shibuya, where my hotel was located, boasts the world's busiest intersection. Thousands of shoppers, students, workers and commuters cross the famous "scramble" daily. Japan is also where you'll find bullet trains, sushi and die-hard vintage jeans collectors. I even met one Levi's® fan whose shoulder was tattooed with a back pocket featuring an inscription that likened life's experiences to wear patterns on denim.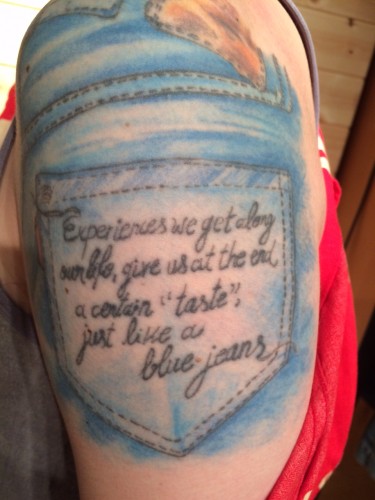 Although Japan was among the first countries outside of America where we trademarked our famous two-horse patch — in 1905 (trademark pictured below), just 19 years after we first trademarked it in the United States — LS&Co. didn't begin exporting jeans to Japan until after World War II. Levi Strauss International was established in 1965, with Far East Division offices in Tokyo. By the 1970s, LS&Co. was selling blue jeans across Japan. Our blue jeans gained popularity and became iconic to many Japanese women who wore everything from Miss Levi's® bell bottoms in the 1970s to women's 501® jeans in the 1980s.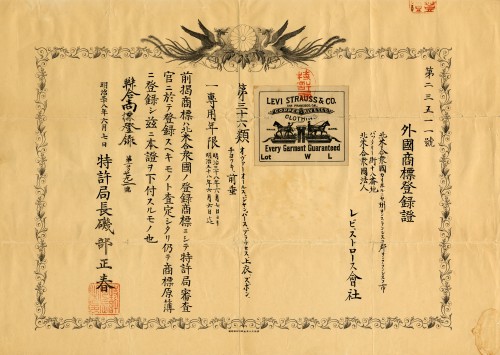 I spent my first day in Tokyo exploring Harajuku, vintage denim heaven, where I found vintage women's Levi's® jeans. I rummaged through shelves of Levi's® jeans and stacks of "deadstock" 501® jeans — unworn garments with the original tags still attached. The sheer volume amazed me. I hand carried a pair of 1980s women's 501® jeans to Japan but could have purchased several in Harajuku. Poring over the jeans reminded me of high school, when my sisters and I shopped for 501® jeans, our "must-have" school clothes.
Cosplay — dressing up like an anime character — is another thing I discovered in Harajuku. I saw teenage girls wearing colorful and elaborate costumes like pink wigs, miniskirts and platform shoes. This unique interest in women's style made Japan an ideal place to share LS&Co.'s role in revolutionizing women's fashion by creating the first women's jeans in 1934.
I shared the Harriet jeans (pictured below) — a pair of original Lot 701 jeans from 1934 — with editors from seven magazines and news outlets in Tokyo. Lot 701 offered women working in the American West the perfect pants for horseback riding and other ranch activities. Lady Levi's®, the name given to these first women's jeans, were also the preferred attire for women vacationing on dude ranches. Harriet Atwood, who sewed her name into the waistband of her 701 jeans, purchased her Lady Levi's® at Best & Co. in New York to wear at Soda Springs Ranch in Rimrock, Arizona.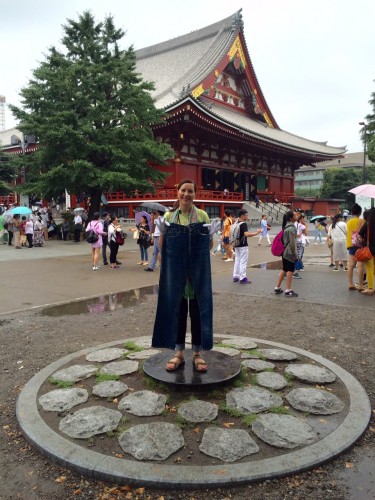 Elle editor Mana Matsuyama shared her Levi's® story with me after seeing the Harriet jeans. Mana found a favorite item, her father's denim jacket, in a closet. She explained that she preferred jeans with more of a men's fit. "Try our boyfriend jeans," I suggested.
At an evening reception celebrating the launch of our new women's 700 series denim collection, Japanese drummer Kavka dressed in skinny Levi's® jeans and a graphic tee for her performance. I presented an overview of our 80-year history of women's jeans, showing off several items I had carried from the LS&Co. Archives: Harriet, a 1960s skinny jean called "ranch pants" and Kavka's favorite women's jeans from the Archives — the Superlows launched by Beyoncé, then part of Destiny's Child, in 2001. The event was held in an underground Tokyo club decorated with cool lights and images of fashion icons like Marilyn Monroe wearing Levi's® jeans.
Regional Manager Pascal Senkoff and I teamed up for media interviews with Nikkei Shimbun and Senken Shimbun, major Japanese business papers, to discuss the new women's denim collection. I shared the historical innovations on LS&Co.'s women's jeans and wore white gloves to point out the rivets and the back buckle cinch on the Harriet jeans. Pascal focused on business strategy and vision for the future in Japan. The interviews helped differentiate LS&Co. as the original denim company and leader in denim worldwide while showcasing LS&Co.'s influence on global culture and style.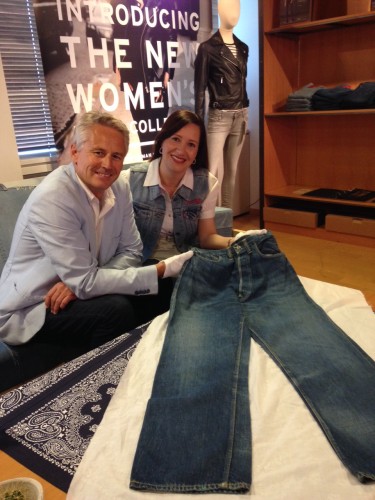 After interviews with fashion magazines Lula, Cluel and Perk, one memorable question stood out that highlighted the similarities between Eastern and Western women's clothing. "What does the color purple mean to you?" asked an editor. Deep purple, or indigo, is like the color of unwashed Levi's® vintage jeans, I reflected, thinking of a pair of deadstock Lady Levi's® jeans. The same indigo color is sometimes used for kimono textiles.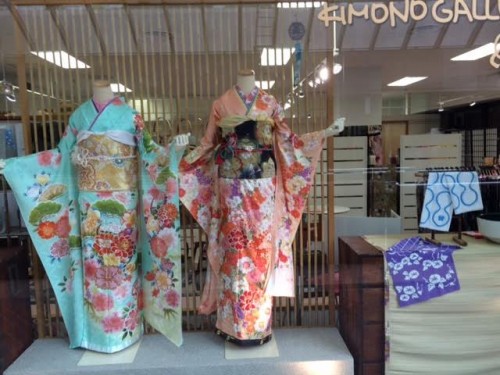 Such connections confirmed my thought that the future of Levi's® jeans, and the launch of the new women's denim collection in Japan, appears bright.
ABOUT THE AUTHOR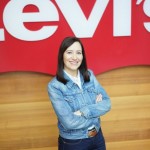 Tracey Panek is the Historian for Levi Strauss & Co. where she manages the day-to-day workings of the Levi Strauss & Co. Archives as a key corporate asset, answering historical questions, assisting designers, brand managers, executives and other employees whose work requires historical materials in the Archives.
Prior to joining LS&Co., Tracey spent 14 years as Historian and Archivist at AAA Northern California, Nevada & Utah where she managed a corporate history program for the 100+ year old company. She began her corporate history career at AirTouch Communications—today Verizon and Vodafone—a San Francisco based company that launched cellular service at the Los Angeles Olympics in 1984.
Like this story?
Sign up for the Unzipped newsletter to get the best of the Unzipped blog — company news and views, employee profiles, innovation and sustainability stories, behind-the-scenes and Archives highlights — sent straight to your inbox weekly.