April 24, 2014
Levi Strauss & Co. invented the world's first blue jeans in 1873. That's a hard act to follow, but the company unveiled another revolutionary product in 1934: Lady Levi's® jeans, the very first denims made specifically for women.
Western women had been wearing men's 501® jeans for decades, because they also worked hard on family ranches, rode horses and lived the rugged life of the west alongside their men.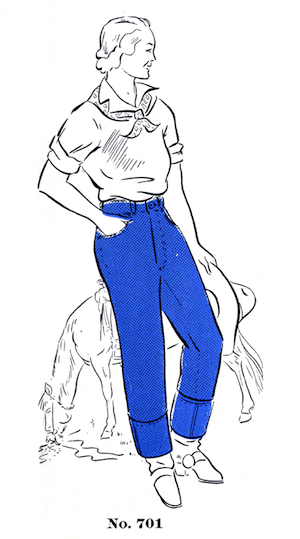 LS&Co. saw this happening and decided to give women a jean of their own. Made of a pre-shrunk denim, with a "feminine fit," Lady Levi's® jeans—also called Lot 701—were not only meant to give women a choice in denim, but they were aimed a very specific audience: visitors to western "dude ranches."
A dude ranch is a working horse or cattle ranch that takes in paying guests. They can range from rustic or resort-like, and this phenomenon dates back to the early 20th century. The golden age of the dude ranch was the 1930s, and the visitors were the tired urbanites from the eastern states, and even from cities in Europe.  The wide open spaces of Arizona, New Mexico, Montana, Wyoming and other states had a tinge of romance and adventure thanks to movies and novels, and spending a week or a whole season at one of these dude ranches was hugely popular.
Women—either alone or with their families—visited the dude ranches in huge numbers, and Lady Levi's® jeans were sold in New York so that visitors could outfit themselves before they arrived at the ranch. This was unusual, because the company was only selling its regular product range in the west, and didn't expand nationally until after World War II. The towns around the ranches also carried the jeans (and jackets and western shirts) so that the out-of-towners could dress the part.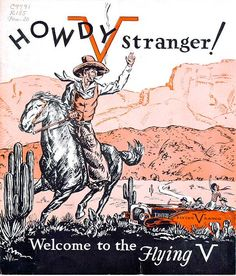 Lot 701 was a revolutionary product in many ways. For one thing, women just did not wear denim in public in the 1930s. Jeans were male, were for laborers, and class and cultural distinctions were very rigid back in the day. Not only that, Lady Levi's® jeans had a button fly. This was truly subversive; even pants with a front zipper were considered a little daring, but to wear button-fly pants was a way of saying that, even though she was on vacation, the woman who wore Lot 701 was taking a step away from conformity.
To celebrate this year's 80th anniversary of the first jeans for women, Levi Strauss & Co. has invited a number of international fashion editors to the place where it all began: a dude ranch. I am with them this week to share the history of our Lot 701. We're also spending our time in a place that has deep connections to Levi Strauss & Co.: the town of Wickenburg, Arizona.
Wickenburg: The Dude Ranch Capital of the World
When the company decided to invite the fashion editors to a dude ranch and chose one in Wickenburg, they couldn't have made a better selection.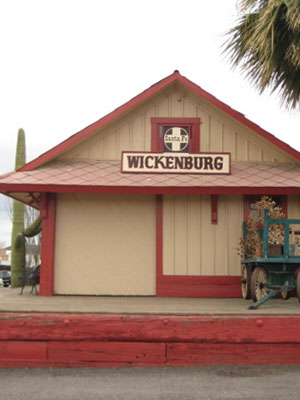 In the 1920s and 1930s, when dude ranches starting springing up all over the west, Wickenburg was already a hub of vacation activity.  Located about 50 miles northwest of Phoenix, the town was founded in 1863 when Henry Wickenburg discovered the Vulture Mine, one of the richest gold mines in the Southwest.
Ranching and agriculture followed mining, but when dude ranching started to become popular, locals converted their properties to take in guests, and cowboys who used to wrangle cattle began to wrangle tourists. Wickenburg's Chamber of Commerce coined the marketing phrase "Dude Ranch Capital of the World" in the 1930s.
By the way, the word "dude" meant someone who came out west to enjoy life on a ranch, and though some people meant it as a bit of an insult, it really was just a word to distinguish the real cowboys from the pretend ones. And if you were a woman, you were a "dudine."
One of Wickenburg's dry goods stores, Brayton Commercial Co., carried Levi's® 501® jeans, jackets and shirts on its shelves, and had done so ever since it opened around 1906. So when dude ranch visitors came into town, they could walk into Brayton's and get what they needed.
Before then, however, other types of customers had shopped there. One of them was a miner named Homer Campbell. He bought a pair of 501® jeans in the store in 1917, covered them with patches cut from other pairs of jeans, and then sent them back to the company in 1920 because he was concerned that his jeans hadn't held up: the patching was ragged and in some places, shredded. He had been a Levi's® customer for over 30 years and just wanted to let us know.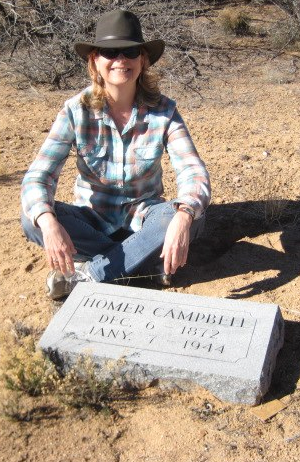 Turns out, only the patches had fallen apart, as the jeans underneath were just fine. This pair is in the company archives, and it was Homer's pants that first led me to Wickenburg back in 2003 to do some research (where I managed to track down Homer's gravesite in a historic mountain cemetery).
This led to an association between the archives and the Desert Caballeros Western Museum in downtown Wickenburg, an amazing art and history museum known all over the world. We have loaned items from the archives for museum exhibits, and I published a book about Wickenburg in 2012, using the DCWM's rich photo and archival collections. As a matter of fact, a collection of our dude ranch era clothing is on display now in the Quayle Family Gallery of Wickenburg history.
The fashion editors are staying at Rancho de los Caballeros, opened in Wickenburg in 1948 and still run by the original founding family. It's there that our Lady Levi's® jeans celebration begins. I'll share more in my next Unzipped post.