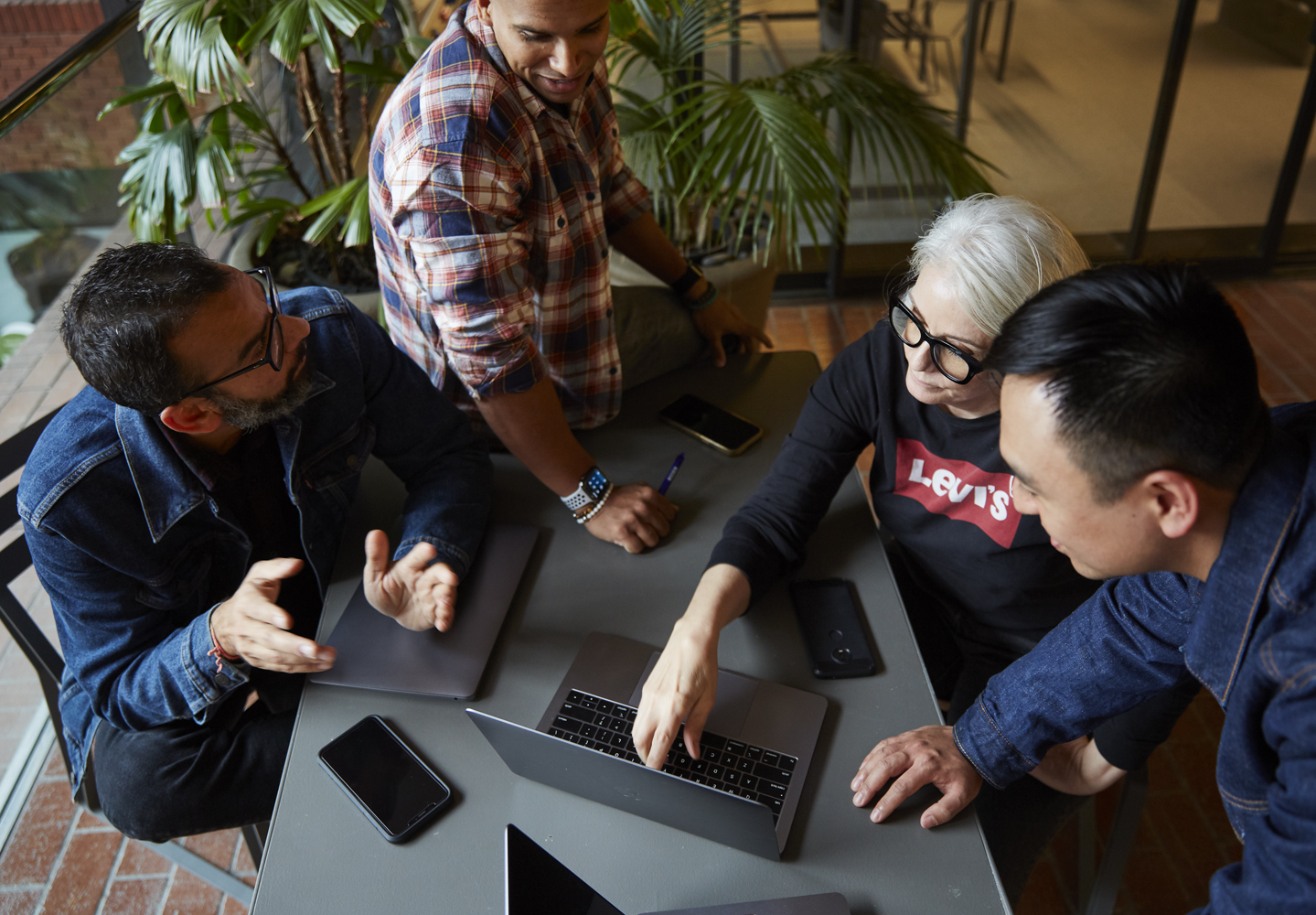 We're focused on investing in our talent through experiences and programs that inspire them, build their confidence and connections and increase organizational and industry presence and savvy.

TEDWomen
Investing in the belonging and development of women: The development of our rising leaders, especially women, is one of our key DE&I priorities. In today's competitive job market, growth and development is a critical and effective retention strategy. Investing in our high potential talent demonstrates our commitment to their future, ultimately providing a sense of belonging and additional pathways of opportunity.
I gained a new appreciation for my own power as a woman. Being a woman can be extremely complex, especially considering the challenges many of us face regarding our safety, our autonomy, our careers. I am incredibly fortunate to have had the opportunity.
In December 2021, LS&Co. sent a diverse, multi-disciplined cohort of 10 women to attend the TEDWomen conference in La Quinta, CA. Over three days and six sessions, more than 40 speakers and performers shared ideas that spanned the globe and drew from across cultures and industries to answer the question: What now? TEDWomen 2021 provided inspiration, a strong community of support, and a meaningful bond amongst our women attendees that continues today.
It was an honor to be selected to attend TEDWomen 2021. It's a moment that highlights Levi's values as a company and makes me feel proud to have found my career here.

Leading with ALPFA
Expanding opportunities for our Latinx talent: We want all LS&Co. employees to reach their full potential. Achieving this requires clarity of career aspiration beyond annual performance objectives and reviews. While each individual employee drives their own career, as part of our commitment to DE&I, we are focused on supporting marginalized populations to help them navigate the unique challenges they face, unlock potential areas for growth and personal and professional empowerment.
One example of this is our partnership with the Association of Latino Professionals for America (ALPFA) and their L.E.A.D. (Leadership, Engagement, Advancement and Development) program. L.E.A.D. is a holistic learning experience that addresses both the professional and personal aspects of an individual's growth journey revolving around 6 Pillars: Business Mastery, Professional EQ, Wealth Creation, Health & Wellness, Community Engagement, and Xtrapreneurship.
Our employees returned from this experience inspired and personally motivated to increase their impact on our business and culture and to share what they learned with their peers and teams.
The ALPFA L.E.A.D. development program exceeded my expectations. It was a well-rounded and informative set of sessions; which included information and tools for effective communication, personal branding, leadership, strategic relationships, technology, and more. I believe people new to corporate structure and seasoned leaders will find something in this program to help advance their career.

The McKinsey & Co. Black Leadership Academy
Expanding opportunities for Black and Brown employees: To enhance the skills, capabilities and network of our Black team members, we sent more than 20 employees to McKinsey & Co.'s first-ever Black Leadership Academy. McKinsey's program is designed to help organizations improve their talent pipeline and equip Black leaders with the network, capabilities, mindsets, and behaviors needed to achieve their professional goals.
The McKinsey program offered a great mix of professional growth and engagement with other Black executives across many different professions. We had the opportunity to hear from some top-tier leaders and seasoned vets. The workshops and group projects provided some good professional tips and challenged us to think differently. The highlight for me though was the opportunity to meet and spend time with other Black peers on a regular basis. Some really good authentic discussions about just life both in and out of work.
More About Programs With Purpose