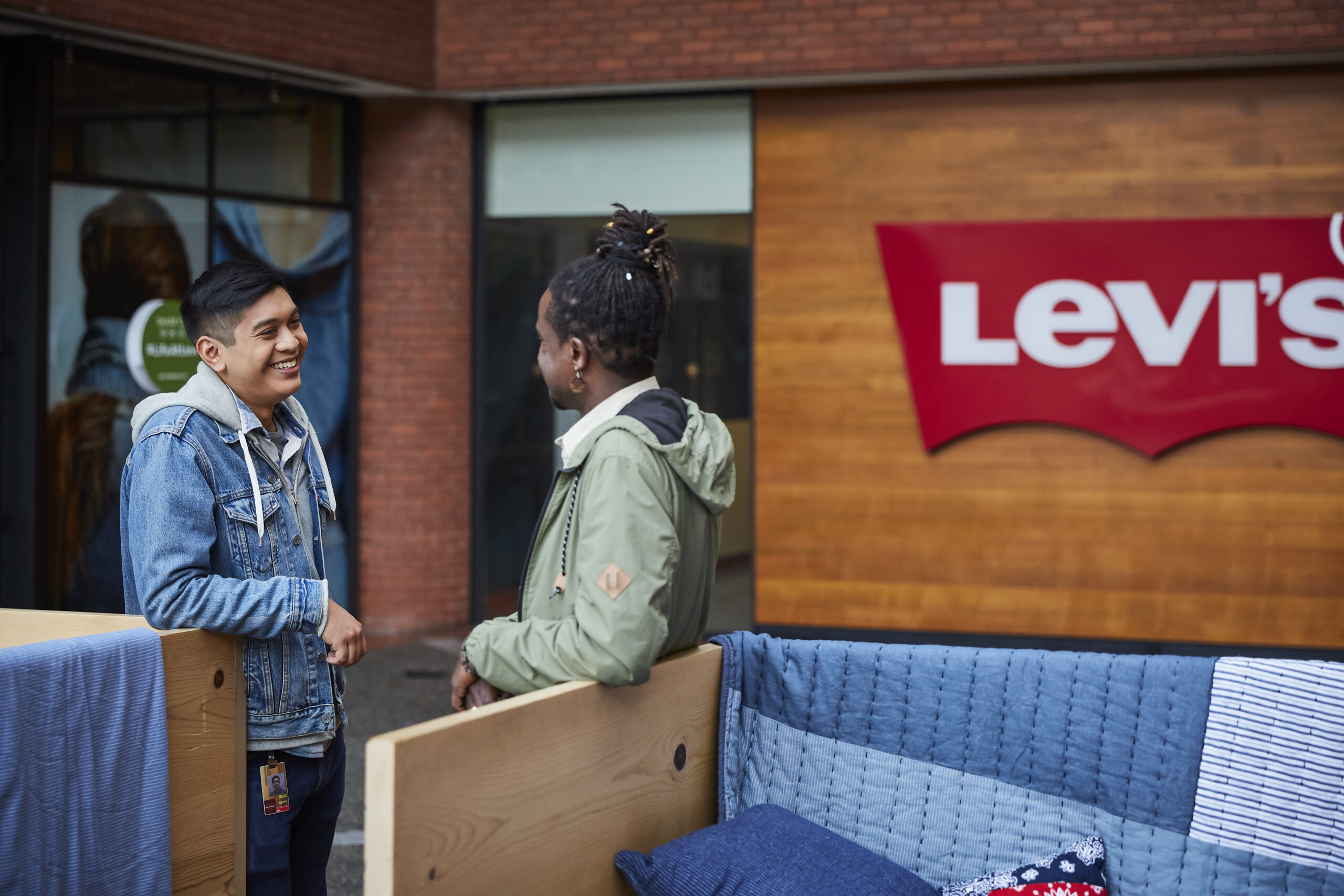 Building Our Capabilities
We offer programs that focus on building our capabilities – the awareness, knowledge, skills and capabilities to act as inclusive leaders and to create the environment where all difference is valued, including diversity of thought, identity, race, gender, religion, ethnicity, ability, beliefs and backgrounds.
Taking #thepledge for a More Inclusive LS&Co.
Learning, sharing & growing TOGETHER: To empower our organization in executing against our new global strategy, we knew we needed to build our foundational DE&I knowledge and capabilities, including inclusive leadership. Our global workforce embarked on this journey of learning together. We took #thepledge as our collective commitment to action, defining how we'll do more to bring inclusion to life at LS&Co. through targeted training efforts from our retail stores to our C-Suite.
This training, which included a unique and curated inclusive leadership model based on our core values and &Co. Expectations (leadership behaviors and competencies), is helping us build a strong foundation for our culture of inclusion. This was an outstanding first-year achievement for us, and for our employees across the globe, who were grateful to have a safe space to be vulnerable and share stories and real-world experiences around culture, inclusion and belonging.
Employees said:
"…Human Rights lens makes it accessible and powerful for everyone and is relevant to our workplace…"
"…virtual was great & facilitators conducted the session very well … training could be even more powerful in a face-to-face setting…"
"It was great to have this training in French with French facilitators"
"Glad we are finally addressing these issues and not hiding it anymore"
Tolerance for ambiguity is what I will focus on to bring the human rights perspective to my interactions every day. I will show up with a high level of empathy and be far more patient putting myself in others' shoes to understand how I can help.

Global Self-Identification (GSID)
Gathering data to support our programming: At LS&Co., we know that one of the best ways to future-proof our organization is to have a workforce that's more representative of our fans, our consumers, and the communities in which we live and work. To help get a more complete picture of our workforce, we launched a global self-identification (GSID) initiative, targeting five of our largest consumer markets. GSID offers employees the opportunity to voluntarily disclose additional aspects of their identity, including race/ethnicity, gender identity, sexual orientation, veteran, and disability status.
Participation is strictly voluntary, and the data is confidential and viewed only in the aggregate to support a data-driven approach to DE&I, talent strategy and benefits. In 2021, we launched GSID campaigns in the US, United Kingdom, Spain, and Germany. While establishing comfort and trust around GSID will take time, we are proud of these milestones:
Gender identity and sexual orientation were two NEW self-ID categories; 3.6% of employees from the U.S., Canada, Germany and Spain identified as LGBTQIA+, and 2.3% of U.S. employees identified as disabled.
Strong participation signals growing levels of trust in the organization and a foundational understanding of DE&I.
Leaders were engaged in the GSID process and actively advocated for participation.
We also leveraged a third-party global market research firm to conduct GSID campaigns in Belgium, France, and Poland. Through this partnership, we were able to engage with employees in global markets anonymously and confidentially.
Using a third party has enabled us to tackle five facets of diversity – gender ID, sexual orientation, disability, nationality & ethnicity – with an added layer of confidentiality. Ensuring safe handling of data by a third party helped ease concerns and positively contributed to participation rates.
More About Programs With Purpose