Fostering a global sense of belonging and community: Our Employee Resource Groups (ERGs) are vehicles of belonging. These employee-led groups bring together people with shared identities and experiences – as well as allies — to promote a culture of inclusion and contribute to the success of our business.
Our ERGs are on the frontlines of social justice and serve as powerful advocates in the pursuit of change and understanding within the organization and beyond. Our 13 affinity-based ERGs each contribute unique goals, aligned to a shared vision for a more inclusive organization, where we all feel seen, heard, and have a strong sense of belonging.
In 2021, we supported the launch of two new global ERGs: AMAzing Rivet, an Asia, Middle East and Africa ERG, and Operation 501, a veterans' ERG. As we continue to co-create spaces of inclusion and belonging, our ERGs will support our journey of understanding by offering a global network open to everyone, but that creates safe spaces for marginalized and underrepresented populations. Our global ERG network includes:
A.B.L.E. (Adapting Beyond Limits & Expectations) ERG (Global – People with Disabilities)
AMAzing Rivet ERG (Asia, Middle East, Africa – Women)
Asian ERG (U.S. – Asian American and Pacific Islander)
Immigrants ERG (U.S. – Immigrants and their decedents)
InsideOut ERG (U.S. – LGBTQIA+)
LatinX ERG (U.S. – Hispanic, Latino and Latinx)
Operation 501 (U.S. – Veterans)
Parents ERG (U.S. – Current and prospective parents and care takers)
Project Onyx ERG (U.S. – Black)
Rivet ERG (U.S. – Women)
Sawubona ERG (Europe – Black and North African)
Thrive ERG (U.S. – Mental wellness)
Unlabeled ERG (Europe – LGBTQIA+)
Success metrics
Our ERGs play a critical role in driving DE&I at LS&Co. And in 2021 we launched an ERG scorecard to track and measure their impact on our employee's experience and our global culture. Our groups delivered against our goals in a multitude of amazing ways, making this year their most successful year to date.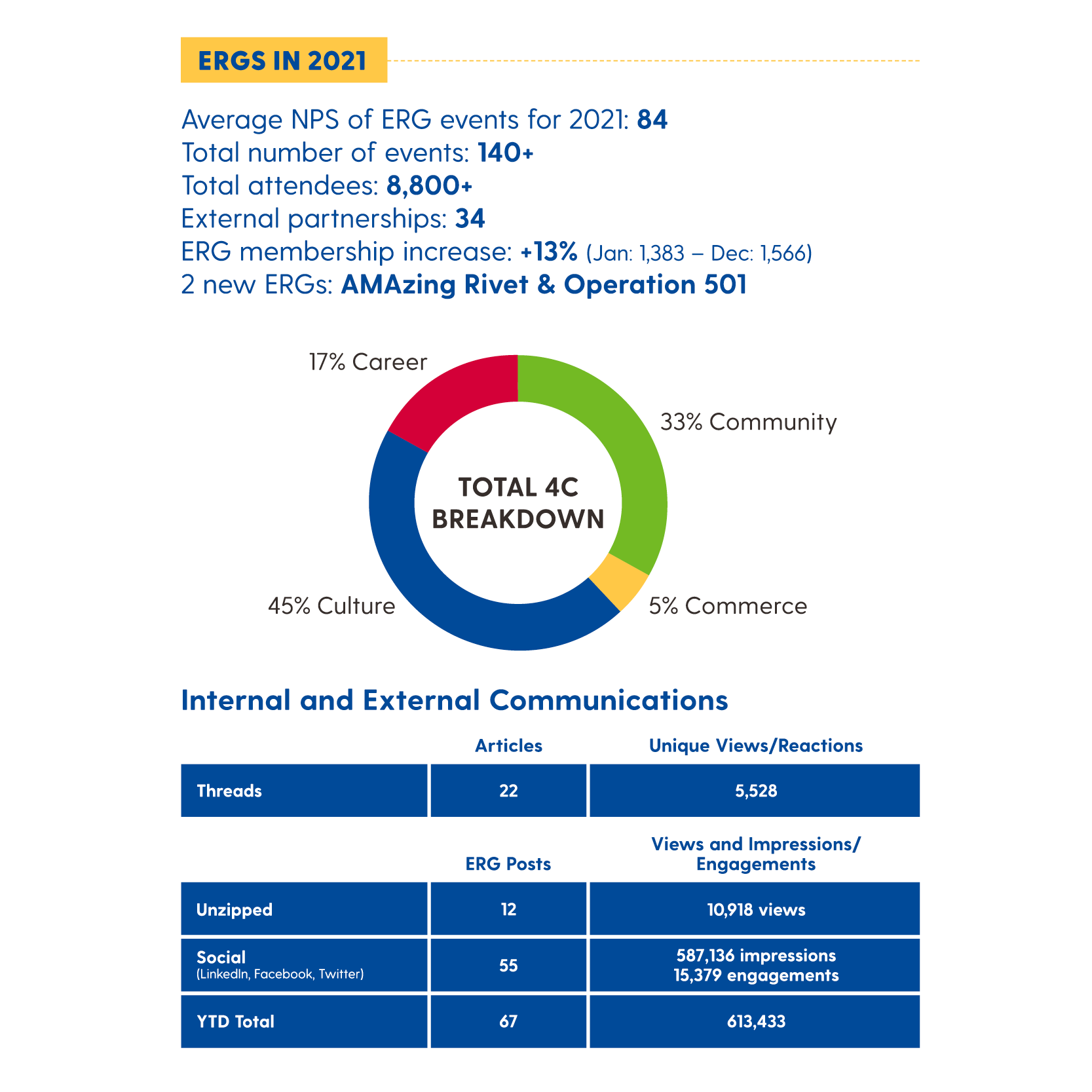 Recognition and the Path Forward : While our ERGs support and drive cultural dexterity, connectedness and belonging at LS&Co., our commitment to them is to ensure that the employee leaders who do this work (on top of very busy day jobs!) are rewarded, recognized, and acknowledged – ideally as an aspect of their overall performance and contribution to our DE&I journey. In 2021, we achieved this by sharing curated feedback with our ERG leaders' managers, Executive Leadership Team (ELT) member and Executive Sponsor.
In 2022, we're launching a new operating model that scaffolds the work of the ERGs with stronger systems of support, closer involvement of leaders, increased connection to business and talent processes and an integrated approach to performance assessment. We're also seeking ways to continue the development of our ERG leaders by providing access to learning and development, continuous opportunities for visibility in our organization, and clear differentiation as high-potential individuals.

More About Building an Inclusive Culture