April 17, 2023
The Levi's® brand continues to bring elevated brand experiences to consumers across India as it partners with global music festivals and opens new stores.
Earlier this year, the Levi's® brand partnered with the first edition of Lollapalooza India 2023, a global multi-genre music festival celebrating the culture of music, with inclusivity and unique experiences at the center. The two-day extravaganza was held at Mahalaxmi Race Course in Mumbai, India, and featured over 40 artists, four stages and over 20 hours of live music, art and culture.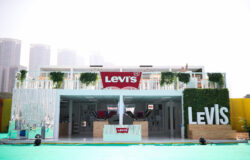 "As a brand, we have always believed music can be a galvanizing force with the power to connect people across all barriers. Hence, an association with the inaugural edition of Lollapalooza India 2023 seemed like a natural extension to us," said Amisha Jain, managing director & SVP, South Asia, Middle East & Africa at Levi Strauss & Co.
Similar to the brand's presence at Rolling Loud, the Levi's® brand hosted a one-of-a-kind Tailor Shop experience at Lollapalooza India, featuring 12 artists from around the country and designers with connections to the music community. Festival attendees were able to customize their favorite Levi's® products with exclusive screen prints, paneling and heat-press designs from a collective of artists including Santanu Hazarika, Mehek Malhotra, Sajid Wajid Sheikh, Preetal Dongre and Gaurav Basu.
The Levi's® brand also partnered with artists for the opening of its new store in India, the largest Levi's® store in Asia. Situated in the bustling shopping district of Bangalore's Brigade Road, the 8,000-square-foot retail space hosted local artists such as Sachin Bhatt, Osheen Siva, the Doodle Mafia and community group advocates The Aravani Project to create artworks that showcase the city from past, present and future perspectives. The designs, which capture Bangalore's distinctive culture and subtleties, can be customized onto Levi's® trucker jackets and shirts at the store.
The Bangalore store features the Levi's® NextGen store format, a concept that puts the customer experience at the center and retails signature products like the timeless 501® line and classic trucker jackets.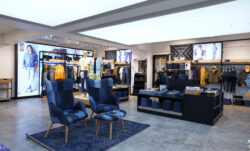 "With consumer behavior shifting in the ever-changing retail landscape, we at Levi's® continue to prioritize how we deliver our iconic products and an impactful brand experience, especially to our growing base of young, savvy consumers in India and across Asia," Amisha said.
The new store also features a Levi's® Tailor Shop, where customers can personalize their purchases with embroidery, patches, pins and more. Additionally, the skilled tailoring professionals running the shop can reinvent existing pairs of jeans or elevate new ones through expert alteration and restoration services.
"India continues to be a priority growth market for Levi Strauss & Co.," Amisha added. "As we look to scale up our investments in Asia, the opening of the Brigade Road store highlights our commitment to bringing the best of the Levi'®s brand across product categories to our fans in India and across the wider Asia region."