March 2, 2023
Last month, the Levi's® brand launched The Greatest Story Ever Worn, a campaign celebrating the 150th anniversary of the 501® jean. The storytelling campaign began by debuting three signature films during the 65th Grammy Awards, each of which was inspired by a true Levi's® story. One of the three films, "Fair Exchange," follows a young man who trades a cow for pair of 501® jeans in Tbilisi, Georgia, Eastern Europe.
Within days of its release, the cow trade story generated buzz in Georgia and an enthusiastic email from the grandson of the man depicted in the film. Here's the real-life story of "Fair Exchange."
Mining the Archives for Stories
Preparing to launch The Greatest Story Ever Worn meant mining for 501® stories in the Levi's® Archives. Levi's® stories are legendary — something I have discovered through my interactions with Levi's® fans around the world. In 2019 I created a Tell Us Your Levi's® Story kiosk in The Vault Museum (in our S.F. headquarters, which is currently closed to the public) and online to track the numerous tales. My search started there.
Of the hundreds of stories I gathered, an especially interesting one came from a Levi's® fan named Mindo in Gudauri, Georgia, in the former Soviet Union. "Levi's is my and a lot of my friends' favorite brand," he shared by email in 2021. "Jeans in general here were one of those real acts of rebellion against the Soviet government."
Mindo described how the 501® was popular in his region when he was a teenager. "And since then," he described, "the Levi's is part of our cultural fabric. As an American symbol that stands for youth and freedom. As a result, there are a lot of us who love the brand."
Mindo shared an incredible story that ultimately inspired the recent film. "One of my classmates told a story of his father, who sold a cow to buy a pair of jeans, a pair of Levi's," Mindo explained. "My classmate said that his father paid 300 rubles for the pair." Mindo guessed the story likely took place in the late 1970s to early 1980s and remarked that the cost may have been close to "one month's salary, and a good one."
Selling the family cow for Levi's® jeans didn't go over well. "When his dad came back home to his father and told him that he sold the cow to buy the pair of jeans, his dad was furious," Mindo said.
Making Contact
The tale shared by Mindo's classmate inspired the film "Fair Exchange." Like the other two shorts for Greatest Story Ever Worn, the spot aired at the Grammy Awards and on social media on February 5. Two days later, I received an email from Anano Lomsadze of Georgia.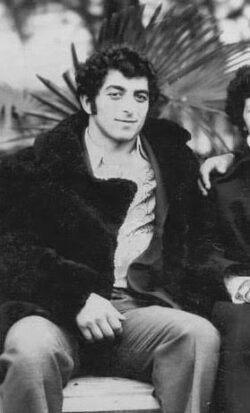 "My family recently got contacted by my dad's friend who shared a story with you about a man trading his cow for jeans," Anano wrote. "That man is my grandfather and his name isAvtandil Lomsadze. We absolutely loved the video you made about the story." Anano went on to write that the actor even looked a lot like his grandfather.
I was beaming as I wrote back. Anano and I exchanged several messages, and he shared additional details of the family's story and a black-and-white photo of a young Avtandil around the time he made the trade for his Levi's® jeans.
Story Details Revealed
Anano's dad told him that the story happened in 1976, and Avtandil walked 50 kilometers to get his Levi's® jeans.
Here's Avtandil's story as told by his grandson, Anano:
We have a beautiful village with mountains called Vakhani. My grandpa lived there when he was young and then he moved to Tbilisi in 1977. He was a hardworking, energetic and young man who lived the village life with his dad. He had a big cow, a horse, chicken, everything that a village family has. My grandpa, Avtandi Lomsadze, and his dad, Pavle Lomsadze, decided to sell their two cows in the Xashuri bazaar, where they walked by foot. They sold the cows for 1,000 Russian rubles; they could buy a car with this money. They went back to the village by train and split the money in half. All night my grandpa was excited because he had decided that he was going to buy Levi's jeans with his money. In the morning he went to Surami, where … my grandpa bought a denim coat and a pair of jeans. For many years the jeans stayed good quality, but someone stole them from him. He also gave the coat to someone. This is how the story went and people remember my grandpa with this story happily.
Mindo got back in touch not long after Anano emailed. "I realize it's a bit late," he wrote, "but I've managed to get in touch with my classmate and he was amazed and very happy to hear about the possibility of me retelling his father's story to you."
Mindo confirmed some of the story details shared by Anano and added another note about the jeans. "Those were worn by so many of his dad's friends and for so many years," he explained. "He said they literally couldn't rip them they were so durable."
"We are all so amazed and happy here in Georgia to have our story featured," Mindo concluded.  "So again thank you for using his story, be it modified by my memory."