February 23, 2023
Stüssy and Levi's® are teaming up once again to bring fans a unique two-piece capsule collection, available globally on February 24.
Founded in Southern California in the late 1980s, Stüssy was a favorite of the surfer community before gaining momentum with the skateboarding and music communities as the brand redefined casualwear. Today, Stüssy is one of the most sought-after brands in the streetwear industry. The collaboration between the two brands is a natural celebration of the brands' shared values of self-expression and originality.
In celebration of the 150th anniversary of the 501® jean this year, several of our collaborations — including with Stüssy — will feature a reinterpretation of our most beloved global icon.
The Stüssy and Levi's® collection features a pair of 501® jeans and a modified Type II Trucker Jacket, two classic Levi's® silhouettes reimagined with Stüssy's signature design aesthetic.
The 501® jean comes in a rugged, worn indigo wash and has an embossed Stüssy and Levi's® motif on the front left and back right legs, as well as a custom co-branded back patch combining the Levi's® Two Horse Pull and Stüssy logos. There's also a special 150th anniversary edition pocket bag print and pocket flasher.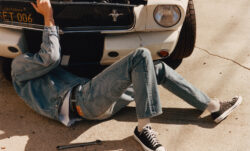 The Type II Trucker Jacket matches the 501® jeans with a rugged, worn indigo wash. The jacket is modified with a boxy fit, relaxed armhole and added welt pockets. It also features a corduroy collar, co-branded button shanks, Baja-inspired pocket bags and an inside lining with a printed Stüssy eight-ball logo. The back of the jacket features an embossed motif, merging a classic Levi's® button shank graphic with Stüssy's subversive Double S design, resulting in bold visual and tactile textures.
The Stüssy and Levi's® collection will be available for purchase on Levi.com, the Levi's® app, select Levi's® stores, Stussy.com, select Stüssy chapter stores and select Dover Street Market locations.