January 24, 2023
Inspired by Chinese cultural elements, Levi's® has launched its special 2023 Lunar New Year collection to celebrate the Year of Rabbit in China.
The exclusive collection anchors its visual aesthetics in the figure of the rabbit, the new year's zodiac creature. Known as the luckiest animal and a symbol of positivity and beauty, this playful animal can be spotted throughout the collection.
The capsule collection offers an array of on-theme pieces, from denim jackets to Sherpa Trucker jackets and suspender pants. With the traditional belief in China that wearing new clothes in auspicious colors will bring prosperity and good fortune, this trendy collection boasts a lucky red-and-gold color scheme that aims to delight local consumers, evoke joyous memories and encourage a "seize the opportunity" attitude to celebrate the new year.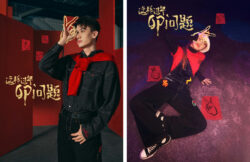 In support of the collection's release, Levi's® has also enlisted famous stand-up comedian Pang Bo to star in the brand's limited edition short film, "Year of the Rabbit," intended to resonate with Gen Z consumers and encourage them to embrace their individuality and embrace the opportunities and energy of the New Year. The brand has also partnered with famous local artists to release rabbit-themed New Year posters for the holiday season.
"Spring festival [what Lunar New Year is called in China] is the most important holiday in the Chinese culture, bringing people together as they go home to see family and friends. However, recent quarantines, lockdowns and stringent movement restrictions have prevented this from happening for the past three years. But this year, we anticipate 2.1 billion people traveling back home for the family reunion," said Amy Yang, Managing Director, Greater China. "At such an emotional moment, Levi's® will celebrate the new year with specially designed Rabbit capsules, plus golden selvedge jeans that symbolize prosperity and abundance."
This year, Levi's® also launched Levi's® Kids apparel for the holiday, creating a cohesive look for the entire family and capturing the sentiment of the celebrations.