October 20, 2022
If you've been in central London this week, then you've likely seen the news on the side of a double decker bus or in the Oxford Circus tube station: Levi's® is back in a big way on Regent Street. Our flagship store has reopened after a strategic refit, and we're ready to welcome our fans and help them discover their next favorite Levi's® wardrobe heroes in a truly immersive environment that showcases the fullest expression of our lifestyle brand and denim leadership.
We caught up with Lucia Marcuzzo, senior vice president and managing director of Levi's® North Europe, and Anit Van Eynde, vice president of North Europe marketing, to talk about how our London flagship store advances our direct-to-consumer (DTC) and brand strategies.
Talk to us about the role of the physical store in the company's strategy. Why are we making this kind of investment today?
Lucia: As a company, three of our strategic priorities are being brand-led, being a DTC-first company and diversifying our portfolio across product categories, channels and geographies. Our global store footprint and operational excellence as a retailer are important for moving those priorities forward.
The UK is a key market for us, and a physical presence in London — a fashion capital and hub for culture and creativity — allows us to showcase our full lifestyle proposition in an impactful way that echoes far beyond our store walls.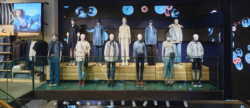 Anit: The store experience becomes a bridge to the digital space. It's no secret that consumers are shopping in more hybrid ways than ever — and that the physical store continues to be a big part of that omnichannel journey. Whether someone is discovering our newest collection by bringing in their vintage Levi's® jeans to be customized in our Tailor Shop or buying their new favorite Levi's® sweatshirt, our flagship stores offer a brand experience intended to make a consumer a forever fan of Levi's®.
Why did we decide to refit the London flagship store, and what's new about the store?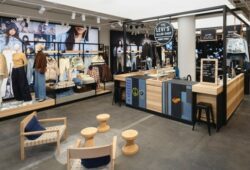 Lucia: As timeless and iconic as our products are, being at the center of culture requires us to always have an eye to the future. This means we're constantly innovating from both a product and a go-to-market perspective to ensure that we're well positioned to win with each new generation of fans.
The refit helps us introduce our new Levi's® Indigo retail experience, which has been informed by our consumer insights, deep market research and best practices from our smaller footprint, high-performing Next Gen retail concept. We are constantly experimenting with different visual merchandising techniques that help us to elevate storytelling, while catering to consumer shopping preferences. And while we aren't a DTC-only business, a key advantage of our owned-and-operated platforms is the agility with which we're able to apply data points and learnings to offer the best possible service to shoppers, which supports the bottom line. That's why Indigo as a store experience is constantly evolving.
Anit: The philosophy with the Indigo experience is to take our consumers on a storytelling journey as they navigate the space. The store is the pinnacle expression of our full lifestyle offering and denim leadership that seamlessly highlights the timelessness and iconic status of Levi's®, while celebrating nowness and newness. Because of their footprint, our flagships give us the opportunity to create a depth of experience that's also interactive. Fun fact: our Regent Street store boasts the biggest number of in-store mannequins in the world as of today. That's quite deliberate, because we're walking shoppers through denim fit and lifestyle storylines in easy-to-shop ways.
And then the store's heart is the Levi's® Tailor Shop, where products are transformed into personal style signifiers that will continue to get better with age. The collaboration between our tailors and shoppers means that Levi's® products leaving the store will push beyond the canvas of our collections.
You mentioned the store as being a bridge into the digital space. Tell us more about the role of digital and tech in support of the DTC strategy.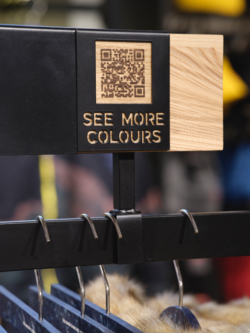 Lucia: Shoppers can use the Levi's® app to scan products and learn more about styling options and product features, including innovative fabrics and finishes. The app can also be used for booking appointments at the Tailor Shop and for mobile check-out.
We know that our fans are seeing the benefits of engaging with us through the app, with first-dibs access to new product drops and a personalized shopping experience. In Q3, revenues generated through the app increased by 17%, and our loyalty program is also growing.
Anit: It's also important to remember that our fans are sharing their store experiences on their own platforms. A great product recommendation and fit experience with one of our stylists, the transformation of a garment by one of our tailors — these are all moments and interactions that can be shared digitally and become an extension of our online presence, wherever our fans are and love to shop.
We all have a Levi's® story. Hopefully, our store experiences are helping to create new ones.
Anything that our fans can look forward to when visiting our Regent Street store in the coming weeks?
Anit: Yes, and it's all happening under the LDN in Levi's® campaign — a play on our Live in Levi's® slogan — celebrating the energy of this amazing city and a new generation of creatives who are advancing the definition of what it means to be a Londoner. We'll have contributions from youtuber Yung Filly and others, including visual artist Corbin Shaw, who will be unveiling an installation at the store and has also designed unique patches to customize Levi's® products in store. And on October 20 and 21 Rinse FM will take over the airwaves with a live broadcast of eight DJs exploring their own take on the ''Contemporary London Sound" live from Levi's® Regent Street.
Lucia: Today marks our reopening celebration — but you can always expect newness and a full experience when you visit us. We want to make this store — and all our stores globally — a key destination in the neighbourhood. We can't wait to welcome you!