August 18, 2022
Last month, Beyond Yoga wrapped up its first ever pop-up store — a dedicated space at The Grove in Los Angeles where consumers could interact with the true essence of the brand.  
The monthlong event, which started June 25 and lasted until July 24, was a great success for the brand. From custom bouquets with Bia Blooms to a Balacize workout class with Bala to a Moms Meet-up hosted by Fashion Mamas founder Natalie Alcala, Beyond Yoga offered a fun, dynamic experience each week to keep consumers returning.  
"Our pop-up store perfectly exemplified the ethos of the brand, and I'm extremely proud of the team's passion and dedication to deliver such an amazing experience for our consumers," said Michelle Wahler, co-founder and CEO of Beyond Yoga. "Our success proves the opportunity ahead to become a $1 billion brand, and I'm thrilled to continue our momentum in the physical world of retail."  
Through the event, Beyond Yoga was able to build relationships with new consumers. More than two-thirds of people who visited the pop-up were first-time Beyond Yoga shoppers — an amazing opportunity to turn new consumers into lifelong Beyond Yoga enthusiasts.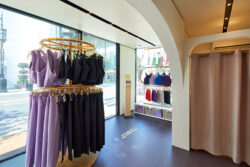 From Beyond Yoga's iconic Spacedye leggings and tops to dresses and biker shorts, consumers took to the full suite of products displayed throughout the location and witnessed the brand's infamous buttery-soft fabric for themselves. 
Shoppers particularly fell in love with the Midi HighRise Legging, Slim Racerback Cropped Tank and Focus Cropped Tank, which were the top performing items throughout the monthlong event. And the brand's exclusive Crisp Lavender Heather color drop did particularly well at the store.  
Beyond Yoga's first pop-up store was a great primer to its upcoming permanent store location set to open before the end of the year — more details will be shared soon. In the meantime, be sure to visit Beyond Yoga's ecommerce site and sign up to be among the first to hear about exclusive product drops and business news from the brand.