April 20, 2022
Get ready for warmer weather and vibrant hues with the brand's newest capsule collection, Levi's® Fresh.
Inspired by the Levi's® Fresh Product collection from the 1970s, Levi's® Fresh features a beautiful range of sustainably dyed pieces for men and women, including 501® jeans, sweats, accessories and more.
"We are excited to debut our Levi's Fresh collection, a vibrant mix of super soft tees, fleece and denim made with natural dyes and water saving techniques," said Karyn Hillman, Chief Product Officer. "Taking inspiration from our archives, we infused each piece with youthful energy borrowed from the original '70s Levi's Fresh Produce line. It's a fun, plant and mineral based, planet friendly collection rooted in essentials and infinitely covetable."
The collection puts sustainability at the forefront, using dyes derived from natural sources such as madder root extract and natural indigo, as well as other agricultural by-products, food waste, and minerals such as natural clays, carbonates, and oxides, all of which were specially formulated to require fewer resources.
The brand is bringing this collection to life through a mini-film series of 15-second vignettes that show how everyone at every stage of life can enjoy the relaxed and easy-going style of the collection. The team in the U.S. and Canada also created a Snapchat Lens, which is digital interpretation of a farmer's market targeted to Gen-Z. People can easily purchase clothing within the experience for convenient shopping.
Scan the code below in Snapchat to experience it: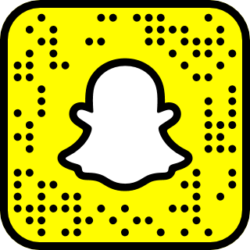 And, for the first time ever, Levi's® partnered with Tastemade, which creates online programming about food and travel, to bring a completely customized fresh produce farmers market experience to Smorgasburg Los Angeles. Smorgasburg is the largest weekly open-air food market in America, drawing nearly 30,000 people to the market each week and hundreds of vendors.
Levi's® took over the market on April 3rd and 10th with a Fresh "booth," featuring a mini farmers market, Amazebowls juice bar, and DJs spinning out of the I Love Micheladas VW Bus. Attendees were encouraged to explore the new Fresh collection, sign up for a Red Tab™ membership to get an exclusive tote, and share the experience through custom Snap and Instagram filters.
At the Levi's® Times Square store, Levi's® hosted key media for a first look at the new collection and to customize their Fresh styles with Fresh patches and chainstitch of their choice. Levi's® also partnered with Pressed Juice on custom juices that was available to its Red Tab™ loyalty members at the Times Square store and at seven key doors throughout the U.S.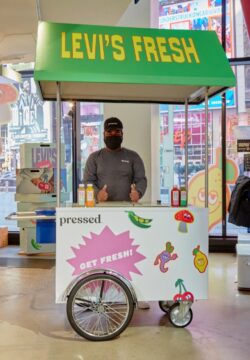 Other markets are bringing the collection to life with a farmer's market event on the Haus patio in Mexico City, pop-ups in Selfridges Denim Studio in the U.K., a pop-up store at the SOGO Zhongxiao branch in Taiwan and more.
This collection is available in our mainline stores and on Levi.com.